Indian Institute of Management Kashipur started a new initiative in the form of a book donation campaign. Books worth about thirty-five lakhs were donated to the other management institutions of Uttarakhand to support their development. This is yet another way for IIM Kashipur to carry out Corporate Social Responsibility, which will prove to be a milestone in the future.
Inaugurating this campaign, Dr. Kulbhushan Balooni, Director, IIM Kashipur, expressed his views and helped the beneficiary institutions to carry forward the responsibility. According to him, IIM Kashipur is always dedicated to the service of the entire society including Uttarakhand and it is in line with our policy to cooperate in the development of nearby institutions.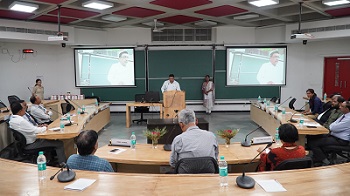 Professor Mala Srivastava, Dean Academics, talked about the fond relationship IIM Kashipur has with the nearby management institutes and welcomed future collaborations as well.
IIM Kashipur looks after the library as a whole and has named it as the Centre of Learning Resource Centre. In the modern era, books are used as weapons for the study of scriptures.Based on Sa Vidya or Vimuktaye, Professor Kunal, President of this centre, described Tamaso Maa Jyotirgamaya; as the goal of the students, for which the contribution of bookscannot be undermined even in this digital age even though only the format of the books has changed.
Beneficiary institutions include Pal College of Technology and Management, Haldwani; Shriram Institute of Management and Technology, Kashipur; Ace C Guria Institute of Management and Law College, Kashipur; IMEC Institute of Management, Rudrapur and Narayan Institute of Management Technology, Rudrapur.
Dr. Asif Khan, Librarian, while addressing the representatives of the beneficiary institutions assured to help as much as possible. The event was a great success due to the collective effort from Students, Faculty, Staff and Academic Associates for safe and hassle-free arrangements.
Stay informed, Stay ahead and Stay inspired with MBA Rendezvous.