Indian Institute of Management, Kashipur hosted its third edition of Annual Entrepreneurship Summit – Uttishtha, the flagship event of E-Cell (IIM Kashipur) from 5th to 7th March, 2021. With an intention of facilitating exchange of ideas & innovation, engaging budding entrepreneurs and bright minds, and providing plethora of opportunities for youth, this year's Uttishtha hosted all the events virtually.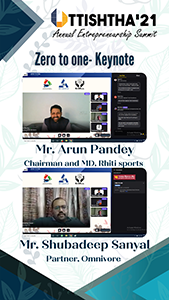 The 3-day extravaganza had keynote speakers from various domains who enriched students with their knowledge. The first day of Uttishtha was graced by Mr. Arun Pandey- Chairman, and CEO of Rhiti Group, Mr. Subhadeep Sanyal- Partner at Omnivore, Mr. Bhaskar Mazumdar –Founder and Managing partner of Unicorn India Ventures, and Mr. Puneet Gupta – Managing partner at Kentrus Capital (US).
Mr. Arun Pandey talked about the importance of soft skills in entrepreneurs, advising that "Hard work and Honesty, along with teamwork, if adopted, then the growth will be exponential." He also motivated the students of the current batches who have survived the pandemic, by are deserved to be great leaders and icons in the future. Mr. Subhadeep Sanyal gave insights about the importance of Agri-tech and how it is currently not unearthed to a greater extent. Moreover, he also explained the hardships faced by Venture capitalists in today's world. Mr. Bhaskar started with the quote "Failure is a stigma - gladly, it is changing now for the better. Failure and success are literally two sides of the same coin." He also threw light on the fact that success in entrepreneurship can only be reaped if there's no plan B and advised the student fraternity to pursue entrepreneurship only when they are 100% sure and passionate about it. Mr. Puneet Gupta talked about the necessity for a proper execution plan alongside a good idea and advised the students that failures are common and it is completely fine to fail!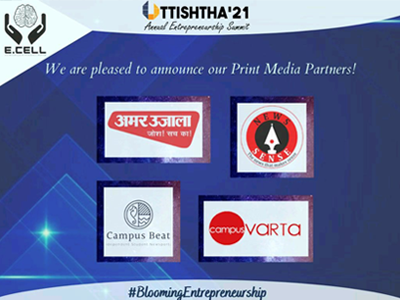 Second day of Uttishtha was graced by the presence of Dr. Abhay Jere - The Chief Innovation Officer of the Government of India. Dr. Jere talked about the necessity to create MBA programs with far more experiential learning so that students can test their own ideas, learn about the ground realities and apply the theoretical learnings from the classroom. The day also saw other eminent speakers which included, Ms. Taniya Biswas and Ms. Sujata Biswas - Co-founders of Suta, Ms. Deepa Sayal - President, IWIL India and Mr. Sharad Sharma - Chief Product Officer, Mercer-Mettl. Biswas's sisters inspired the audience with their story. They said that they believe in giving back to the community, focus on sustainability, and in building an ecosystem. Mr. Sharad Sharma elucidated that the product managers are the centre of the business universe. He also postulated the three essential skills which include technical bend of mind, business psychic, and a sense of design. He said, "Entrepreneurs are the ones who have perseverance, the courage to change their idea if something doesn't work, and have a longer vision." Ms. Deepa, talked about the gender parity in entrepreneurship ecosystem, and how women are overcoming the barriers to launch successful startups.
The final day of the event was glorified by the presence of Ms. Arjita A. Sethi - Co-founder of Indiarath, Mr. Jayadevan P K - Evangelist at Freshworks and Mr. Rohit Thomas Koshy - Director of EY. Mr. Jayadevan suggested budding entrepreneurs that, "Make it quick when something is not working, and part ways", "Move fast, but not break things" and "Be Quick to market" and encouraged students to face unfavourable situations in the business world. Ms. Arjita, said "If you have the customer retention, then you have created the right product" and she threw a light on the importance of retention in life and career of investors. She also spoke on the failures and said "Try phenomenally, fail phenomenally, try again phenomenally and succeed phenomenally". Mr. Rohit said, "Get into something that has a big market or is sustainable in the long run, else you won't get a big name for it", "Ideas are all the same and have the same potential, it's all about how you go about executing it!" and "Make money talk in the language, investors want to hear" to enable the students understand the reality of the current market trends.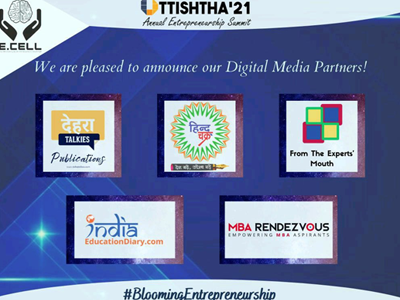 Apart from the keynote speaker session, the 3-day Summit hosted a series of events which included, " Not clubhouse" (a group discussion among entrepreneurs and students), "Smart Tank" (the investor pitching and start-up assistance program), "School Outreach Program" (aimed to inculcate entrepreneurial mind set in students and administrators of schools), "Udaan" (the Annual National Business plan competition) and "Co-founder Dating" (aimed to provide internship opportunities for students by linking the bright minds with start-ups looking to build teams). Overall the event saw a large number of students and budding entrepreneurs participating enthusiastically.
Stay informed, Stay ahead and Stay inspired with MBA Rendezvous