IIM Raipur welcomed its 10th Batch of Post Graduate Programme in Management and 8th Batch of Fellow Programme in Management and 6th Batch of Executive Fellow Programme in Management on the first day of the Orientation programme held on 28th June 2019 innervating the students on a new journey filled with new hopes and determinations. The students got an opportunity to interact with experts from academia, the learning received from whom will certainly stay with the audience.
Prof. Bharat Bhasker, Director, IIM Raipur welcomed the incoming batches, motivating the students to follow their passion and shape their ideas accordingly. Prof. Bharat Bhasker thanked BALCO for their continued support to IIM Raipur and elucidated on the role played by BALCO in supporting IIM Raipur's new campus in Naya Raipur. In his inaugural address, he focused on building new futures together and creating new glory instead of basking in yesteryear's. He spoke at length about how we're living in a volatile world where disruption is but an inevitability. He elaborated on how a plethora of disruptions unlocks a commensurate plethora of opportunities. Closing his address, Prof. Bhasker mentioned how a vast pool of knowledge helps weather disruptive storms and create new opportunities, and to that effect, IIM Raipur would be taking on an academic orientation so that it creates future leaders adept at succeeding in this volatile, disruptive and transformative world.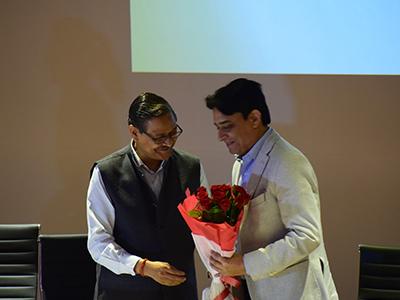 The Chief Guest of the event was Shri Vikas Sharma, CEO and Director of Bharat Aluminium Company Ltd. (BALCO). Mr. Sharma is a mechanical engineer and has had a wide and storied career spanning 30 years in various industries. Mr. Sharma has held a focus on future growth and sustainability throughout his career, and reiterated those themes in his address.
He shared an anecdote on how invisible things often end up being more significant than the visible ones, and used the example of the human mind to further his point. He further elucidated on the importance of all the elements of mind, their alignment and the focus on one's identity. He mentioned how one's attitude makes us who we are. It is only with the right attitude that we can open up infinite universes and the infinite opportunities they hold for one. He stressed upon the importance of attitude and how it shapes our identity which ultimately enables one to overcome the biggest obstacles.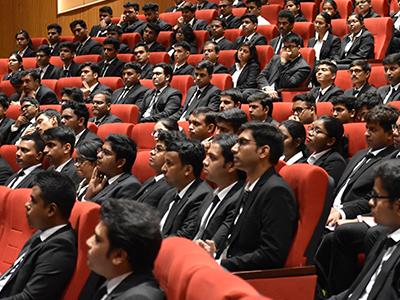 The Student Profile of the PGP batch was presented by Prof. M Kannadhasan, Chairman Admissions. The batch profile of IIM Raipur showed a continued push towards diversity even as the batch strength increased to 260 this year with 55% candidates from an engineering background and a total of 70% of the candidates coming with a work experience of an average of 24.6 months. This was followed by an address by Prof. Sumeet Gupta, the PGP chairperson who welcomed the 10th batch of PGP and the 8th batch of FPM students on behalf of FPM Chairperson, Prof. Pradyumna Dash. Describing the profession of teaching, he called upon the new batch of the students to become a role model for society besides excelling in research work.
Prof. Gupta then introduced the faculty to the batches.
The presentation was followed by the launch of IIM Raipur's official student magazine Effulgence 5.0. The theme for this year's magazine was indigenization and some of the brightest minds in the country offered their perspective on how indigenization will shape the world going forward. Furthermore, in a continued bid to be a more environment-conscious institute, the official student magazine was presented in a digital format only, forgoing a traditional paper format.
Prof. Sanjeev Prashar, Dean Academics, then brought the first half of the day to a close with a vote of thanks.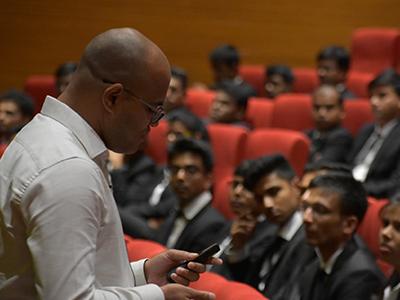 The second half began with an interaction with the Dean Academics, Prof. Sanjeev Prashar and PGP Chairperson, Prof. Sumeet Gupta, who reiterated Director Prof. Bhasker's focus on academics and explained the importance of hands-on learning and discipline. Following address was of Prof. Satyasiba Das, Chairman of Placement and Corporate Relations and also Chairman of International Relations. He talked about the giant strides IIM Raipur has made in the corporate world in the last few years. He explained the importance of exchange program as in today's competitive world, getting exposure helps in the overall growth of an individual, getting exposed to different pedagogies of management education helps in attaining a global perspective which will be beneficial in the long run.
This was followed by a brief session with Prof. Samar Singh, Chairman – Anti Ragging Committee who talked about the institute's zero-tolerance policy with regards to ragging.
This was followed by and address from Mrs. Archana Parashar, Chairman of an internal committee on prevention of sexual harassment at workplace. She elaborated on the need for this committee and how it functions to create the safest possible environment for women at IIM Raipur.
The second day of the Orientation Programme includes panel discussions to give the flavour of corporate life to the new batch. Eminent personalities from industry have been invited for the program, along with alumni who can offer even more perspectives to the incoming batches.
With all things in place for the new batch, IIM Raipur is once again all set to groom global leaders for the corporate world and high-quality researcher for the academic world.
Stay informed, Stay ahead and stay inspired with MBA Rendezvous