On the second day of its 4th HR Summit, Indian Institute of Management Raipur continued to introduce new ideas to aspiring managers. The theme for this year's edition was 'Evolution through Innovation: the new HR era', and the day's speakers had stimulating discussions that left young minds buzzing with intrigue. The day's proceedings comprised of three panel discussions.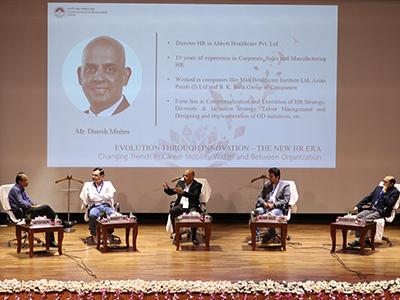 The first panel for the day discussed a topic that has garnered a lot of interest lately due to its relevance in current times- 'Expanding the Horizon: Well-being and Employee performance'. The panel had lots of interesting insights to share, and the audience was particularly enamored by their ideas. The panel was moderated by Ms. Kanika Mathur, Assistant Vice President - Human Resources, Encore Capital Group, who opened the discussion by introducing the topic. She stated that how well being is not only about employees at work but also about employees beyond the work. She also noted that how Mindfulness is about taking one step at a time.

Ms. Bhavya Misra, Director HR, PepsiCo, highlighted that employee well-being can be looked at from 4 aspects- opportunities, financial needs, social needs, physical and emotional needs. She also told how to deal with Physical and emotional stress at senior level.
Mr. Jaswanth Sharanarthy, Head - Learning, Talent Management and Organizational,
Development, CavinKare, he added the 5th aspect for wellbeing of an employee - 'environmental awareness'. He also quoted "Money is the most envied, but the least enjoyed. Health is the most enjoyed, but the least envied `.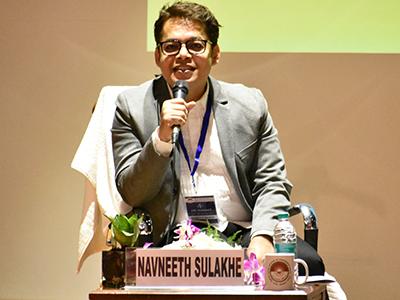 Mr. Navneeth Sulakhe, Head - Talent Management, Landmark Group, he also highlighted that the organization which put its employees at the forefront is destined to prosper and achieve its organizational goals. He also talked about how an attrition rate of 80 % shifted to 30% when organization shifts focus on employees.
Mr. Ravi Mishra, Senior Vice President - HR, Birla Carbon, spoke about how well being differs for different individuals, he gave various examples of how to increase well-being in the manufacturing domain. He also stated that an organization should focus on its stakeholders of which employees are a part of.
The enlightening interaction was followed by the second panel discussion of the day, on the topic - 'Expectations of The HR World from The New Managers'. The moderator for the panel was Mr. Rakesh Kumar Mehta, Human Resource Manager, S&P Global introduced the topic of discussion. He highlighted that how a manager is the 1st point of contact & needs to act as a bridge to employees.
Mr. Anurag Chandra, Head - Human Resources (People Services), Admiral Group, spoke about how the manager is the mirror of the organization and pressed on the importance of platforms like open houses to allow people to express themselves.
Mr. Partha Samai, Senior Vice President & Group Head Human Resources, AGS Transact Technologies Ltd, spoke about how managers should be conscious about appreciation of juniors, being accessible and take responsibility.
Mr. Rishav Dev, CHRO (VP - HR & Legal), Anmol Feeds Pvt Ltd, spoke about how leadership come from experience and while recruiting future managers few qualities are taken into account-knowledge and competence, decision maker, moral courage, loyalty and justice, empathy.
Mr. Vivek Tripathi, Chief Human Resources Officer, BIBA Apparels Pvt Ltd, mentioned that the future manager needs to have three broad capabilities - cognitive agility, emotional intelligence and desire to make a difference.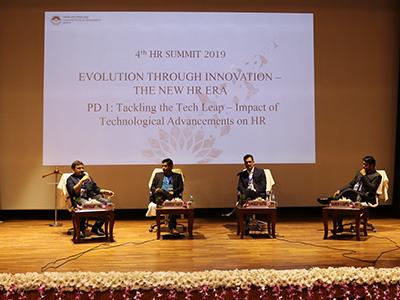 The final panel for the day discussed on the topic - 'Changing Trends in Career Mobility Within and Between Organization' which was moderated by Mr. Dinesh Mishra, Director HR, Abbott Healthcare Pvt Ltd, introduced the topic. He spoke that career mobility in simple terms is about moving from your existing role to another one, it's a case for survival and talent retention.
Dr. Devashis Rath, Sr. Vice President Talent Management, Organizational Effectiveness & Change Management, UltraTech Cement Ltd, spoke about how the change is the new constant & sociological paradigm is driving the change in career mobility. He also highlighted that how technology, accessibility and globalization are enablers of mobility.
Mr. Mayank Vasles, HR Head, Reliance Retail, Footwear Business, stated that an individual need to be accountable for his career and organization should have a culture which will help the managers to grow and innovate with the help of employees.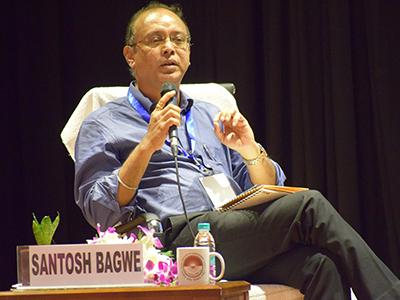 Mr. Sandeep Tyagi, Director - Human Resources, Samsung Electronics, spoke how mobility will be a necessity due to disruption and workforce will be needed to re skill and upskill due to disruption.
Mr. Santosh Bagwe, Head HR - MEP, T&D, O&M, Sterling & Wilson, spoke about career mobility as the ability to do what an individual like what motivates him to work efficiently.
The Summit was drawn to a close with a final vote of thanks, leaving tomorrow's managers brimming with ideas to implement throughout their careers.
Stay informed, Stay ahead and stay inspired with MBA Rendezvous