On the second day of its 4th Leadership Summit, which was conducted virtually, the Indian Institute of Management Raipur continued to introduce new ideas to aspiring managers. The theme for this year's Leadership Summit was 'New Age, New Realities.' The day's speakers had stimulating discussions that left young minds buzzing with intrigue. The day's proceedings consisted of four-panel discussions and a valedictory session.
The first panel of the day discussed the topic 'Execution in Digital Economy'. Prof. Satyasiba Das welcomed the esteemed panelists. The discussion revolved around the digital economy, and the esteemed guests provided their incisive inputs about digital transformation for organizations. This insightful discussion was moderated by Prof. Sumeet Gupta, Professor, IT & Systems.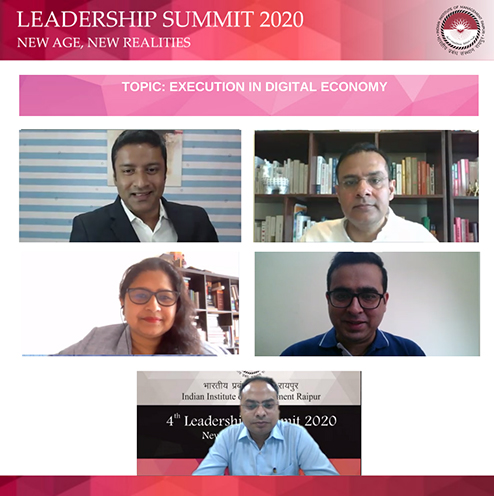 Mr. Dhritiman Chakraborty, Director – Operations, Ingram Micro, explained that in the current scenario, digital transformation was not limited to a single aspect of a business. Instead, it encompasses every aspect of it. He further added that the people aspect is the most important part of digital transformation.
Mr. Sachin Khurana, Chief People Officer, and Vice President – People Practice, Happiest Minds Technologies highlighted that digital transformation was a shift that we had witnessed from a predetermined space, and it has improved the availability of the resources to solve real-world problems.
Mr. Sanjay Murdeshwar, Managing Director, Novartis India, reiterated that digital is a tool that has aided the businesses and customers. He further added that an agile culture would facilitate an organization to undergo digital transformation.
Ms. Kavita Kurup, Global Head Talent & Organisation Transformation, UST Global, shared her views on how digital transformation differs from company to company and how the culture of the organization plays an important role in the acceptance of digital transformation.
The enlightening interaction was followed by the second-panel discussion of the day, on the topic 'Developing your Business' Digital Capabilities- How Are We Doing It?'. The moderator for the panel was Prof. Arunima Shah, Assistant Professor, Marketing at IIM Raipur. The panelists discussed insightful points regarding enhancing digital capabilities of organisations.
Mr. Amit Kapur, Senior Director – Technology, Lowes, emphasized that employees and customers have to be ready for the digital change so that there is autonomy in the decision-making process.
Mr. Himangshu Baruah, Director, Marketing APAC, Softline, expressed that digital capabilities translate to ensuring improved user experience and building inner capabilities.
Mr. Mitul D Thakkar, Co-Founder, and Chief Executive Officer, GreyAtom explained that the biggest challenge in digital transformation is the layers of an organization and advised to have an understanding of the technologies across multiple layers.
Mr. Ramakrishna Rama, Director, Software Engineering, and Site Lead, Dell, pointed out the fact that digital capabilities will improve the organization's scalability by enhancing customer engagement and employee productivity.
Mr. Sunil Gopinath, Chief Executive Officer, Rakuten India, reiterated that digitization helps organizations to deeply assess the roots of their customer base. He further shared that business growth can be enhanced through digitization.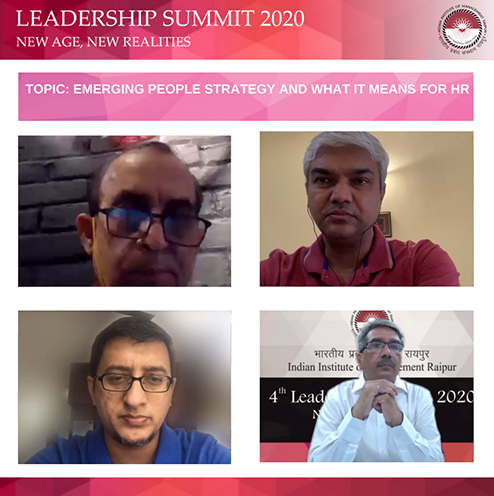 The subsequent two panels had an insightful discussion on the topic 'Emerging People Strategy and What it Means For HR'. The third panel for the day was moderated by Ms. Rashmi Mansharamani, Chief Human Resource Officer, The Wave Group Executive Officer of TATA Company & Director - Asia Valvoline Cummins.
Ms. Heather Saville Gupta, Global Head HR, MullenLowe Lintas Group, mentioned that the workplace needs to be flexible, especially for women. She further added to it that Covid has created a new paradigm and enabled people to embrace work from home culture.
Mr. Seetharam L, Director, Talent Acquisition, Virtusa, mentioned that disruptions have become part of the business, leading to the emergence of new & innovative ideas within the organisations.
The fourth panel discussion swas moderated by Prof. Sanjeev Prashar, Professor, Marketing at IIM Raipur.
Mr. Rajiv Sikka, Chief Executive Officer, Indian-Oil Adani Gas Pvt. Ltd. talked from the perspective of HR and highlighted that organizations need to change with the changing times. He emphasized that employees need to constantly work up-skill from time to time.
Mr. Sudipto Mandal, Chief Human Resource Officer, Star Cement, explained thoroughly about the change process happening in the organisations and various characteristics of the change process.
Mr. Vijay Sivaram, Chief Executive Officer, Quess Corp Ltd., shared that there is an increased need for resilience and outlined the philosophy of 5R's to combat today's changing scenario.
The Summit was drawn to a close with a final vote of thanks by Prof. Sanjeev Prashar, leaving tomorrow's managers brimming with ideas to implement throughout their careers.
Stay informed, Stay ahead and Stay inspired with MBA Rendezvous