Indian Institute of Management, Rohtak celebrated India's 73rd Republic Day with full fervor on campus in the presence of students, faculty, and staff. The day was celebrated with a zeal-and-spirit throughout the length and breadth of the institute. The Institute buildings were tastefully decorated with bunting pictures of heroes of freedom moments, and the national flag. It was a sight to behold the tricolors fluttering proudly on the institute building. Director IIM Rohtak, Prof. Dheeraj Sharma hoisted the national flag. As the flag unfurled and fluttered, the national anthem played and a sense of pride washed over everyone. This was followed by an address by Prof. Sharma. He mentioned that our nation has given a knowledge system and a way of life that is cherished by the world today. He said, "These are very important dimensions which are now being challenged in recent times. Therefore, we must reflect on our fundamental duties. Our fundamental duty is that we must uphold the sovereignty of our nation and value our rich heritage. We must take pride in who we are, whatever religion we may follow; we have a common social identity that binds us together. We are Indian that binds is together" He further reminded us of the traditional beliefs of India that we can bring back in our everyday life for example that the food that we are having is medicinal in its property. He urged students to bring Millet consumption to the forefront. He added, "Ours is a great nation, with 1.4 billion people. Today, we must celebrate achieving 150 crore doses of vaccination in our country where a lot of other nations are still struggling on this front. However, our long-term focus should be to build immunity through Traditional Indian Diet and Yoga." The crowd took the oath to remember the golden heritage of our country and feel proud to be a part of such a Republic Nation.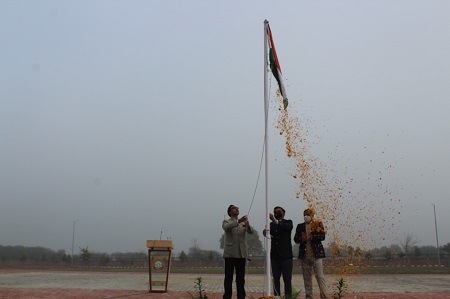 IIM Rohtak has completed more than a decade in imparting excellence and management grit to the country's young aspiring young managers. It is amongst the country's top management institutes and the only IIM in the Delhi NCR region. The institute is the first IIM to have a BBA+MBA degree program and BBA+LLB degree program.
Stay informed, Stay ahead and stay inspired with MBA Rendezvous.