IIM Rohtak celebrates its 11th foundation day with enthusiastic participation from students from PGP, IPM and FPM programmes. Indian Institute of Management Rohtak was established in 2009 on the 16th of November by the Government of India as one of the six new IIMs announced under the 11th Five Year Plan, thus making it the first IIM in North India and the only IIM in the National Capital Region. The institute is presently functioning from its permanent sprawling 200-acres residential campus located in Management City, Sunaria, with Professor Dheeraj Sharma as its director.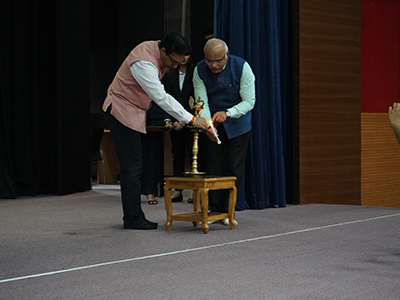 Prof. Dheeraj Sharma welcomed the esteemed guests. He, while reflecting on the milestones achieved by IIM Rohtak since its inception said, "It is the hope that helps us carry on towards our goal. It is the hope of taking IIM Rohtak to the top that drives the will power of faculties and administration." He further added, "Rituals are an important part of our daily life as they are the source of our values and provide a meaning to our life. Rituals symbolise our aspirations and inspire us to achieve great things."
The Chief Guest of this event was Dr Vinay Sahasrabuddhe, Hon'ble Member of Parliament, Rajya Sabha. In his keynote address, Mr Sahasrabuddhe congratulated IIM Rohtak for establishing itself as a top B-school in such a short period and talked about the importance of science of Institution Building. He said, "Institution Building as science needs research and documentation and B-schools can play a significant role in this field." He further added "As a society, we are facing crisis of ownership, authenticity, and purpose." He highlighted the dearth of leadership and suggested that B-schools can train students in leadership, not only from corporate viewpoint, rather for other fields in our life.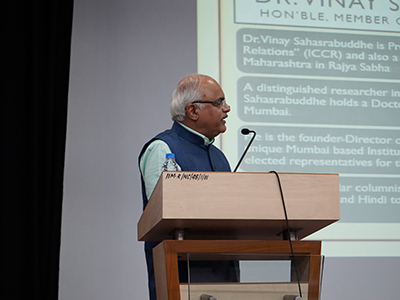 Students organised a classical music night to celebrate the Foundation Day programme. Renowned artists like Lavanya Sundararamana, Eklavya, Lalit etc. The programme began with a vibrant performance by the newly inducted IPM students. All the participants showcased their talents in the areas of their cultural interests through mesmerising performances.
Staying true to its motto, "Management Through Knowledge and Values", IIM Rohtak operates with the vision to be a global leader in the creation and dissemination of management knowledge, and a global learning centre in due course of time. The primary mission of IIM Rohtak is to develop leaders with a sense of excellence, strong social commitment, and a passion for value systems. Since its inception, the institute has delivered 200+ publications and has been a part of 100+ conferences thus progressing towards its goal with hawk's eye. It is the fifth IIM to get a membership of AACSB, the most coveted international accreditation agency.
In the ten years of its existence, IIM Rohtak has established itself as one of the only four IIMs in the country that are CFA affiliated. The institute has received the IDA Education Best B School Award in Research and Innovation by India Didactics Association in the year 2018 and is ranked among top 16 public B Schools in India for Management Education and 8th amongst all IIMs. The institute has achieved immense growth and established itself as an Institute of National Importance.
Stay informed, Stay ahead and stay inspired with MBA Rendezvous