Indian Institute of Management Rohtak formally inducted the fourth batch of the Five Year Integrated Programme in Management (IPM) and the second batch of the Five Year Integrated Programme in Law (IPL). The induction and orientation programme was held on the 3rd and 4th of September, 2022.
Day 1 of the programme commenced with Prof. Dheeraj Sharma, Director, IIM Rohtak, welcoming the IPM 04 and IPL 02 batches to the institute and congratulating them for securing admission. He urged them to make choices that align with age-old practices of Indian culture with the autonomy that will be provided to them. In his words, "Indian leadership is about doing things in a meaningful and effective manner". He concluded by advising them to look beyond the scope of the curriculum to make the most of their time in the institute.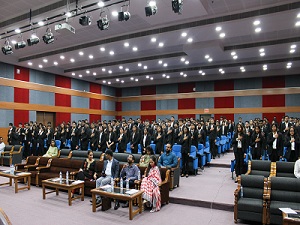 Shri Ashwini Kumar Choubey, Hon'ble Minister of State, Ministry of Consumer Affairs, Food and Public Distribution; and Minister of State in the Ministry of Environment, Forest and Climate Change commended the mission, vision, and commitment of IIM Rohtak towards serving the nation by creating knowledge, in alignment with the ideals of "Sabke Saath, Sabka Vikas, Sabka Vishwas, Sabka Prayaas" to build an Atmanirbhar Bharat. "If you let go of your fear and strive to work hard, success and growth are yours", he said. He asserted that the amalgamation of management and legal education would equip students with relevant skills and mould their talent to face real-life challenges in the corporate world. He also wished the new batches good fortune in the years to come.
Mr. Shardul S. Shroff, Chairman, Shardul Amarchand Mangaldas & Co, delivered a keynote address on the topic: Future and Scope of Legal Profession in India, where he stressed the importance of a deep and continuous study of the law and respect for time and discipline. In his words, "The majesty of law lies in its demonstrative fairness - where there is truth, there will be victory". Mr. Amardeep Singh Rai, Additional Director General Police, Punjab, delivered a talk on the implications of rising protectionism, hoping that students who set forth from IIM Rohtak would become confident beings who have good faith in their personal ability to face any situation. Mr. Anand Bhatia, Chief Marketing Officer, Fino Payments Bank, shared his experience of IIM culture and advice on the best ways to maximize personal and professional growth. This was followed by a talk on managing stress by the Senior Doctor of Apollo Hospital, Mr. Manoj Gumber.
Prof. Deepika Jain, Prof. Rupika Khanna, Prof. Vishnu K, and Prof. Rama Shankar Yadav; Assistant Professors and Alumni of IIM Bangalore, IIM Lucknow, IIM Kozhikode, and IIM Ahmedabad, featured in an engaging discussion on the topic of IIM Culture. They brought in their unique insights and strategies on different ways to cope with the stress and pressure that is synonymous with an IIM, highlighting the importance of working with peers to tackle challenges.
Day 2 of the programme commenced with Mr. Raj Kumar, Managing Director, LIC delivering his keynote address to the students. To thrive in the VUCA world, he said, leaders need to set an example of autonomy and move away from binary thinking. This was then followed by an address by Dr. Hanif Qureshi, Commissioner of Police, who spoke about 'education with a purpose'— which revolves around the art of problem-solving. "Grit is the best predictor of success in almost all disciplines", he said. Shri Puneet Bali, Senior Advocate, Punjab and Haryana High Court then spoke at length about how a robust legal system and quick dispensation of legal disputes are essential to the economy of our nation.
Shri Arjun Munda, Hon'ble Minister of Tribal Affairs, Government of India addressed the incoming batches and wished them the best for their future endeavours dedicated to realizing the vision of "21st century belongs to India". He implored the students to make wise use of attractive opportunities awaiting them in the future by realizing the potential of both the institute and themselves, stating further that one should "prioritise the needs of your motherland no matter where you work or live".
The newly-inducted batch was fortunate to be able to interact with Hon'ble Mr. Justice Arun Monga, Judge at Punjab and Haryana High Court, who spoke about the role of law in the progress and development of the world and encouraged students to boost their flexibility skills. Ms. Akila Agrawal, Senior Partner and Head – Mergers and Acquisitions, Cyril Amarchand Mangaldas shared her thoughts on "The Role of Law in Progress and Development of the World". She encouraged students to develop a growth mindset, and left them with some food for thought - "There will always be an easy option and a right option. As lawyers, we are only as good as our reputation". The Chief Marketing Officer of Home Credit, Mr Ashish Tiwari, gave an engaging talk on the development and progress in the VUCA world. He urged students to seek new ways to adapt to highly volatile, uncertain, complex, and ambiguous environments in a fast-paced and data-driven business world.
IIM Rohtak, an institute of national importance is a benchmark for premium management education in the country. One of the most prominent names in academia presently, the institute is known for producing high-quality literature in all functional areas of management, ranking amongst the top five IIMs in research. The only IIM in the Delhi-NCR region, IIM Rohtak offers more than 8 programmes to over 1600 students, imparting knowledge with multi-disciplinary outlooks to prepare future business leaders.
Stay informed, Stay ahead and Stay inspired with MBA Rendezvous.