The sixth edition of Solaris, the annual management fest of IIM Udaipur culminated on January 10th, 2021 after two-day long management extravaganza. The fest was organized by the students of IIMU, and the theme for Solaris '20-21 was 'Transcending Ideologies.'
The fest included events and competitions for the students across B-Schools, namely, Vaad-Vivad, Mind-Wizz, Ops-Samasya, Auctionnaire, MarcWars Saudagar, Vitt-Sangram, Ingenium, and Arohan. These interactive and highly engaging events helped the students pitch themselves against each other in simulations of real-life situations, making them think on their feet and also out of the box.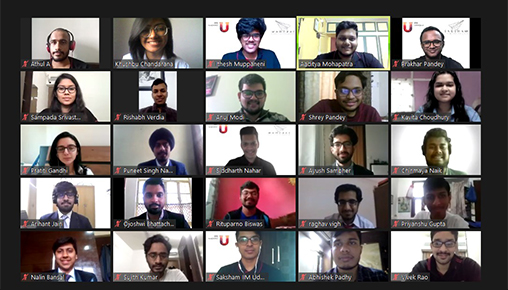 In his opening note, Prof. Janat Shah, Director, IIM Udaipur said, "Solaris is an important way to connect with the best. These industry leaders engage us for two days and share what keeps them awake. Solaris symbolises what IIM Udaipur is all about." Flagging off the fest, Chief Guest Mr. Himmat Singh Barhath (Deputy Commissioner, Municipal Corporation, Udaipur), said, "No business has been safe from the pandemic, speaker at Solaris '20-21 will guide how students steer themselves in the future and become industry leaders." Guests of honor Mr. Suket Singhal (CEO, Secure Meters) and Mr. Ananya Singhal (Chief of People, Secure Meters), also addressed the participants.
Industry dignitaries such as Mr. Bhargav Dasgupta (MD & CEO, ICICI Lombard General Insurance), Mr. Ajay Sevekari (Managing Director, Bridgestone India Automotive Products Pvt. Ltd.), Ms. Ameera Shah (Promoter & MD, Metropolis Healthcare Ltd.) and Mr. Rajender Sud (Founding Team Member & CEO, Max Skill First Ltd.), graced the fest and provided insights and learnings from their varied experiences.
Arth- Samvaad- the Finance Symposium of Solaris '20-21, hosted Mr. Tushar Pradhan (Chief Investment Officer, HSBC Asset Management) and Mr. Ajay Lakhotia (Founder, Venture Capitalist and Angel Investor, Stockgro). Samvadya- the Consulting Summit, hosted Mr. Nitin Chandalia (MD & Partner, BCG), Mr. Pallab De (Partner, PwC), and Mr. Rahul Gupta (Functional Head, Corporate Development, Tech Mahindra), who shared their knowledge and experience with students.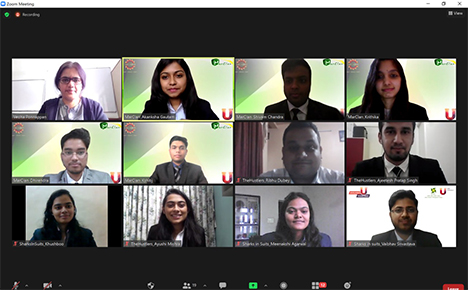 Other notable events of the fest include Antardrishti- the Economics Summit, which hosted Dr. Sachchidanand Shukla (Chief Economist, Mahindra Group), Mr. Saugata Bhattacharya (Executive VP and Chief Economist, Axis Bank) and Mr. Indranil Pan (Chief Economist, IDFC First Bank) who spoke about the rising inequality due to the pandemic and the role of government in this to ensure well-rounded growth. This was followed by Unmesh, The Operations Summit, which saw Mr. Balpreet Singh (Digital Transformation Initiatives Leader- Operations, Reliance Industries Limited), Mr. Vinayak Deshpande (General Manager -Supply Chain, Enrich Energy Pvt. Ltd.) and Mr. Sandeep Chatterjee (Associate Director, Deloitte) discussed the importance of AI and ML and India's scope of becoming a supply chain hub. The next summit was Anveshan, which hosted Mr. Jatinder Kautish (Director Data Scientist, @AI, Capgemini) and Mr. Jayant Prabhu (Global Head & Vice President- Data, Analytics, AI at Wipro Limited) where the speakers discussed their views on how AI and large-scale data analytics can help in transforming the healthcare industry. The day ended with Savannah, the Marketing Summit of Solaris '20-21. Mr. Vivek Sharma (Chief Marketing Officer, Pidilite Industries Limited), Ms. Jasrita Dhir (Head, Marketing & Communication at Antara Senior Living), and Ms. Dola Halder, Brand- Head, Doritos India, Pepsico.
Multiple prominent brands including FiveS Digital (Associate Sponsor), TiE Udaipur (networking partner), Gati (delivery partner), Advaiya (consulting summit partner), Union Bank of India (banking partner), Chaudhary offset (Printing Partner), PETA Youth (Social Cause Partner) Clever Harvey (21st Century Skills Partner) and Radio City (Radio Partner) provided their support to Solaris '20-21.
Solaris (https://solarisiimu.com/) was initiated by IIM Udaipur to help the students interact with the industry leaders and gain keen insight from their knowledge and experience. Indian Institute of Management Udaipur, via Solaris aims to groom the students into future leaders.
Stay informed, Stay ahead and stay inspired with MBA Rendezvous