As informed by Dr. Urvashi Makkar, Director, IMS Ghaziabad, the Institute organized 'MELANGE 2022', its grand Annual Inter Institute Cultural Fest on November 18-19, 2022. The event was graced by the august presence of Chief Guest, General V.K. Singh, PVSM, AVSM, YSM, ADC, Minister of State for Road Transport & Highways and Civil Aviation, Government of India, MP from Ghaziabad & Former Chief of Army Staff, India; Shri Naresh Agarwal, Chairman, IMS Group of Institutions and Dr. Urvashi Makkar, Director, IMS Ghaziabad. The momentum further picked up by the glittering presence of Guest of Honor, Mr. Anurag Muskan, Anchor, India News; Mr. Anuj Agarwal, Editor, Dialogue India; Renowned Poets, Ms. Nisha Bhargav & Dr. Vishnu Saxena; Eminent Judge, Ms. Priyanka Jain besides many more luminaries from industry, media and academia. Carrying forward the pomp and glamour of the fest season, the grand finale of the two day gala cultural extravaganza witnessed "Live Music Concert" by Mr. Mohit Chopra, renowned Bollywood Playback Singer, Singing Sensation from Indian Idol and a splendid vocalist who made the audience ecstatic with his melodious numbers.
More than 800 students from over 45 institutes of Delhi and NCR displayed their talent and skills in Solo Singing (Swara)& Duet Singing (Sur Sangam); Solo Dance (Soul Rocker) & Group Dance (Dance Maniacs); Poetry Competition (Abhivyakti); Skit (Rangmanch); Fashion Show (Vogue); War of Bands; College Making (Sangrah); T-Shirt & Face Painting (Mosaic); Video Making (SMARTCapture); and many others. Cash prizes of upto Rs. 1 Lakh, mementoes, and certificates were awarded to the winners.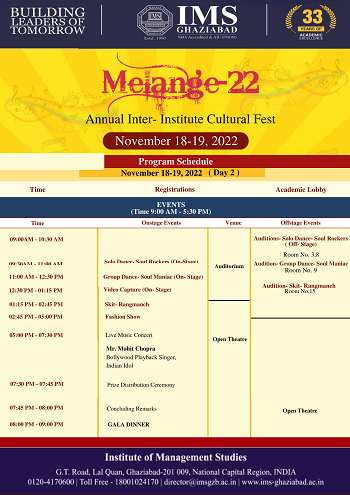 The event was supported by corporate sponsors like Truefitt & Hill, Believers Management Consultant, Skiify Solutions, Regalo Kitchens, CCCInfotech and widely covered by reputed media houses. The eclectic mix of events in "MELANGE 22' coordinated by Conveners, Dr. Radhika Malhotra, Dr. Laxmi Pandey, Dr. Sushant Vishnoi & Dr. Mansi Gupta provided a vibrant opportunity to youngsters from all over the country to explore and display their creativity, talent and enthusiasm in the high octane environment of IMS Ghaziabad.
Stay informed, Stay ahead and Stay inspired with MBA Rendezvous.