The months of planning, preparation, and relentless efforts, accompanied with innumerable dreams, have finally yielded fruits to the journey.
IMT Ghaziabad is extremely proud to announce the successful culmination of the Final Placements of Class of 2020-22, by setting a new record of placing the whole batch in just over 2 weeks. 100% of the batch got placed in the best of companies in India and abroad at enviable salary packages.
Amidst these challenging times, IMT Ghaziabad has yet again proven itself to be one of the top choice of recruiters for hiring students from campus. The industry has shown faith in the quality of our students with an overwhelming response from companies spanning across various sectors BFSI, Consulting, IT/ITES, Internet Business, FMCG and Consumer Goods, Logistics and Supply Chain, Automobile, Pharmaceutical amongst others. Students have been offered roles in functions such as Consulting, Finance, Strategy, Sales and Marketing, Operations and HR. More than 30% of first time recruiters including startups also opened their niche profiles to leverage the talent pool at IMT-G.
The placements for this batch of IMT Ghaziabad have broken the record of many years, with a 23 % increase in average annual compensation.
Announcing this successful achievement of final placements, Dr Vishal Talwar – Director, IMT Ghaziabad said "Industry and Academia are coming out of a turbulent phase and this very positive and encouraging performance by our students is a breath of fresh air. This astounding outcome is a result of collective effort by all involved – students, faculty as well as the placement team and I would like to use this opportunity to thank them and urge them to keep moving forward "
This year, industry response for invitations to participate in campus placements of students has been encouraging across sectors. Many organizations registered with the placement office of IMT Ghaziabad with an intent to hire graduates with good packages. Owing to Covid 19 protocols the campus recruitment process was conducted virtually by majority of the recruiters.
Acknowledging the overwhelming support from the corporate partners the Head Corporate Relations, IMT Ghaziabad. Renu Misra said "IMT Ghaziabad has achieved 100% placement for PGDM batch 2020-2022 with an average package hike of 23 % from the previous year's, breaking all records of last 40 years of this prestigious institution.
The institute's placement team has set a record of placing 517 students in just 17 Days, with an average salary of Rs 15.28 lakh per annum and participation from 136 companies. More than 30% of the recruiters were the first time recruiters this year.
The average salary for the top 25% of the batch stands at Rs 20.77 lakh per annum. The highest international package received this year is Rs. 62.0 lakh per annum, and highest domestic package received is Rs 29.5 lakh per annum. More than 50 students have received offers above Rs 20.0 lakh per annum.
Some of the notable recruiters this year include Morgan Stanley, BCG, Accenture Consulting, Goldman Sachs, Google, Infosys Consulting, Emami International, TATA Consumer Products, Tolaram, Whirlpool, WIPRO CCL, American Express, Arcesium, Bajaj Auto, BNY Mellon, Tech Mahindra, Cisco, Credit Suisse, Indus Valley Partners, Piramal Enterprises, PayU, PhonePe to name a few. More than 10 recruiters who hired from us this year are part of 2021 Fortune Global 500 ranking list.
This has been possible due to the relentless and consistent efforts of the placement team in nurturing and building long term relationship with organizations. We thank all our corporate partners who have enabled the successful placement of the class of 2022."
The program wise placements statistics for IMT Ghaziabad are as below.
| | | | | |
| --- | --- | --- | --- | --- |
| | Overall | PGDM | PGDM - DCP | PGDM - BFS |
| Overall Average CTC (LPA) | 15.28 | 15.57 | 14.05 | 14.76 |
| Median CTC (LPA) | 14.00 | 14.75 | 13.07 | 13.0 |
| Average of top 25% Offers | 20.77 | 20.99 | 18.37 | 21.19 |
| Highest Domestic CTC (LPA) | 29.50 | 29.50 | 25.91 | 27.75 |
| Highest International CTC (LPA) | 62.0 | 62.0 | 27.45 | -- |
The objective of IMT Ghaziabad as an institute is to help students become influential leaders who can achieve results that have the potential to transform organizations. It tries to inculcate values of innovation, social justice, and hands on approach as well as to facilitates design/lateral thinking capabilities.
In addition to this success, Dr Harvinder Singh, Chairperson - Placement Committee, IMT Ghaziabad said "The excellent performance of IMT Ghaziabad students during this placement season is a testimony of the relevance of academic inputs given by the institute and the state of industry-readiness of IMT Ghaziabad students in a dynamic environment demanding new age skill-sets.
Percentage Change in CTC in LPA over the years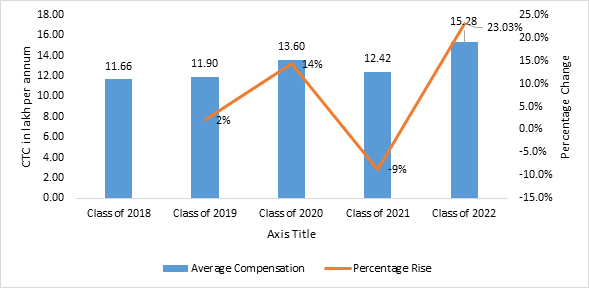 The fresh graduates from IMT Ghaziabad were offered varied job roles in leading companies and sectors. The highest job profiles were offered to students in IT sector, BFSI and consulting sector.
Below mentioned is the sector wise placements at IMT Ghaziabad.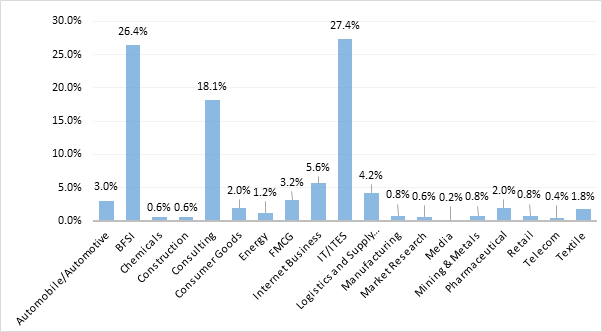 IMT believes in gender diversity and strongly encourages balanced work ratio in work places. This was evident this year as the average CTC of females is higher as compared to male. The average CTC of top 10% female at IMT Ghaziabad was 25.16 lakh per annum as compared to average CTC of male which was 24.9 lakh per annum. IMT promotes and encourages females in every aspect of the career and growth development. With females grabbing high CTC in final placements, it acts as a source of motivation for female candidates.
Below mentioned is the average CTC in LPA of Top Offers (in lakh per annum)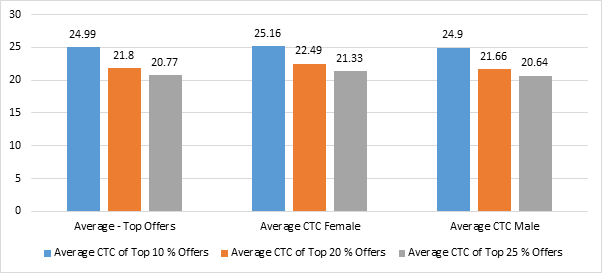 IMT as an Institute, is known for grooming its students and exposing them to a holistic approach to learning and enhancing overall development. The objective is to help students become effective leaders, who can achieve results. IMT believes in establishing long term relationships with industry partners. They collaborate with them to create a great learning experience for their students. IMT Ghaziabad endeavor is to prepare students for a global mindset, so that future managers can address ever evolving challenge of volatility, uncertainty, and complexity in the global business landscape.
The constant faith and quest to achieve greater heights has translated into triumph, as done by every generation prior, and shall be done by many more to come. IMT Ghaziabad extends its heartiest congratulations to all the students and wish them all the best for their bright future ahead.
Stay informed, Stay ahead and stay inspired with MBA Rendezvous.