India has undertaken the G20 Presidency from Indonesia and will organize the G20 Leaders' Summit for the first time in the country in 2023. The theme of India's G20 "Vasudhaiva Kutumbakam" or "World is one family" aims to encourage global solutions and inclusive collaboration among major developed and emerging nations and recognize the significance of collective and united actions. Being the fifth largest economy in the world, the Indian economy is relatively well-positioned to weather global spillovers. Favourable demographics, well-developed digital infrastructure and reconfiguration of global supply chains are key factors making India an economic and diplomatic powerhouse.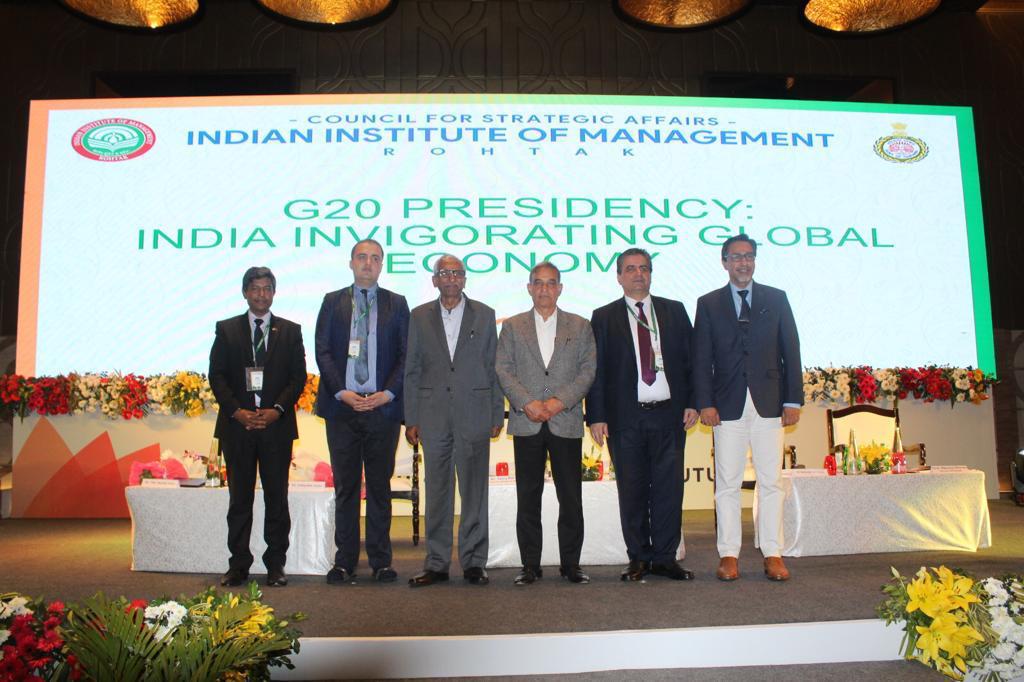 Council for Strategic Affairs Centre at IIM Rohtak has organised India's G20 Presidency Summit "Preponderance of Indian Wisdom in VUCA World" in Gurugram on 9th February 2023 at Westin Hotel, MG Road, Gurugram, Haryana. The event was inaugurated by Hon'ble Chief Minister Shri Manohar Lal Khattar ji. The keynote speakers were Mr. Depinder Singh Dhesi, Chief Principal Secretary, Chief Minister, Mr. Adarsh Kumar Goel, Chairman, National Centre Tribunal, and Dr. Satyapal Singh, Member of Parliament. The delegates from Tajikistan, Bangladesh, Afghanistan, Greece, Argentina, Canada, and Switzerland participated in the summit. There were more than 300 participants in person and 1100 joined online from various parts of India and abroad.
Chief Minister, Shri Manohar Lal Khattar ji commended IIM Rohtak on their initiative for hosting the G20 summit in Haryana. He added that the challenges of the VUCA world can be overcome by Indian wisdom by changing V of volatile to vision, U of uncertainty to understanding, C of complexity to clarity, and A of ambiguity to agility. He emphasized that Indian wisdom can make the world a better place for future generations. The solar energy plants in Haryana will help India to become the leader in its sector. In the coming months, Haryana will host G20 for various guests from abroad. Haryana will leave no stone unturned to make this opportunity memorable.
Prof. Dheeraj Sharma, Director, IIM Rohtak stated that today the world is recognising traditional Indian wisdom in all domains of life. He said that we can see the Indian wisdom, "aahaar hi aushad hai", projected in today's time as the world moves towards preventive healthcare and away from curative. The traditional Indian thought on sustainability is, don't create waste that you then have to manage. In other words, only buy and use what is necessary and not engage in wasteful consumption. Stable growth, rather than faster growth would be the solution to reach India's goals. A healthy, happy, and spiritual outlook on Indian tradition is what others can learn to create a better world.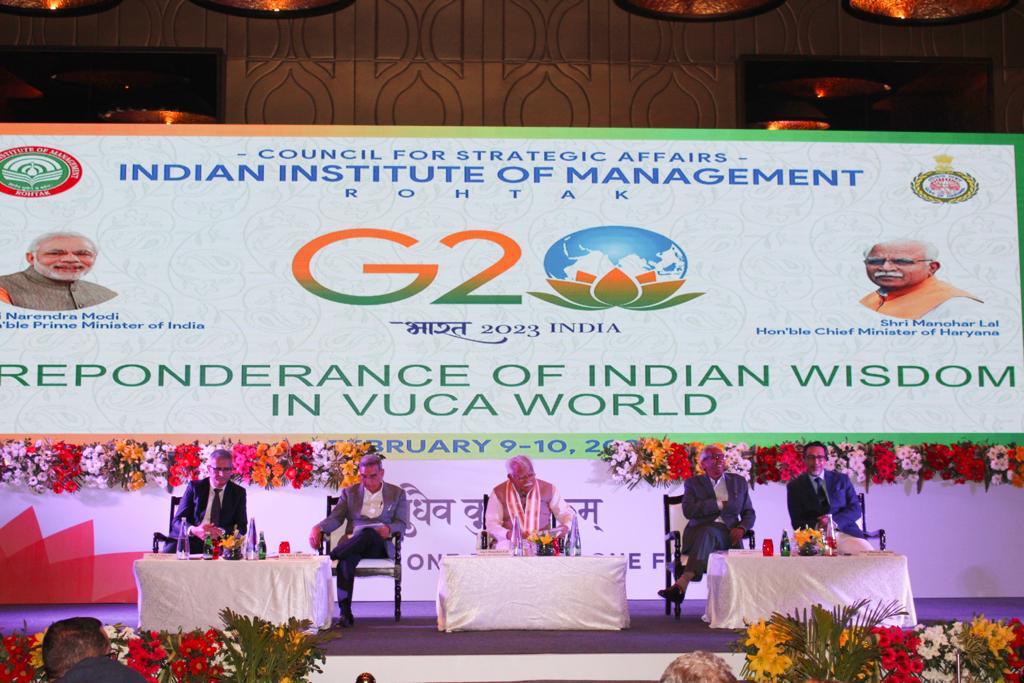 Dr Satyapal Singh, Hon'ble Member of Parliament, highlighting India's achievements over the recent years, discussed how the G20 Presidency had given India, the golden opportunity to showcase its achievements in the global forum. Recent successes at a large scale with campaigns such as Swacch Bharat Abhiyaan, PM Kisan Yojana and the Jan Dhan program indicate India's ability to implement changes in a rapidly changing environment, he added.
Hon'ble Mr Justice Adarsh Kumar Goel, Chairman, National Green Tribunal, emphasised that India should think holistically in order to sync global economic thoughts with sustainability-driven thoughts to provide the best to mankind. That is perhaps the best India can give in its Presidency, he said.
Brajendra Navnit, Ambassador & Permanent Representative of India to the World Trade Organisation, Geneva, Switzerland, commented on how India overcame being part of the 'Fragile Five' in just a span of few years through speed, scale and skill. He stated that today, as the world looks at how India is working towards reinvigorating the global economy, the nation has to start changing its thought process from scarcity to surplus.
Mr Habibullo Mirzozoda, Deputy Chief of Mission, Embassy of Tajikistan addressed the panel. He said, "India is managing, for the first time, running two presidencies: G20 and SCO, at a global level." He shared his belief that India will continue to seek the fair and balanced representation of developing countries in various multinational forums. He added, "India is most important for the TAPI(Turkmenistan–Afghanistan–Pakistan–India Pipeline) project and Chabahar projects for economic growth. India can increase the trade of the entire region through Chabahar. Excessive progress has been made in meetings in the last few weeks in India."
Afghanistan congratulated India on the G20 Presidency. Mr. Sediqullah Sahar, Attache of the Embassy of the Islamic Republic of Afghanistan said that India as the fifth largest economy can help the entire region with infrastructure development and health care assistance. India's Presidency will help in a sustainable growth model for G20 Nations. He talked about the 3Ds of development and the start of Amrit Kal - the era of prosperity.
Mr. Md Shafiul Alam, Councellor, Bangladesh High Commission said: "Indo-Bangladesh relations have strengthened even more and there is greater trade emphasis and cooperation." He extended a token of thanks to India for its support during the Bangladesh War of Liberation. "We have been neighbours for a long time and we are yet to leverage this opportunity. We hope to continue fostering and building on this relationship in the coming golden years of India. India and Bangladesh have unique similarities such as muslin, terracotta, Taxshila and shipbuilding across the Bay of Bengal", he continued. He also talked about promoting the shared interests of South Asia through universal healthcare in the upcoming years.
The second panel was addressed by Sh. Atul Karwal, NDRF, Director General, Sh. Upendra Tripathy, Founding and Former Director General, International Solar Alliance, Mr. Tahir Gora, Canadian broadcaster, writer and Mr. Jesper Hougaard, CEO, Diletto Lifestyle & Hospitality Pvt. Ltd.
Stay informed, Stay ahead and stay inspired with MBA Rendezvous.