Leading educational institute JK Lakshmipat University, Jaipur (JKLU), in collaboration with the National HRD Network (NHRDN), organized its HR Summit (2020) and Dr. Udai Pareek Special Lecture at the university campus. The function included a keynote address by Mr. P. Dwarakanath, Chairman of GSK Consumer Healthcare, on 'Developing Competencies for Future Readiness' and panel discussions of seasoned practitioners on themes including 'Organization Transformations using Innovations' and 'Integrating Happiness with Business Excellence'.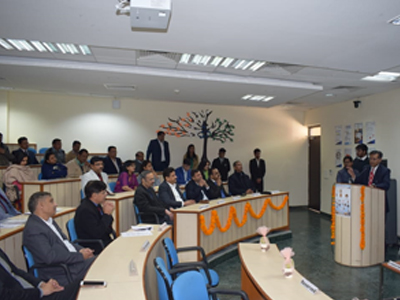 The event was held to recognize and honour Late Dr. Udai Pareek, former Professor of IIM Ahmedabad and Founder of the National HRD Network (NHRDN), and fondly referred to as the Father of HRD in India,on his birthday and in his city of birth and was graced by the presence of his family members, including his son, Mr. AnagatPareek, Sr VP at PayTm and daughter, Prof Surabhi Purohit of Rajasthan University, who shared inspiring anecdotes from the life and times of Dr Udai Pareek.
The event celebrated HR innovations, transformations and the future of business excellence and HR practices through employee engagement and happiness and saw the attendance of more than 150 Business Leaders, HR Heads, Strategy Planners, Academicians and Thought Leaders from different parts of India. Several companies and organizations participated in the summit, which included Maruti Suzuki, Hero MotoCorp, JK Organization, HCL Technologies, TCS, Infosys, EXL Services, ZTE Telecom, Ambuja Cement, Apar Industries, Nuberg Engineering, Jaipur Rugs, Aavas Financiers, Mahindra Financial Services and Samarth Life Management, among others. The event also saw the presence of eminent personalities including Mr Prem Singh, President NHRDN (Delhi NCR) and President Group HR of JK Organization,Dr GP Rao and Dr RS Dabas, past Presidents of NHRDN (Delhi NCR), Dr Ashok Bapna, past President of NHRDN (Jaipur),Dr Amit Jain, Chairman ISTD (Jaipur) and Pro Vice Chancellor of Amity University Jaipur, and was attended by JKLU's Vice Chancellor, Dr RL Raina and Pro Vice Chancellor, Mr Asheesh Gupta.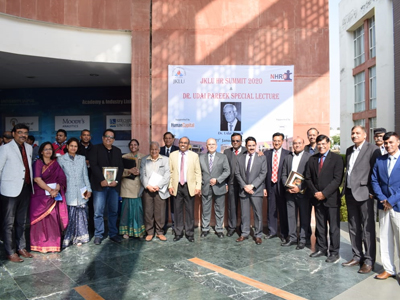 Delivering the keynote address, Mr. Dwarakanath said,"In the current generation, where the world is changing rapidly, people are the key assets. It is important that we need to be innovative because what was good yesterday, may not be good today. Leaders should encourage people to think differently, train them, inspire them and develop new skills. Agility and ability to learn are very critical."
On being asked his view about the threat to jobs owing to technology, Mr Prem Singh said, "Technology has increased the demand of services and actually increased jobs rather than curtail them. However, people need to keep pace with changing technology and keep updating their knowledge and skills".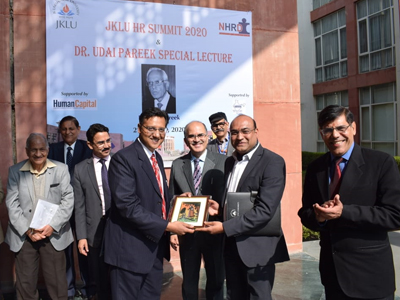 JK Lakshmipat University is supported by 125 years of legacy of the JK Organization. It is passionate about building the country's most innovative higher education institution by helping students perceive learning as a continuous process through experiential learning and innovation and becoming future-ready professionals with 21st-century skills.
Stay informed, Stay ahead and stay inspired with MBA Rendezvous