IIM Kashipur is honored to have hosted Mr. Chandra Mohan Thakur, IAS as the guest speaker for the fourth session of the MBA Series, a webinar initiative, organized by the Academic Committee. The theme of the series is "Management from a Non-Corporate lens", designed to impart knowledge to the students from pioneers of the different fields who have gone beyond their way for the development of society.
Mr. Thakur is an IAS Officer with an Executive Programme in Management from IIM Bangalore and work experience of 4 years in the sales and distribution domain at Hindustan Unilever Ltd. He also holds a degree in Public Administration from IGNOU and a certification program from IIM Ahmedabad. With over 14 years of both corporate and civil service experience, Mr. Thakur is currently serving as the District Magistrate and Collector. The session was opened by Dr. Utkarsh, Assistant Professor Marketing, IIM Kashipur.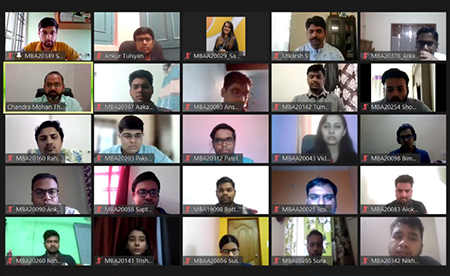 Mr. Thakur invigorated the student community exemplifying from his past experiences. He talked about his journey filled with hard work and patience and also about the nitty-gritties of Indian Administrative Services which does not pertain to one domain but involves the amalgamation of various fields. He has brought remarkable reforms to the community by increasing the hygiene and maintenance standards of the Anuppur district, initiating smart classes for the student fraternity, etc. He has also applied his management skills of sales and distribution from his experience at HUL in various innovative product developments such as Amarkantak honey, tomato ketchup, herbal medicine, bottled Narmada river water, etc.,

Mr. Thakur advised the students to follow the 2*2 urgency and importance matrix for prioritizing the works to prevent any backlogs in the tasks and establish a perfect work-life balance. He motivated the students by saying' Try to be Job creators and not job seekers.' He also emphasized that time management is the most critical component of management learning which can be mastered by scheduling all the tasks and bringing them to action based on their priority. He suggested improving one's emotional quotient to emerge as future leaders. He concluded the session by saying 'Enjoy what you are doing and don't try too hard to be happy by falling under the pressure of peers. If you don't feel sure about taking a decision, don't proceed with the task. If you are determined, never fail to give your 100% to it'.
It was an interactive session where the guest addressed the queries of students and answered them using his life scenarios.
Stay informed, Stay ahead and stay inspired with MBA Rendezvous