MICA, Ahmedabad concluded its three-day virtual 8th International Communication Management Conference (ICMC) 2022 with a valedictory ceremony rewarding the academicians, scholars, and researchers who presented their research work and papers at the conference. The chief guest for the concluding event was Prof. Jaideep Prabhu, Professor of Marketing, Judge Business School, University of Cambridge.
The theme for this year's ICMC was 'The Future of Business in a Digital Era: Data, Analytics, and Narratives.' ICMC 2022, in partnership with the University of Southampton, United Kingdom, had over 700 participants,110 paper presentations, 3-panel discussions, and workshops with over 10 eminent guests from the data analytics industry.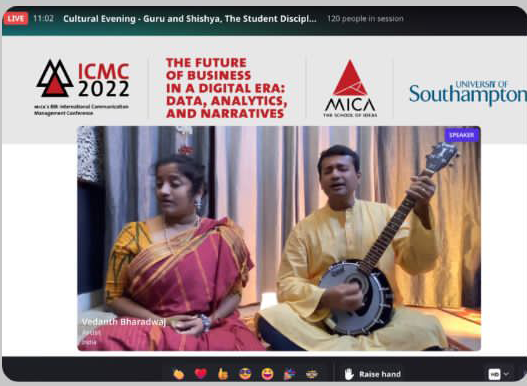 Day 1 of ICMC also saw a spellbinding performance by Ms.Bindhumalini Narayanaswamy and Mr. Vedanth Bharadwaj as part of the cultural night.
At the inaugural ceremony, Lord Patel of Bradford, Lifetime Member of the British Parliament (House of Lords), and Director & Chair of the Yorkshire County Cricket Club said, "The world today is rapidly adapting to new forms of innovation and coping up with the uncertainties. Today's conference is significant to facilitate technology exchange in the digital data-driven world. We live in a data-driven society. The amount of data generated in this world per second is growing exponentially." He challenged the participants to reflect on the size, scope, and value of data and analytics in solving future global challenges the world will face.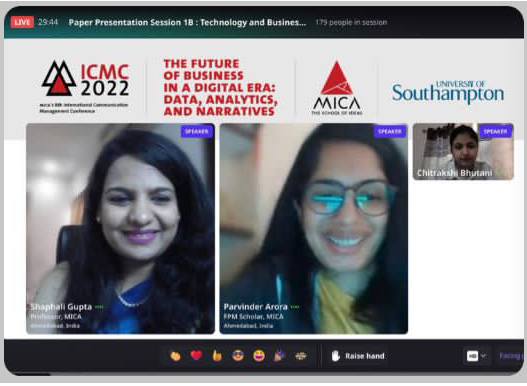 At the valedictory award ceremony, chief guest Prof. Jaideep Prabhu, Professor of Marketing, Judge Business School, University of Cambridge, highlighted implications of 'Jugaad innovations' for research and practices. Prof. Prabhu said, "When I went to India to look at innovation there, I realized that there was something distinctive about these Indian innovators and their approach.
First, they were very frugal and were very good at doing more with less. Second, the mindset was very flexible. They may have a plan, but they were very good at quickly moving to another plan when the situation changed. And finally, many of the solutions seemed designed to be inclusive, to bring people who are outside the formal economy into the formal economy."
Prof.Prabhu added, he said, "I truly believe that this kind of frugal or Jugaad innovation is important for the world of practice policy and research. I believe that organizations in emerging countries can gain by engaging with Western counterparts and vice versa. And I think large and small organizations can work together to improve lives everywhere."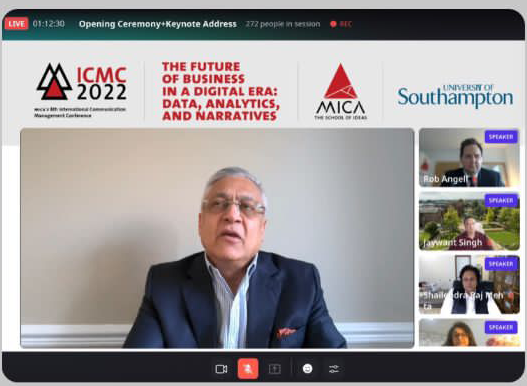 Concluding the award ceremony, Dr. Shailendra Raj Mehta, President & Director, MICA, brought out the importance of having such congregations of researchers, academics, and industry and unveiled the theme for ICMC 202: 'Enhancing Customer Engagement: Connecting Artificial Intelligence with Humans.' Prof. Mehta also launched the new version of the MIMI platform, the MIMI 2.0 - MICA Indian Marketing Intelligence 2.0, which visualizes large, complicated datasets into geospatial heat maps across Indian districts, sub-districts, and villages demystifies government data to help organizations derive valuable insights, thus converting data into value.
Workshop: 'Handling Anxiety while Teaching Business Analytics'
Prof.Ruchi Tewari and Prof.Ashutosh Dutt of MICA conducted a two-day workshop on 'Handling Anxiety while Teaching Business Analytics.' They addressed the reasons for anxiety amongst learners of Business Analytics and the ways to alleviate this anxiety. Over 200 faculty, research scholars, and students from across the country attended it.
Panel discussions:
ICMC 2022 hosted three-panel discussions titled 'Building Marketing AI Strategy for Competitive Advantage: Strategic Perspectives,' 'First-principles of Digital Transformation,' and 'The Future of Digital and Data-Driven Businesses.'
Talking about how the prevalence of huge data and AI technology can help companies differentiate themselves, Prof. Vijay Viswanathan, Associate Dean, Northwestern University, said, "Many companies recognize the value of data. They often say data is the new oil. But you know, you just cannot put oil in your car and make it run right; you need to extract the fuel out of it and process it in a way that becomes useful. So data by itself does not work. You have to figure out how to slice and dice to fuse your creativity with data. If you do not drive innovation with AI, you do not get new insights, and hence you do not have a competitive edge in the marketplace. So ultimately, AI just becomes an efficient platform as opposed to one that is driving growth."
"The first step is having a culture, which looks at looking at the data-driven decision-making. I think the foundation for all AI strategies is data democratization, the ability to get all the data we have. Currently, many organizations are not leveraging the power of data they are generating or have access to because everyone is looking at it from a very myopic lens. So the first step is to have a data-driven culture and data democratization within the company. Those companies who have been able to do that are winners", said Ms. Vijaya Ghosh, Vice President, Consumer Business Unit, Accenture.
Ms. Aarti Bhardwaj, Vice President, Analytics, APAC, Essence, said, "AI helps us make decisions faster; it is a great decision support system. But it does not take away from the classical ability to formulate the hypothesis and get the relevant and right data to validate or dispute those hypotheses. In romanticizing tools like AI, we have underplayed the role of some of these classical statistics or mathematics or econometrics ways of thinking, the steps that we always spoke about in the design of experiments, and design of thinking through sampling. If it is not fit for the purpose and not built to answer a specific question, it will be garbage in and out.
Talking about the digital transformation and how academics is shaping its evolution, Mr. Sandeep Menon, Managing Director, India, Workato Software, said "Money makes the world go round. The way Blockchain and cryptocurrency are emerging is changing the way people transact as truly global citizens. We tend to look at digital transformation as something new, but it has been for decades now. It is just that now, the wave of digitization is seen in more aspects. The role of academia is very important in two aspects: It helps develop a healthy vision of the future and helps in playing the role of watchdog. We can do a lot of damage through digital as opposed to the benefits availed by it. It is like a double-edged sword."
ICMC 2022 awardees:
The paper 'Computed Compatibility: Extending UTAUT2 for Determining the Post-adoptive Behavior of Millennials for MOOCs' by Ms. Jinal Shah from Narsee Monjee Institute of Management studies and Ms. Monica Khanna from KJ Somaiya Institute of Management Studies won the best award and prize money Rs.4,00,000. Two papers' Impact of Global Brand CMOs' CSR and Socio-Political Activism Communication on Twitter' by Peren Ozturan, Ozyegin University and Amir Grinstien, Northeastern University and 'Critical Healthcare Data Management using Blockchain Technology' by Tarun Kumar M, Sachin KM, Nivetha S, Sabari SB, Sanjana Sri V from Bannari Amman Institute of Technology bagged the second prize.
The paper titled 'Computed Compatability: Examining User Perception of AI-driven Matchmaking Algorithms' by Ms. Aditi Paul from Pace University and Mr. Saifuddin Ahmed, Nanyang Technology University, bagged the third award and prize money.
Stay informed, Stay ahead and Stay inspired with MBA Rendezvous.