An Odia feature film based on the devastation caused by cyclone 'Fani' and coproduced by MICA professor Dr. UT Rao is all set to world premiere at the UK Asian Film Festival in May this year. 'Whispers of a Storm' is set in cyclone-devastated villages of Odisha, post-FANI, one the most dreadful cyclones of southeast Asia. The film is a fictional film in a documentary setting and features different characters who attempt to extract fragments from the massacre.
Sharing his experience, Dr UT Rao, Associate Professor at MICA, said, "Odisha is the most cyclone-prone state in the country. Cyclone Fani in 2019 was one of the most severe cyclones since 1999. Being born and raised in Odisha, I have also experienced this calamity from close quarters. So when the team narrated this sensitive story with a cyclone at the centrepiece to me, I immediately connected and wanted to be part of it. This film is shot in real locations, and I hope the film will remind us not only of the strength of mighty nature but also of the resilience of human beings. Director Amartya has brought this out beautifully in this movie."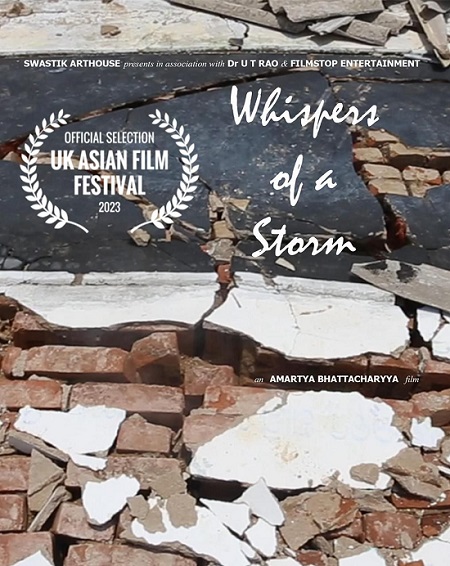 Dr. Rao added, "Having a world premiere at the UK Asian Film Festival means a lot to all of us as it reinforces our belief towards creating a 25th year. Thanks to MICA and my colleagues at MICA for introducing me to the medium of Cinema. I would really like to thank MICA for allowing me to explore this side."
The film is directed by Amartya Bhattacharyya and produced by Swastik Choudhury under the banner of Swastik Arthouse in association with Dr. U T Rao and Filmstop Entertainment. As in all his films, Amartya is the writer, cinematographer, and editor as well. The lead roles are played by Dipanwit Dashmohapatra, Swastik Choudhury, Priyanka Ghosh Roy and Radha Krushna. The music is scored by Kisaloy Roy and sound design by Sujoy Das.
Stay informed, Stay ahead and Stay inspired with MBA Rendezvous.