A student run initiative. Will be available on Google podcast, Apple podcast and Spotify
MICA Ahmedabad, India's premier institute in Strategic Marketing and Communication is all excited in launching its official podcast ~ MICAST.
The official podcasts, which will be run by students, will reflect happenings at MICA, with conversations, interviews, analysis and in-depth programming on variety of topics with faculty, alumni, guests and speakers. Apart from the MICA's official social platforms, MICAST shall be available on platforms such as Google podcast, Spotify and Apple Podcast.
The first episode of MICAST will have Dr Shailendra Raj Mehta, President & Director of MICA throw some light on the vision of the institutes, global collaborations, its current students, new batch and the alumni.
The following episodes will have Dr Preeti Shroff, Dean, MICA speaking about the innovative curriculum, projects, unique pedagogy at MICA followed by eminent personalities that include filmmaker R Balki, COO of IndiaMart Dinesh Gulati, award winning cinematographer Shanker Raman, Kumar Deb Sinha, Vice-President, Dentsu, Sandeep Shukla, General Manager, Jaguar to name a few.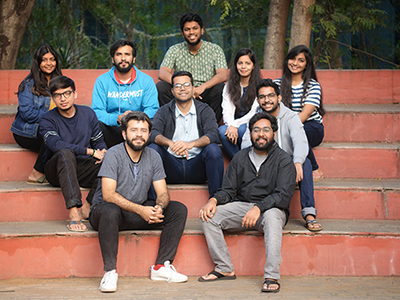 While MICA is on all digital mediums now, it was felt that it was time to create and consume intelligent programming through Podcasts too. It will also aim to integrate conversations that are of interest to the various stakeholders, from aspirants to alumni, faculty to industry leaders and the entire MICA community itself.
The podcast has a dedicated team from its student community to voice the murmurs and musings of MICA.
Sharing his experience, a second-year student Jeffrey Modak, who handles logistics said, "MICAST has been an interesting intellectual property, foraying into a medium which is gaining popularity. The need and nature of this task required careful conceptualization, planning the schedule, coordinating with guests and outlining relevant topics to be discussed – tying up MICA's nuances with a focus on the guest's industry expertise. In its first ever iteration, the core team has done a great job coming up with a jingle, the creatives and format of the series, along with the logistics of recording and commendable skills of processing raw recordings."
Sanket Joshi, a first-year student who handles the editing, on being asked about his experience said "It has been a great experience as I was able to listen to ideas of stalwarts from various fields and their take in trends and the future".
A second-year student and host for the podcast, Ritwik Raje, said: "Being a public speaker, I always wanted to take my interest to a niche level. And I felt MICAST was something that brought everything that I love together, MICA, public speaking and marketing. To me, MICAST is the culmination of Marketing and MICA. The idea of MICAST was to capture the conversations which are outside the purview of our curriculum and take those conversations to each and everyone who are either interested in joining MICA or love marketing."
Stay informed, Stay ahead and stay inspired with MBA Rendezvous