MICA Professor Dr. Pooja Thomas has been honored with the prestigious AICTE Dr. Pritam Singh Award 2021 for extraordinary teaching in management education. The award was conferred to her by Union Minister Shri Dharmendra Pradhan on Teacher's day in New Delhi. The award, named after acclaimed management guru and Padma Shri awardee, Pritam Singh, has been introduced to identify the teachers and recognize their excellence, best practices, and innovativeness in management education at the national level.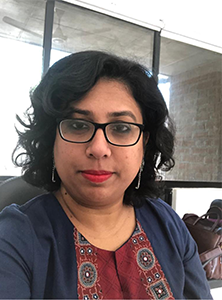 Talking about the award, Dr. Pooja Thomas, Assistant Professor and Area Leader - Communication at MICA, said, "I am very grateful for this recognition by the learning and learner community in management education. The AICTE Dr. Pritam Singh award recognizes individual contribution, innovation, and creativity by a teacher as well as the ecosystem that has enabled their teaching, research, and administrative leadership. In this sense, this award is an acknowledgment of the ways MICA has sustained and nurtured its teaching community, given wings to its researchers, and empowered each one at their level to be a decision-maker and ideator."
Her research and teaching interests include urban visual cultures, cultural analysis, storytelling, and discourse analysis. She has also contributed her research to journals, books, and national and international conferences.
Dr. Shailendra Raj Mehta, President & Director, MICA, said, "Dr. Pritam Singh Best Teacher award for outstanding teachers in management field was given to only 3 teachers from across 1200 management schools in the country. It is indeed a very proud moment for the institute to see our faculty shine and recognized at national level."
Dr. Preeti Shroff, Dean, MICA, said, "Prof. Thomas's deep passion for teaching is reflected in the innovative design and pedagogy for management program courses such as the cultural analysis and industry insights, visual cultures. These courses involve Ahmedabad city field study, cultural decoding in management and cultural contexts of identity. As the leader for MICA's Communication Area, she also represents rising women professionals in the academic administration at MICA and in higher education. She will continue to inspire us all with her critical thinking and cultural analysis approaches for industry and societal management."

TEACHING METHODOLOGY:
Speaking about her teaching methodology, Dr. Thomas, who specializes in Cultural Studies, says, "I think of the classroom as an opportunity for the students to test assumptions, worldviews, skills-sets, and to expand knowledge base. Therefore, for my course on culture, my classroom becomes a lab where both student and teacher share equal space decoding cultural objects, popular culture, cultural affinities, norms, and phenomena and identifying core values and beliefs.
For many years, I used to use the city of Ahmedabad as a lab, taking students out to specific key sites and helping them unravel the culture of places. By doing this repeatedly, across different contexts, with the help of frameworks I share, students are initiated into digging deep so that their analytical abilities are attuned to being contextual, adaptable, and resilient."
Interestingly, to lay the base for a sociological imagination in her students, she creates podcasts, a medium that this generation is most expressive in. "These podcasts are my conversations with academic experts in an easy and accessible manner on new media, listening cultures, food anthropology. As is evident, my course is interdisciplinary, drawing from different and rich sources to help unpack cultural contexts. In the end, these goals must translate to specific skills, knowledge, and attitude-related objectives in alignment with the institutional objectives of MICA as a management school."
Prof. Pooja Thomas even bagged the annual AGK award for meritorious teaching for the year 2021. The Governing Council introduced the first-of-its-kind awards to reward and acknowledge its faculty's meritorious contribution. The awards, spanning three categories - teaching, research, and creative activity – are a tribute to MICA's founder Shri AG Krishnamurthy's great legacy and foresight.
Before joining MICA, she taught at St. Stephen's College and Kamala Nehru College, University of Delhi. She has a Ph.D. from IIT Gandhinagar and an M. Phil with distinction from the University of Delhi.
STUDENT SPEAK:
Sreeram K V from the 2020-22 batch said, "She always ensured to get even the most indifferent student to contribute something to the class. Once, when we mentioned the digital fatigue we faced due to virtual learning, she even made a podcast series for our pre-reads and attempted to show us the omnipresent nature of culture, and, along with it, she gave us the tools to decode it.
For Aaryaka Nidhi, the relatability that Prof.Thomas brings to the class is important. "Apart from impeccable teaching and an unparalleled understanding of culture, the one thing that makes Professor Pooja Thomas stand out is hw she includes each and everyone present in the room in discussions. She perseveres to make people find relatability in everything she brings to the classes, and that's one trait of her that is truly commendable", Aaryaka says.
Anandita Munjal said, "Pooja Ma'am has inspired me to look at things from a cultural lens. CAA is a new course for most of us. However, her dedication and effort towards our learning are so apt that it is easy for us to connect and learn every concept. Even her pedagogy is very interactive and easy to understand."
Stay informed, Stay ahead and stay inspired with MBA Rendezvous.