Dr. Yogesh Kulkarni, Associate Professor & Associate Dean, Dr. Pravin Shende, Professor, NMIMS Shobhaben Pratapbhai Patel School of Pharmacy & Technology Management (SPPSPTM), Mumbai and Dr. Ajazuddin Professor and Associate Dean School of Pharmacy & Technology Management, Shirpur have been listed among the top 2% Scientists in the World". Three of them have been figured in the list prepared by Stanford University and Elsevier BV, a Netherlands-based publishing company.
The third version of the list has been published in October 2021 which is based on the Aug 01, 2021 snapshot from Scopus based on published articles and citations of scientist from all over the world.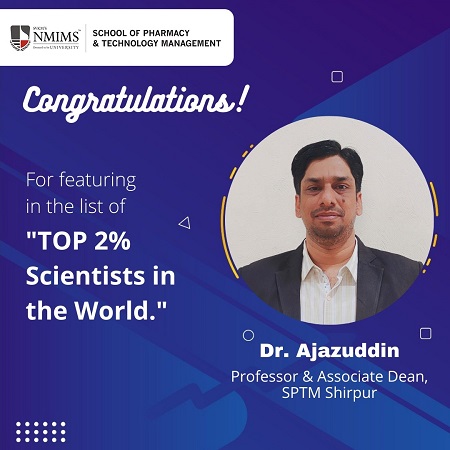 It is indeed a great honour to be featured amongst world peers in the scientific community." said Dr Yogesh Kulkarni.
Dr Yogesh Kulkarni is involved in the research on diabetes, diabetic complications, Alzheimer's disease and herbal drugs.
Dr. Pravin Shende said "Being amongst the top 2% of scientific minds gives us the impetus to work more in the area of scientific research.
Research areas of Dr. Pravin Shende include novel biosensors, liposomes, transdermal drug delivery systems, dendrimers, nano sponges, nano bubbles and nano flowers.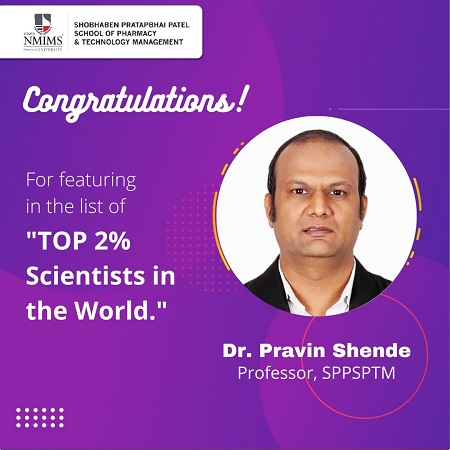 Dr. Ajazuddin said " while we are involved in research which itself is a career fulfilling work the recognition make it all the more motivating" His areas of research include Drug polymer conjugation, Thermo responsive smart polymeric in situ gelling system, Herbal bioenhancers, Novel vesicular and particulate drug delivery system.
It is a great honour for the University and for our faculty to be recognized by Stanford. At NMIMS, research is actively pursued and our faculty have been recognized and winning awards consistently at various forums ,said Dr. Meena Chintamaneni, Pro-Vice Chancellor.
Stay informed, Stay ahead and stay inspired with MBA Rendezvous.