NMIMS School of Design is proud to announce that Ms. Zeel Shah, a talented student from the institution, has secured the 2nd Prize in the prestigious Stanford Centre on Longevity Design Challenge. The competition, held at Stanford University, focused on optimising health span during long lives and attracted participation from eight student teams worldwide.
The theme of the Stanford Longevity Design Challenge 2023 was "Optimising Health Span: Living well at every age." Zeel chose to address the problem of menopause as a part of her capstone project for college. Over the course of five months, under the guidance of Professor Sajana Ali, Zeel developed a comprehensive solution to simplify the menopause transition process for women in their mid-life.
Recognising the barriers women face in seeking support and obtaining information during the menopause journey, Zeel created a kit named ;Unpause life; This innovative solution aimed to provide women in perimenopause and menopause in the urban Indian society with a safe space to explore menopause-related topics, promote communication, and enhance accessibility.
The Stanford Centre on Longevity Design Challenge has been a platform for students worldwide to showcase their talent and innovative ideas. Over the past decade, the challenge has awarded significant prizes and helped develop numerous products that promote healthy longevity. The challenge has awarded over $250,000 in prizes over the past decade, and students from 69 countries have submitted over a thousand ideas, many of which have been developed into valuable products that promote healthy longevity.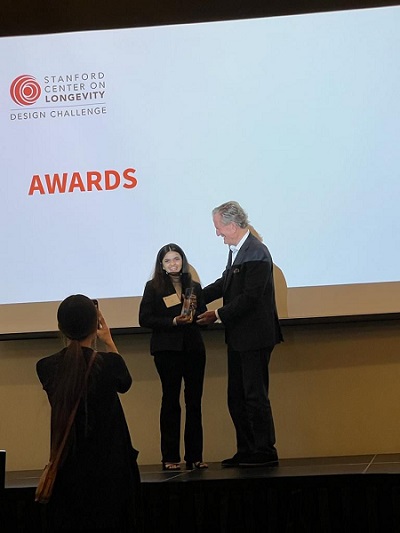 Zeel expressed her gratitude by saying, "I acknowledge the invaluable support received from my mentor, Professor Sajana Ali, and Dr. Danit Ariel, assigned via Stanford, who played a crucial role in refining my project.
" Dr. Guruprasad Kuppu Rao, Professor & Dean, NMIMS School of Design, said, "We are very proud of the achievements of our students like Ms. Zeel Shah, who exemplify the trans-disciplinary approach we promote at NMIMS School of Design. We also wish to congratulate our student, Mr Achintya Chaudhary, for getting shortlisted and invited to
present his solution. NMIMS School of Design endeavours to provide students with an environment that fosters creativity and innovation. We are also proud of the role played by our faculty for the guidance, mentorship, and support throughout the project's development."
Stay informed, Stay ahead and Stay inspired with MBA Rendezvous.