Lal Bahadur Shastri Institute of Management organized the TEDxLBSIM on 20th November'2021. Lal Bahadur Shastri Institute of Management has time and again tried to put its best foot forward to persevere with the unprecedented legacy, ideologies and values of late Lal Bahadur Shastri Ji.The event's purpose was to bring together brilliant minds who delivered inspiring, radical, and idea-centric talks.
The theme for this year's TEDx was "Invert the Hourglass", based on the idea of reflecting small instances that play a vital role in the journey of life.
The event started with the speech of Dr Praveen Gupta, Director LBSIM who highlighted the significance of such talks for the audience. The host for the day was Mr Onkar Khullar popularly known as "Digital Gandhi" whose marvellous stage presence kept the audience engaged throughout.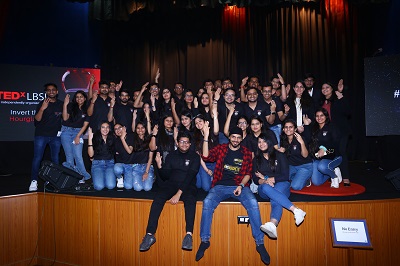 TEDxLBSIM featured various speakers from diverse backgrounds like Vanika Sangtani, the founder of Denied, a non-profit organization dedicated to teaching children from low-income families, Miss Mitushi Ajmera, a fitness and wellness coach, Mr Harinder Sikka, Strategic Head of Piramal Group, Shawrya Mehrotra a passionate visionary working on optimizing learning through mentorship for Indians through his startup, Metvy.Mr. Mayank Mishra, an Indian Youtuber, Actor, and Comedian, Dr. Neeraj Varshney, the Managing Partner at ITS Legal Advocates & Consultant, Simran Balar Jain, a popular content creator for raising awareness about women's hygiene and sex education and, Mr. Anubhav Dubey, the founder of Chai Sutta Bar, having 200+ outlets with more than 100 crore turnovers.
These eminent speakers shared their views and life-changing experiences throughout the event.
There was a stellar performance by Folking Desi who got the audience grooving to their Bhangra beats and the soulful voice of Akanksha Sethi which mesmerized everyone.
It was a full-day event curated by Reminiscence, The Alumni Foundation of LBSIM headed by Dr. Nidhi Malhotra and driven by students at the Institute. The organizing team headed by Miss Vanshika Madan and Mr Harshit Jain, comprised of different verticals such as the Curation, Sponsorship, Editorial, Design, Event Management and Media & Publicity who channelised their collaborated efforts to make the event a huge success and memorable for all.
Stay informed, Stay ahead and Stay inspired with MBA Rendezvous.