The three-day International Conclave on 'Globalizing Indian Thought' concluded on a high note with more than 100 research papers and posters presented on collaborative existence between India and the world. The valedictory function was graced by Dr. Kiran Bedi, Hon'ble Lieutenant Governor, Puducherry and renowned academician and activist Prof. Anil Kumar Gupta.
Dr. Kiran Bedi, Hon'ble Lieutenant Governor, Puducherry during her address spoke about linking our roots to evidence based Indian thought. She also told us to be proud of our centuries old civilisation and concluded by saying, "In this age of distraction, it all comes down to how we prioritise our choices." She encouraged everyone to start the day with oneself by spending some time early in the morning for self instead of taking to reactive action.
Prof. Anil Gupta, Padma Shri award winner and Indian scholar in grass roots innovations, gave the plenary address. He emphasised on paradoxical legacies of Indian thinking and how language shapes ideas of thoughts and excellence. He told the audience to give voice, visibility and velocity to create standards of excellence openly accessible to the common masses.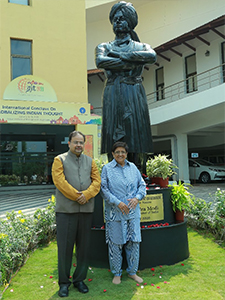 Prof.Debashis Chatterjee, Director, IIMK in his closing remarks thanked the Prime Minster, all the speakers, dignitaries, participants, faculty and administrators of the institute for their contribution towards making 'Globalizing Indian Thought 2020' a grand success. What began as a question 25 years ago has become a national quest now with the institute's endeavour to take our deep rooted Indian approach to solving national and international problem statements. He said, "Strange things comes to an end when things are familiar." and left a thought with us, when he said, "When can we go from margins to mainstream thinking?"
The best research papers titled, 'Another Bollywood re-make? The emergence of New Sportainment category,' by Subhadeep Datta, Ph. D Scholar, ESSEC Business School, France; 'Yoga for Managerial Effectiveness A Review of Various Interpretations of Yogah Karmasu Kaushalam,' by prof. R Radhakrishna Pillai, Information Systems, Indian Institute of Management Kozhikode and the best poster presentation titled, 'Creation of Sustainable Model village of Excellence via Entrepreneurial Innovation & Infrastructural Amelioration: Hiware Bazar,' by Dr.Vikas Peshave, Associate Professor & Dean, Quality & Research, Indian Institute of Cost and Management Studies & Research, Pune were awarded during the closing ceremony.
The conference witnessed representations from renowned academicians, public figures and the presentation of close to 100 world-class research papers.
A recap of the last three days saw the inaugural of the conclave by Hon'ble Prime Minister, following his inaugural address through Video Conferencing, he unveiled and dedicated a full-size statue of Swami Vivekananda. This was followed by a keynote address from the spiritual leader Shri Shri Shri Ravi Shankar and Member of Parliament and President of Indian Council for Cultural Research Dr. Vinay Sahasrabuddhe. The thematic discussion featured Prof. Alok Chaturvedi (Purdue Indiana University), Dr. Vijay Chauthaiwale (Scientist), Shri Arun Maira (Former Chairperson Boston Consulting Group), Prof Shyam Sunder (Yale University) and so on. There was a spectacular musical performance by the Grammy Award Winner Pandit Viswa Mohan Bhat.
Stay informed, Stay ahead and stay inspired with MBA Rendezvous