Established in 1987, Xavier Institute of Management, Bhubaneswar is a premium B-school in the country with a rich legacy of grooming leaders of tomorrow. The two-year flagship Business Management program has consistently been ranked as one of the finest business curriculums in the country. Carrying forward its rich legacy of over 35 years of management education, we believe in imparting excellence and nurturing the core values of integrity, excellence, compassion, commitment, and sustainability. We have a rich alumni base of more than 8000, which has been our strength, and we have proved our mettle in leadership roles across the corporate realm. This year, with an average of Rs. 20.03 Lakhs per annum, XIM Bhubaneswar has successfully placed all students. The year has been an exception year as we have received a record breaking 111 PrePlacement offers with a 14.48% Year-on-Year (YoY) growth in the average compensation.
In terms of intake, the highest number of recruitments were made in the Consulting sector (29%), which was followed by BFSI (27%), Marketing (27%), Systems (12%) and General management, Strategy & Operations (5%). Profiles offered included Product Management, Corporate Investment Banking, Portfolio Manager, Credit Analyst, Risk Management, In-Stock Specialist, Strategic Consulting, Corporate Planning, Corporate Finance, Equity Research, Market Analyst, Marketing, Area Manager, Retail Vendor Manager, Supply Chain Planning, Business Consulting, Business Transformation and Strategy, IT Consulting, and Business Development.
Industry leaders in varied domains strengthened their relationship with XIM. Some of the leading organizations that partnered with the institute included the following: Microsoft, Amazon, Arcesium, Tata Steel, TheMathCompany, Reliance Jio, Wells Fargo, Standard Chartered Bank, Asian Paints, Schneider Electric, Maruti Suzuki Limited, Mahindra & Mahindra Limited, ElasticRun, Brillio, Appario Retail Private Limited, MORE Retail, Airtel Payment Banks, ICRA Limited, CARE Ratings, CRISIL, Bain Capability Network(BCN), PwC, ICICI Bank, Axis Bank, Hexaware, Tiger Analytics, Deloitte, NatWest Group, Accenture, Cognizant, Nestle, Titan, IBM, EY, Vedanta, Becton Dickinson, ABCL, Avasant, UHG Optum, GE Healthcare, Phable, Emami, ITC, Adani Group, Ultratech, Capgemini, Kotak Mahindra and many other notable organizations.
Highlights:
Xuberance '23 had a batch of 356 students participating in the placement process.
71 companies were hosted in Xuberance '23, of which 26 were new recruiters.
111 students have been extended PPOs from their summer internship organizations.
12 students got placement offers from corporate case study competitions done by Titan – Elevate and Tata Steel – Steel-a-thon.
The highest domestic salary stood at Rs. 71.50 Lakhs per annum
The average annual compensation stood at Rs. 20.03 Lakhs per annum
The median annual compensation stood at Rs. 19.25 Lakhs per annum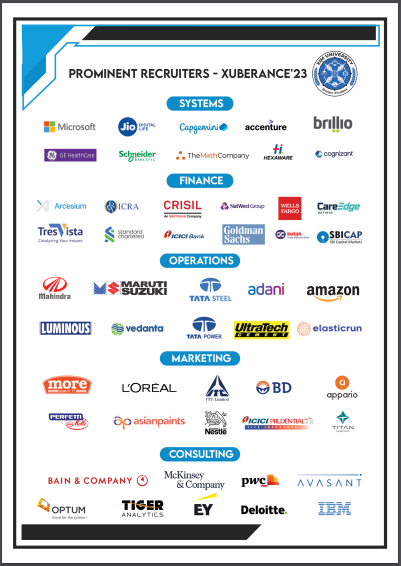 Stay informed, Stay ahead and Stay inspired with MBA Rendezvous.