XIM Bhubaneswar hosted a series of annual business conclaves on 11th & 12th September 2021.
ASHWAMEDH 2021, the annual operations conclave was conducted by the Operations Association of XIMB (X-OPS). Prof Arijit Mitra moderated the event, which had the theme "Circular Economy and Green Supply Chain are the Future." Eminent speakers of the event were Mr. Krishnan Kasturirangan (Co-Founder, Wastelink), Mr. Abhishek Dolbaruah (Asia Supply Chain and Logistics Director, Ariston Thermo Group), and Mr. Amartyaa Kumaar Guha (Associate Director - Supply Chain, Flipkart). The event focused on what circular economy is all about, why it is the need of the hour, the shortcomings faced trying to achieve it, the current scenario of the same, and the possible solutions to achieve green supply chain management.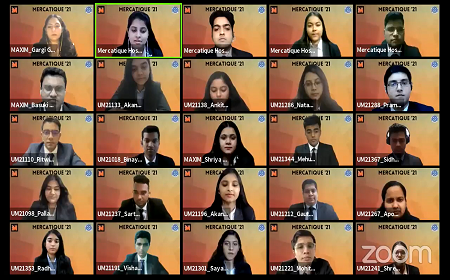 The conclave was concluded with the release of the annual magazine Ops Magnet '21 and the vote of thanks by X-OPS student coordinator, Mr. Raj Shah.
MERCATIQUE 2021, organized by the Marketing Association of XIMB (MAXIM), was themed "Reorienting to Post-Pandemic Customer Reality", and moderated by Prof. Sandip Anand. Guest speakers were Mr. Saurabh Bajaj (Marketing Head - Dairy, Britannia Industries Limited), Ms. Swimmi Singh (Head of Brand & B2B Marketing, ClearTax), and Mr. Krishnadas Nandakumar (VP - Marketing, Tata Consumer Products). They shared opinions on the importance of understanding changes in consumer behavior in order to make well-informed and conscious decisions and how the pandemic catalyzed an already existing business environment. The speakers further discussed the importance of customers' unique experience in leveraging global resources to create value and focus on the future of marketing.
The conclave concluded with the launch of the annual magazine MaxEdge and the vote of thanks by MAXIM student coordinator, Ms. Gargi Gupta.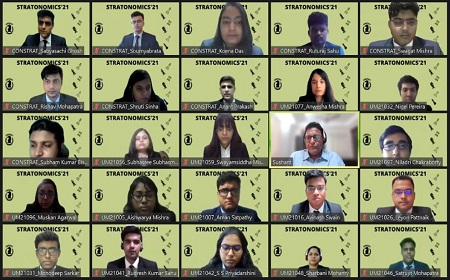 X-FIN, the Finance Association of XIMB, hosted its annual conclave FINOMICS 2021, moderated by Prof. Subhakant Padhi. Guest speakers Mr. Jitendra Attra (CFO & Head of Operations, Edelweiss General Insurance Company Limited), Mr. Rohit Katyal (Director - Head of BFSI Sales, Razorpay), Mr. Bharat Melag (Head of Consumer Solutions for India and South Asia, Visa), and Mr. Vipin V (Partner, Boston Consulting Group) shared their thoughts on the theme "FinTech- Making services Available, Accessible and Affordable". The speakers shared their thoughts in length on Fintech, its proliferation in India, and how it is proactively transforming to take a more customer-centric approach. They also stressed on India's dependency on cash for transactions, and how that continues to be a competition as well as an untapped market. The panelists also shed light on financial frauds, lowered cost acquisition, cryptocurrency, and the payment gateways as the road to the future.
The conclave concluded with the launch of the annual magazine Finshastra '21 and the vote of thanks by X-FIN student coordinator, Mr. Vipal Choudhary.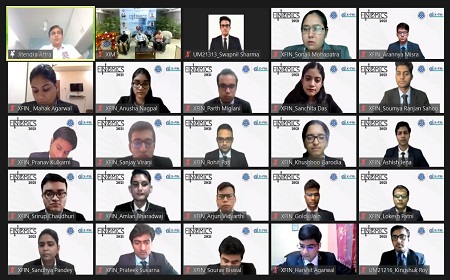 "Crisis and Business Transformation: The Way Forward for an SME Business" was the theme for STRATONOMICS 2021, annual conclave organized by XIMB's consulting & strategy consortium CONSTRAT. Guest speakers Mr. Chandra Sasmal (Founder and MD, NuaGoa Nature Retreat Pvt. Ltd.), Mr. Sushant Pande (Co-Founder, EasyProblemSolving), Mr. Karthik Krishnan (Head Strategy, MMTC-PAMP India Private Limited), and Mr. Aayush Goyal (Head - Strategy & Projects, Abbott) were invited to voice their opinions on this topic. They gave an in-depth analysis on hard-hit productivity, not only due to the pandemic but also other externalities while keeping an eye on the future. The speakers then delved deeper into multiple strategies like customer effort optimization, niche segment identification, improvement in capital strength, and newer innovations. The event was moderated by Prof. Amar KJR Nayak.
The conclave concluded with a vote of thanks given by the student coordinator of CONSTRAT, Mr. Ravi Kartikey.
Stay informed, Stay ahead and stay inspired with MBA Rendezvous.