Xavier Institute of Management, Bhubaneswar (XIMB) is one of the premier Business Schools in India with a rich legacy of over 30 years. Since its inception in 1987, XIMB has been known for its academic rigour and for promoting the holistic development of students.
Inheriting the legacy of XIMB, Xavier University, Bhubaneswar came into existence in 2013 to spread its mission of inspiring future generation of students aspiring for excellent quality higher education. XIMB has been the frontrunner in imparting comprehensive management education to leaders of tomorrow.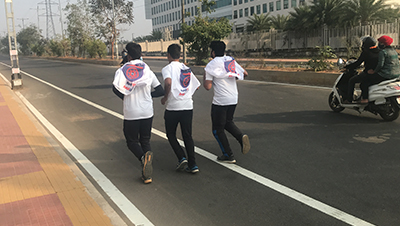 On January 3rd, 2021, Xavier Institute of Management, Bhubaneswar, concluded its annual half-marathon - X-Athon. The event was hugely successful because of Dabur as the Title sponsor, HealthSpring, StepSetGo, SustainableEHS, and GrabOn as the co-sponsors, OdishaFC as the sporting partner, and TownScript as the ticketing partner. Keeping in view the stress and disorder that was created by 2020, the event wanted to set a tone of mental and physical well-being for all. Thus, the theme for the half-marathon was, "Mental Wellness: One Stride at a time".
2020 was marked as a year of struggle, but on the flip side, it was also a year of innovation. In this new normal, while trying to keep the traditions alive, the students of XIMB revamped their approach so that participants from around the nation could take part in the event with their loved ones. In the online part of the event, through the StepSetGo app, participants' total activity was recorded during the two days of X-Athon. More than 500 people partook in this virtual marathon.
On January 3rd, XIMB initiated the physical segment of X-Athon in Bhubaneswar. Keeping in mind proper hygiene and social distance norms, 30 participants attended the marathon and spanned 15 kilometers across the city of Bhubaneswar. Participants were provided with refreshments on pit stops.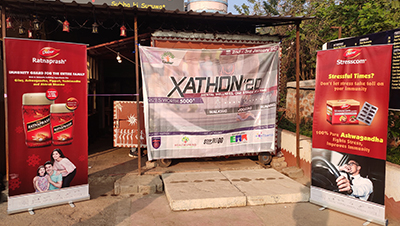 To motivate the participants, pre-event, XIMB hosted two speakers and fitness enthusiasts, Ms. Madhulika Sable and Mr. Satyabrat Mohapatra, in an online session on mental health and physical wellness topics. Both Ms. Madhulika Sable and Mr. Satyabrat Mohapatra called attention to mental health and highlighted the importance of physical fitness.
All the participants were given free goodies and an e-certificate of participation with the top five performers of the event - Ragesh Kollara, Kalpesh Sontakke, Karna Jena, Swadhin Sahu, and Jai Dalmia receiving rewards worth Rs.5000 alongside it.
Post the event, following the custom, the students of XIMB gave all funds raised from X-Athon for the welfare of differently-abled kids. With its aim to spread awareness about mental and physical health, even in its digital adaptation, X-Athon gave people a chance to wash away the restlessness of 2020 and step into 2021 with a fresh start.
Stay informed, Stay ahead and stay inspired with MBA Rendezvous.