XLRI- Xavier School of Management recently hosted the '3rd Social Entrepreneurship Conclave'. The conclave, anchored by the Social Initiative Group for Managerial Assistance (SIGMA), XLRI was organised under the aegis of Fr. Arrupe Centre for Ecology and Sustainability (FACES) in association with Tata Steel. The two day conclave sought to celebrate, showcase, and learn from women social entrepreneurs and their ventures, and to create a platform for the exchange of ideas, challenges and their solutions among the speakers and the attendees by means of various interactive sessions in the conclave.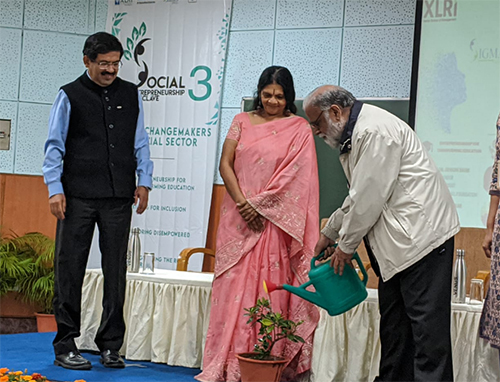 The theme of this year's conclave was-'Women Changemakers in Social Sector'. The Conclave brought together industry stalwarts, practitioners and academicians hosting insightful discussions on the topic. The conference saw eighteen women speakers who have boldly ventured out of their comfort zones to bring tangible changes in the society. They have made significant contributions in areas such as Women Empowerment, Environment, Trafficking, Rural Development and Waste Management.
The conclave was inaugurated by Ms. Chetna Gala Sinha, Founder of India's first bank for and by rural women, Mann Deshi Mahlia Sahakari Bank. She delivered the key-note address and covered the broad aspects of the economic empowerment of rural women. She said "I have numerous opportunities to meet some very ordinary women who have done extraordinary things. You may acquire bookish knowledge in academic institutions but when you need wisdom, you find it in people close to nature and earth". She also added how poor solutions cannot be sold to poor people. She encouraged the spirit of young entrepreneurs and asked women to follow the mantra- 'My courage is my Capital' and tap Ancient Intelligence (AI).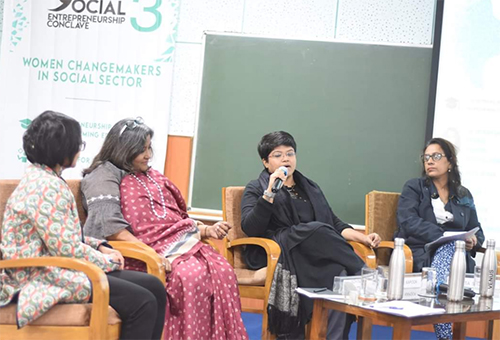 The first day's sessions included discussions on the topics of "Entrepreneurship for Transforming Education"; "Restoring Disempowered Lives"; and "Strengthening the Grassroots."
The speakers for first panel were - Dr. Urvashi Sahni, founder and President of Study Hall Foundation; Nikita Ketkar, CEO of Masoom; and Dr. Lalitha Iyer, Founder Trustee of PlusTrust. The panel discussed how the existing curriculum design should be revamped and how bringing the adult education to the forefront can help adults take up skilled jobs. Bridge courses was one of the initiatives discussed where people who have dropped out of school early, can still get opportunities to complete their education through these courses.
The speakers for the second panel were - Smarita Sengupta, Founder of Destiny Reflection; Sonal Kapoor, Founder Director of Protsahan India Foundation; and Sohini Bhattacharya, President and CEO of Breakthrough. The panel discussion revolved around women, children and transgenders who are at the risk of exploitation, discrimination and trafficking.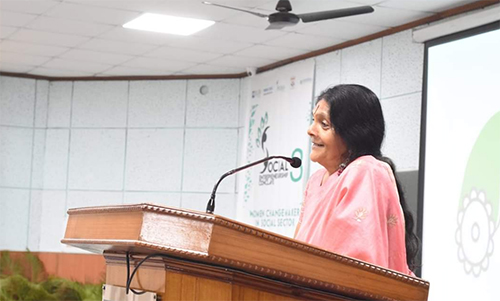 The speakers of the third panel were - Sumita Ghose, Founder and Managing Director of Rangasutra; Mala Roy, Program Leader of CInI; and Dr. Madhu Saran, President of Hand-in-Hand India. Their discussion revolved around sustainable solutions towards employment of youth and India's skilled and unskilled workers.
On the Day 2, the topics for three sessions were "Skilling for Inclusion" "Initiative for Environment Sustainability" and "Building the Ecosystem for Social Entrepreneurs".
Second day of the conclave began with a panel discussion on theme of 'Skilling for inclusion', where esteemed speakers like Meera Shenoy, Founder, Youth4jobs had an eye- opening discussion on skilling mentally and physically challenged people to make them self- sufficient.
Other two panels were on the themes of 'Initiatives for environmental Sustainability' and 'Building the ecosystem for Social Entrepreneurs'. Discussions revolved around initiatives regarding livelihood generation by up cycling used clothes and recycling old newspapers. This followed a two-pronged approach of waste management and livelihood generation at once.
Talking about the conference, Prof. Madhukar Shukla, Chairperson, Fr Arrupe Center for Ecology & Sustainability (FACES), XLRI and the coordinator for the conference said, "Social entrepreneurship, which aims at development and implementation of innovative ideas in order to improve the social, cultural or environmental landscape, is the need of the hour. It is all about recognizing the social problems and achieving a social change by employing entrepreneurial principles, processes and operations. At XLRI, we have always tried to provide the ideal platform for the exchange of ideas, to derive solutions to problems through discussions and interactions. This year's conclave was a great success. The conclave brought together budding social entrepreneurs and students who interacted on a common platform."
Stay informed, Stay ahead and Stay inspired with MBA Rendezvous