Nearly 200 years ago, the industrial revolution began in Great Britain and changed the course of humankind. With the advent of mechanization, we saw a boom in production, manufacturing, and transportation. As industries flourished, the business grew. This created a demand for skilled professionals to run those businesses efficiently. World's first collegiate school of business (Wharton Business School, University of Pennsylvania) was started in 1881 (during industry 2.0). Eight years later, in 1908, the first MBA program was founded at the Harvard Business School.
We are currently witnessing the fourth industrial revolution, aka Industry 4.0, where technology (artificial intelligence) is the primary driver. Thus, the current business schools must adapt in order to match with these changes. Recent studies by the World Economic Forum (The Future of Jobs & Skills) in 2018 and IFIM – NHRDN (Curricula 4.0 - Creating Future Managers) in 2019 indicate a gap between what is being taught and what the industry expects / demands.
Industry 1.0 to 4.0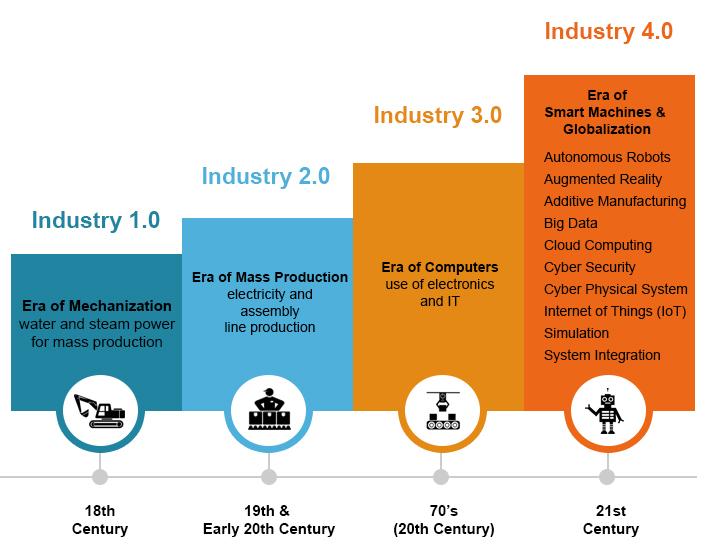 Skills Needed for Industry 4.0
A study conducted by IFIM Business School, Bengaluru, along with National HRD Network involved 300 senior managers across 13 industries. Based on the required skills (complex problem solving, critical thinking, creativity, people management, coordinating with others, emotional intelligence, judgement & decision making, service orientation, negotiation & cognitive flexibility) mentioned in World Economic Forum's "Future of Jobs Report 2018", IFIM-NHRDN report listed ten industry 4.0 needs:
People & team orientation
Self-management – self-development & self-awareness
Analytical mindset & learning orientation
Creativity & innovation
Business & entrepreneurial orientation
Cross-cultural orientation and social sensitivity
Dealing with uncertainty and change
Integration of technology, communication & data
Globalization
Solution orientation & problem-solving
MBA Education Adapting to Industry 4.0
The b-schools must focus on including courses that can help fill the industry-academia gap:
Courses on cross-cultural communication enabling the students to collaborate virtually and be productive
Courses on innovation, design thinking, and decision-making to shape a design mindset
Courses on self-development, wellness & fitness, business communication (oral & written) improving social intelligence
Courses on digital business & strategy, business science, and business economics to help build adaptive thinking
Courses on business tools and integrative courses in business strategy to promote computational thinking
Involve students in institutional projects, social immersion projects, industry internship programs, and global immersion projects.
Supplement classrooms with AI-enhanced assessments, VR powered simulations, digital notes, and digital lectures, etc.
Future workers must be well-trained in emerging technologies and values associated with those technologies. The b-schools need to continuously reinvent and evolve with industry 4.0 to avoid "shortage of skills" in the near future.
Stay informed, Stay ahead and Stay inspired with MBA Rendezvous