The MAT 2019 exam result for the month of Dec 2019 has been announced on 27th Dec 2019. The Dec MAT 2019 result helps candidates apply for around 279 B-schools across India.
MAT Result 2019: Important Dates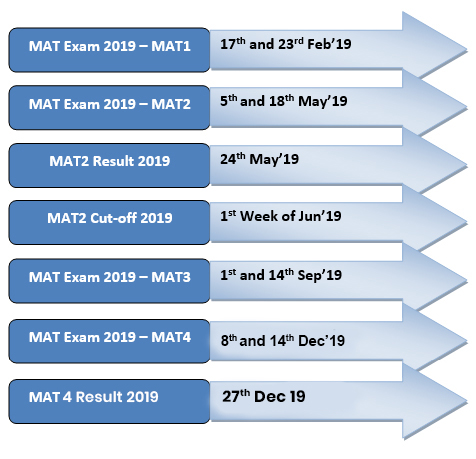 MAT Result 2019: Scorecard
Once you view you MAT scorecard, you must verify it for all the details on it. There should not be any discrepancy in the personal details printed on it. Also candidates can only download the scorecard online and it will not be sent by post or mail. This is how your MAT scorecard will look like:

MAT Result 2019: Dec'19 Key Highlights
1. Scoring PatternThere is negative marking in MAT exam. Candidates score 1 mark for every correct answer and -1/4 marks for every wrong answer. There is no mark deducted for leaving a question unanswered.
2. Transparency: AIMA, the MAT exam conducting authority is transparent and releases the MAT answer key before announcing the MAT exam result which helps candidates' asses their score.
3. Scores:
a. The actual score for MAT exam is out of 200. However the MAT scorecard carries the scaled score. Each section's (Language Comprehension, Mathematical Skills, Data Analysis & Sufficiency, Intelligence & Critical Reasoning and Indian & Global Environment) score is calculated out of 100.
b. Based on it there is percentile calculated. Percentile score is the percentage of candidates who scored less than the candidate.
c. The score of first 4 sections is combined together and scaled to 800 and given as the composite score which is used to compute the cutoff and merit list.
d. The score for Indian & Global Environment is given separate and will not be used while calculating the MAT 2019 merit list.
4. GD/PI/WAT: Candidates composite score is sent to the colleges (5 to 7) they have already chosen and the selection procedure usually consists of rounds like Writing Ability Tests, Group Discussions followed by Personal Interview. Those who clear all the rounds make it to the final MAT 2019 merit list.
5. Participating Institutes: For the Dec 2019 MAT result, there are around 279 colleges that will accept the Dec MAT score.
Stay informed, Stay ahead and stay inspired with MBA Rendezvous