Given the fact that the CAT 2020 and XAT 2021 test results are out or likely to be out very soon, and subsequent requests from prospective candidates, the Institute of Management Technology (IMT) has decided to re-open its application for candidates to apply online for the two year PGDM batch of 2021-23. Students who have yet not applied for Admission to IMT have the last chance to apply & fill the online common application form for IMT Ghaziabad, IMT Nagpur & IMT Hyderabad campuses. The highly ranked premier management institute offers AICTE approved PGDM programs. With a new Global Immersion Program, International certifications, learning experience from International Faculty and various Scholarships for eligible candidates for the batch of 2021-23, the 2 year PGDM programs at all IMT campuses are highly coveted. This year IMT has announced new pedagogical initiatives and scholarships for the 2021-23 batch, the details of which can be viewed from the admissions page of Common Admissions 2021 www.imt.edu/admissions2021. The application process is online and the application fee is Rs.2000/- plus applicable bank charges.
Online Admission Process 2021
The IMT Common Admissions Process for 2021 is online. This has been done keeping in mind the current pandemic situation and precautions to be maintained in lieu of it. In order to maintain standardization of process and making the process user friendly, all shortlisted candidates will be sent across a Standard Operating Procedure (SOP) document before the commencement of the Admission process in February 2021 to familiarize themselves with the online process, do's and don'ts and FAQs.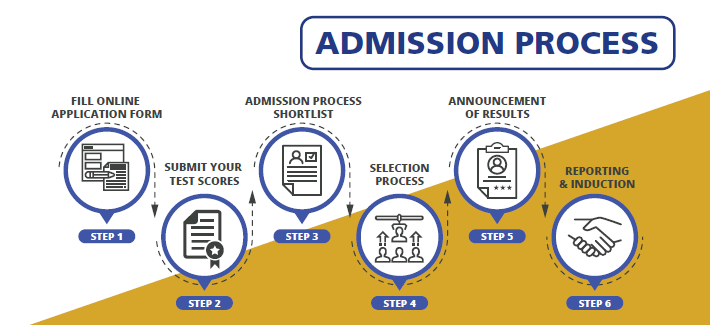 Key Components of Admission Process
Profile Detail form & submission of SOP (300 words) Before the admission process commences in February 2021, a profile detail form will be sent to all shortlisted candidates by end of January 2021. Candidates need to fill in the details of basic profile, educa

ti

on background, work experience etc. into this form. In addi

ti

on to this, candidates need to mandatorily submit a 300 word 'statement of purpose'. The details of SOP will be given and space for same will provided in the Profile detail form.

Video All shortlisted candidates need to upload a one (1) minute video introducing themselves and their background, career aspira

ti

ons etc. The same needs to be shot and uploaded in a given format and portal before the selec

ti

on process begins in Feb 2021. The details of the video upload (portal, size, format etc.) will be shared with selected candidates in the SOP document men

ti

oned above.

Personal Interview All shortlisted candidates need to par

ti

cipate in an online interview process with 23 panellists. The interview will be 15-20 min long and will be in online video format. The details of the interview including login details and other protocols will be shared with students via the SOP document men

ti

oned above.
The candidate will be evaluated on five parameters during the Personal Interview process:
Communication and Interpersonal skills

Analytical /Problem solving skills

Business Affairs and General Awareness

Domain knowledge

Future Potential for employability
Selection Process at IMT

COVID Compliance & Learning Facilitation
All IMT campuses are strictly following the MHA and the State Government norms for Covid 19 pandemic and taking all necessary precautions. The campuses have created an SOP to be followed by all faculty, staff, and students, including facilities for hand washing, sanitizers installed in key campus locations, Do's and Dont's prominently featured, and social distancing in the classroom, common areas, mess and hostel. In addition to this, the campuses will have a Covid isolation ward in case of some student/s feeling unwell and needing isolation. The campuses have tie-ups with close by hospitals, ambulance services, and doctor-on-call to assist all faculty, staff and students in case of emergencies.
The campuses have also installed the following to facilitate learning and not disrupt teaching during and post the pandemic. Some of these features are.
Smart classrooms with camera and projectors installed so that candidates

access live classrooms remotely if needed

Purchasing licenses from high quality video conferencing service companie

like Microso

ft

, Zoom, and Lifesize, etc.

Provisions of conducing & proctoring live exams/quizzes online

Provision of conducting blended learning classrooms with break-out rooms etc., for team mee

ti

ngs, group discussions, and team ac

ti

vi

ti

es.

Digital books and e-library subscrip

ti

ons to students.
Placements Batch of 2020
Since its inception in 1980 IMT has strived to be a place where, on the one hand, students get the training required to have the career they aspire to have, on the other, the industry and business get the skilled human capital to not only run their businesses successfully, but also chart a path to a higher growth trajectory. Four decades of legacy is a testimony to its honest effort to fulfil these two of its most important responsibilities. The faith of recruiters in IMT is reflected in the diversity of roles that are available and provided to the students. IMT has always had an excellent placement record and has performed consistently in this area.
IMT Ghaziabad
IMT Ghaziabad has always had an excellent placement record and has performed consistently in this area. The faith of recruiters in IMT Ghaziabad is reflected in the diversity of roles that are available and provided to the students. The batch received job offers from the sectors such as Advertisement, Analytics, Automobile, BFSI, Commodities, Consulting, E-Commerce, FMCG, Food and Beverages, Healthcare,IT/ITES, Logistics, Manufacturing, Media/ Entertainment, Pharmaceuticals, Retail, Telecom, Transportation, etc.
Final Placement 2020
| | |
| --- | --- |
| Highest CTC | Average CTC |
| INR 58.22 LPA | INR 13.60 LPA |
IMT Nagpur
IMT-N provides plentiful of opportunities for students to bring out the best in them and learn effective management with essential skills like wide-ranging business knowledge, sharper business analytics ability through its well-structured course intersperse with unparalleled corporate exposure. The major recruiters have been from consulting, BFSI, IT& ITES, E-Commerce and Automobile. Companies like, Bain & Company, Crisil, NameKart, VE Commercial Vehicles, Wipro, Barclays India, Deloitte, Hexaware Technologies, Wipro Ltd etc. participated in the process and recruited from IMT Nagpur.
| | | | |
| --- | --- | --- | --- |
| Highest CTC | Average CTC | Total Recruiters | Percentage of students placed |
| INR 16 LPA | INR 7.94 LPA | 90 companies | 85 % |
IMT Hyderabad
IMT Hyderabad had an excellent campus placement for the class of 2020. IMT Hyderabad is preferred by the industry when it comes to recruiting bright talent from campus. Companies like Walmart, KPMG, Deloitte, PwC, Colgate Palmolive, Amazon, Tresvista Financial Services, Khimji Ramdass, Zomato, CBRE, Novaris, VE Commercial, Coffee Day Beverages, IBM, Tata Capital are just a few names who hire students of IMT Hyderabad.
| | | | |
| --- | --- | --- | --- |
| Highest CTC | Average CTC | Total Recruiters | Total offers |
| INR 16.5 LPA | INR 7.64 LPA | 65 companies | 192 offers |
Stay informed, Stay ahead and stay inspired with MBA Rendezvous