Firebird was born out of a desire to create world-class contemporary Management Leadership. The ethos of industry relevance was embedded in the very beginning as a result of its origins in industry.
Firebird Institute of Research in Management in Coimbatore has been approved by the All India Council for Technical Education and also by the National Board of Accreditation. The institute initially began as an integral leadership development exercise of the 1500 crore Bannari Amman spinning Mills/Shiva Texyarn Group of companies and later morphed to offer full time a master's program in management. The institute is active in conducting Executive Development Programme, business research and consultancy and also offers Management Education. Firebird Institute of Research in Management, Coimbatore is one of the leading B-schools that offer industry integrated 2 years full time PGDM programme. Students learn more with practical industry experience and work exposure.
The Firebird Institute of Research in Management focuses on inculcating certain values such as intellectual engagement in academics and social affair. It helps the students imbibe certain values such as respecting others and respecting the value of others. The infrastructure of the college is well equipped with the latest technology. It has well-qualified teachers as faculty and is among one of the top management colleges.
FIREBIRD'S 70% PROGRAM
Firebird was started with the objective of providing industry ready students on day one of graduation. An industry ready means they are aware and know the industry problems and ways to handle these situations on day one in the company. This can happen only if they are already trained in an industry setup. Thus the 70% program refers to all practical engagements designed to nurture leadership and all rounded personalities in our PGDM cohort.
Firebird Coimbatore: PGDM Key Highlights
Only two and half hours of application based classroom study. Student's centric learning through case studies, simulation and management games, etc.
Firebird offers Industry integrated PGDM in which students learn more than 70 % of the curriculum through Practical and work exposure.
Firebird provide one on one industry mentors with clear objective of the Mentorship programme
Future Ready, cutting edge curriculum with focus on emerging specialisations
Faculty with an international profile and PhDs from some of the world's most prestigious educational institutions
Hands on In House entrepreneurial ventures.
Curated interactions with business leaders
International exposure
Award winning safe and green campus
Program Offered
The PGDM of Firebird is fully linked with industry. Every student of the Programme would work under the mentorship of a corporate executive. The student would learn practical side of Management from the corporate mentor throughout the two years of the study. The Internship in industry effectively commences for all Firebird students from the first day of their study. While the students internalise management concepts from faculty members, they would get exposed to the practice of management through their corporate mentors.
Firebird offers 2 years Full-time Post Graduate Diploma in Management approved by AICTE, New The Programme offers 23 Core Courses, 10 Elective Courses, One Summer Project and one Course Work Abroad. In addition, two Bridge Courses are built in the programme curriculum. These electives give the students the opportunity to create a tailored course of study that slots in with their own interests, challenges, and experiences.
Program Overview
Postgraduate Diploma In Management (PGDM)
Course Type: PGDM

Exams Accepted: CAT, XAT, MAT, CMAT, ATMA, KMAT, PGCET,TANCET, GMAT

Tuition Fee: INR 7,00,000

Duration: 24 Months

Total Seats:120
Eligibility Criteria
The candidates interested to study PGDM in Firebird Institute of Research in Management must be eligible on following grounds.
Candidate must be a graduate degree or equivalent qualification with not less than 50% marks in any discipline obtained from a University/Institute recognized by UGC.
Candidate must have to write any one of the entrance examination such as CAT, MAT, XAT, ATMA, TANCET, GMAT or a similar score.
Firebird Aplication Process
Student can apply online or submit through offline. The application cost will be INR 1000/-. Without application form filled or application fees paid, students will not be allowed for the selection process.
Please Click Here to submit online aplication.
The candidates need to enter name, email address, mobile number, state, city and then register after that.
Applications without the processing fee will not be considered.
Firebird Selection Process
The Firebird selection process involves three steps:

The applicants must provide the below listed document copies before the selection process
10th and 12th Mark list
UG Mark list
UG Degree/ Provisional Certificate
Entrance Exam Score card copy
Address and Identity Proof
Selected students will receive the provisional offer letter within 24hrs if they are selected. Students can accept the offer and confirm their seat.
Fee Structure at Firebird
Along with the foreign exposure which includes academics, tickets stay and food along with two years of academic education at firebird is 3 and half lakhs for the 1st year and 3 and half lakhs for the second year.
Firebird Placement
Several of global prestigious companies in private and public sector regularly visit the campus to recruit Firebird students. From among comparable B-schools, the institution is one of the best B-schools for placement in India.
The top industries in which the students got placed were Manufacturing, Logistics, IT, Technical, Human Resources, Sales & Marketing, Finance, E-Commerce and Analytics.
PGDM – 2020 Employment Highlights

TOP Recruiters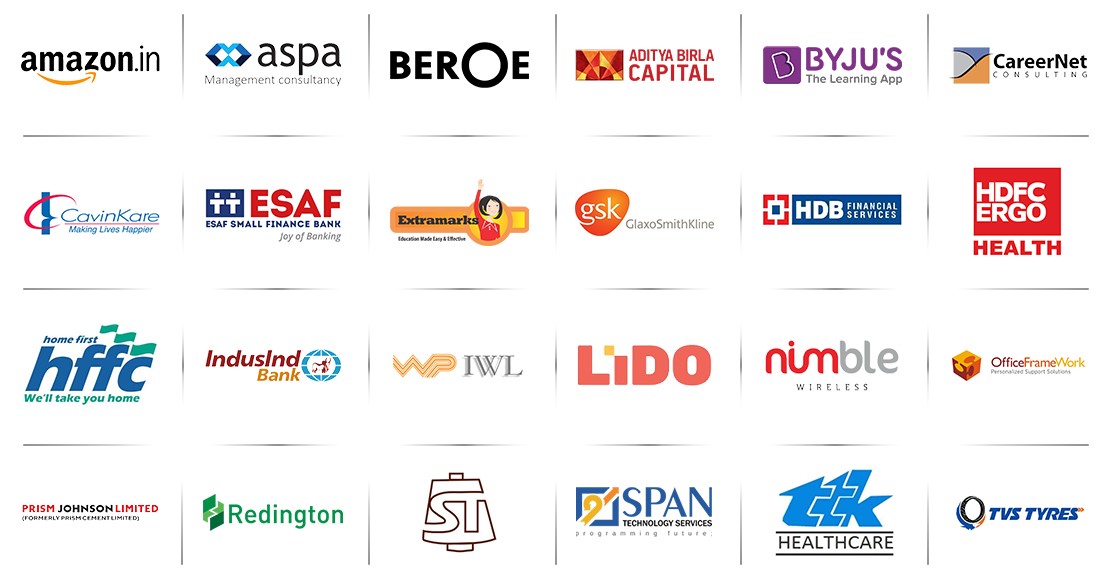 The program offerings significantly vary from those of even much more established peer institutions who operate as purely academic entities. Firebird is probably the only MBA/PGDM institution in India where more than 40 % revenue come from corporate services as against student fee collections bearing testimony to our claim of being the only truly industry operated MBA/ PGDM program in this part of the country.
The institute believes in creating leaders who are innovative, righteous and insightful. It also helps the students strive towards leadership potential. This institute encourages the students to engage in the rigorous learning process and enhance their leadership skills. The students are also encouraged to learn lessons from real life experiences.
Apply Now
Stay informed, Stay ahead and stay inspired with MBA Rendezvous