KIITEE Management - 2021 is KIIT School of Management's own National Level Entrance Examination to be conducted across 15 cities in India. KIIT School of Management (KSOM) has a long history of academic excellence, providing industry-focused management education. Since its inception in 1993, KSOM has been one of best management schools in the country.
KIITEE Management 2021 is a computer-based test. Based on the scores obtained in the Examination, candidates will be called for GD/PI.
The exam is a common examination for the following two programmes: MBA at KIIT School of Management, and MBA (Rural Management) at KIIT School of Rural Management.
Ten things you need to know about KIITEE Management 2021:
1. Eligibility
Candidate must be a graduate in any discipline with 50% aggregate marks.
Candidate must have 50% aggregate marks (or equivalent CGPA) in the 10th and 12th board examinations.
Candidate can also produce a valid score of any national entrance examination for MBA or PGDM (e.g., CAT, XAT, CMAT, MAT, including KIITEE Management, 2021, etc).
Candidate appearing for the final examination for the Bachelor's degree (or equivalent examination) and expected to complete all the requirements for obtaining the Bachelor's degree by 30th June, 2021 can also apply, subject to submission of all the required documents to that effect by 30th September, 2021.
Foreign/NRI

candidates will have the above eligibility for applying for the MBA programme and they are required to submit the filled-up application form along with the requisite documents and application fee of US $50. They will be considered for admission process on the basis of their valid GMAT scores (appeared in year 2020).
2. Important Dates
| | |
| --- | --- |
| Last Date of Receiving Completed Forms: | January 13, 2021 |
| Dates of Entrance Exam: | January 16-18, 2021 |
| Publication of Result: | January 23, 2021 |
3. Online Application
Fill up application form & pay application fee online at https://bit.ly/2VSeJk0
Candidates applying through Online Mode would be required to submit copies of their mark sheets and other supporting documents at a later stage, as will be instructed by the institution. Payment can be done through credit card/bank transfer etc., as instructed/supported at the online payment site itself.
Apply Now
4. Offline Application
Fill up the application form at https://ksom.ac.in/wp-content/uploads/2020/10/Application-Form_KIITEE-Mgmt-2021.pdf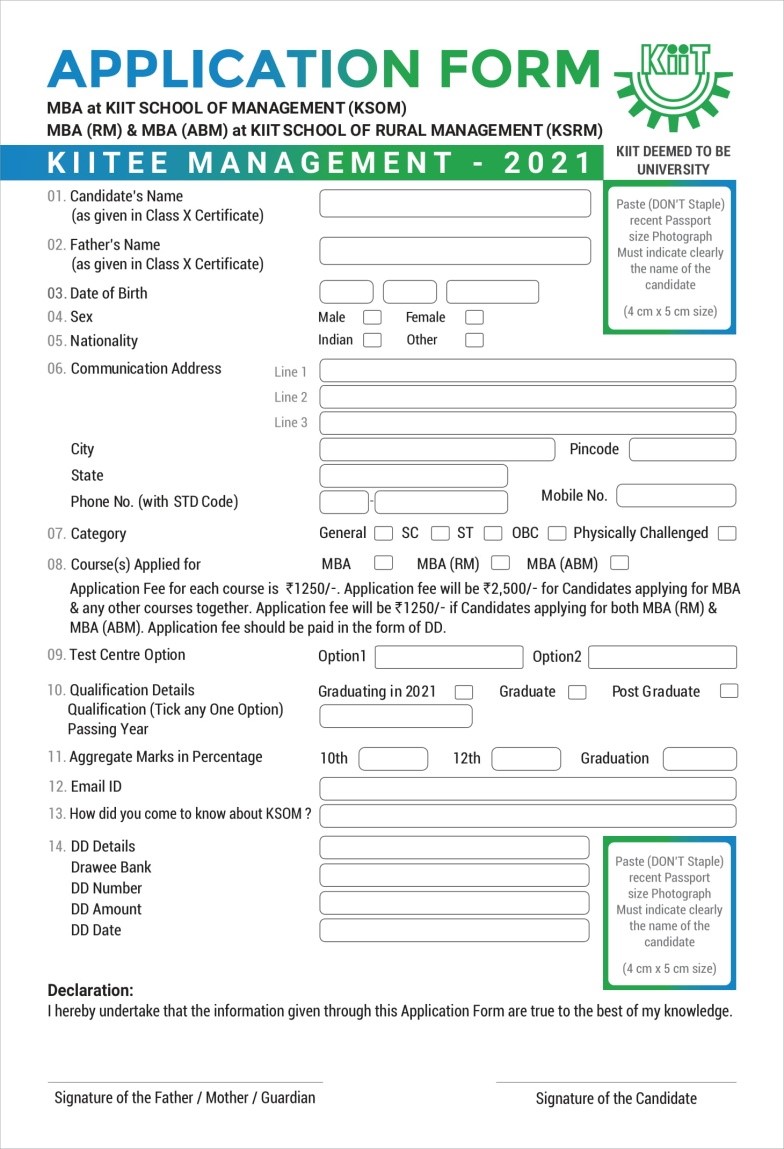 Candidates applying through offline mode need to make a DD of Rs. 1250/- drawn in favour of "KIIT School of Management", payable at Bhubaneswar. The DD along with the filled in and signed application form needs to be sent to "Prof-in-Charge, Admissions, KIIT School of Management, Campus – 7, KIIT, Bhubaneswar – 751024".
Name and Address of the candidate needs to be mentioned on the reverse of the Demand Draft.
Candidates should retain photocopies of the DD and the application form submitted for future reference.
5. Exam Pattern
The Entrance Examination will be an "Objective-type" computer-based test where the questions would be shown and answers would be marked on a desktop computer.
All the questions will be of objective type with three marks (+3) for each correct response, minus one mark (-1) for each incorrect response & zero (0) for no response. The candidates are advised not to attempt a question if they are not sure about the answer.
There will be a total of 150 multiple choice type of questions. Specific details on number of questions for each subject/course are enumerated below:
| | |
| --- | --- |
| Section | No. of questions |
| Quantitative Aptitude | 40 |
| Analytical Reasoning | 40 |
| English | 30 |
| General Knowledge | 20 |
| Issue of Social Concern | 20 |
6. Application Fee
The application fee for KIITEE Management 2021 is as follows:
MBA or MBA (RM) or MBA (ABM) or MBA (RM) + MBA (ABM) - Rs.1250/-
MBA + MBA (RM) or MBA + MBA (ABM) or MBA + MBA (RM) + MBA (ABM) - Rs.2500/-
7. Admit Card
Candidates can check the status of their Application Form on the website from 13th January, 2021 onwards.
Candidates must preserve the Admit Card till the admission process is over.
Candidates must not mutilate the Admit Card nor make any change therein.
8. Exam Result
On the basis of KIITEE Management merit list, candidates will be called for GD/PI (Group Discussion & Personal Interview).
Result of KIITEE MANAGEMENT 2021 will be declared on 23rd January, 2021.
9. Exam Day Guidelines
Candidates have to bring their Admit cards to the examination hall and reach the hall at least 30 minutes before the commencement of the examination so as to listen to all the rules / guidelines of taking the examination.
No candidate, under any circumstances, will be allowed to enter the examination centre after the commencement of the examination.
A seat indicating Roll Number will be allocated to each candidate. Candidates should find out and occupy their allotted seats only.
The candidature of a candidate, found to have changed Hall or seat on his/her own, shall be cancelled and no plea would be accepted.
No candidate, without the permission of the Centre Superintendent/ Invigilator, can leave his/her seat or Examination Hall till the completion of the Examination.
Smoking in the Examination Hall is strictly prohibited. Tea, coffee, cold drinks or snacks are not allowed inside the Examination Hall.
Phones, Pagers, Cameras or any other such electronic, electro-mechanical or electrical devices are not allowed inside the Examination Hall.
The invigilator will announce the commencement and completion of the examination. Candidates should leave their seats on hearing the announcement of completion.
10. Programme Fee
The fee structure and payment schedule of MBA (2021-23 batch) is Rs. 13, 60,000/-(Thirteen lakhs sixty thousand only).
The fee includes Tuition Fees, AC Hostel and Utility charges, Mess charges, Development and Administration Fees, Books & Materials, Laptop and Blazer.
Particulars of Fees

1st
Installment

2nd
Installment

3rd
Installment

4th
Installment

5th
Installment

One time Fee (Admission Administration, Registration, Hostel joining Fee, Books, Materials, Laptop and Blazer)

100,000

–

–

–

–

Tuition Fees

1,50,000

1,50,000

1,50,000

1,50,000

Development Fee

60,000

60,000

60,000

60,000

Co and Extra Curricular Activities

20,000

20,000

20,000

20,000

Total Academic Fees (A)

2,30,000

2,30,000

2,30,000

2,30,000

Hostel Rent, Utility and Establishment (100% AC Hostel)

60,000

60,000

60,000

60,000

Mess Charges

50,000

50,000

Total Hostel Charges(B)

1,10,000

60,000

1,10,000

60,000

Total per Installment (A+B)

1,00,000

3,40,000

2,90,000

3,40,000

2,90,000

Grand Total

13,60,000
Scholarship
This year, KSOM has instituted a scholarship programme to promote meritorious students. The scholarship amounts to 50% waiver of the tuition fees for the following categories of eligible students:
Top-5 students of KIITEE Management Entrance Examination
Candidates with 80 Percentile and above score in CAT/XAT
Candidates with 95 Percentile and above score in MAT (Applicable for Dec MAT & Feb MAT)
Contact Details
Admissions KIIT School of Management
Phone: +91 78944 60016, Mobile: 99370 85344
Admissions open for MBA 2021-23. Do not miss your chance to study at KSOM.
Apply Now
MBA Rendezvous wishes MBA Aspirants all the best of luck for KIITEE Management 2021.