Management Development Institute Gurgaon, is one of the top private management Colleges in India. Founded in the year 1972, it has since set global standards through innovation, and demonstrated learning and teaching prowess. The Institute is now ranked to be India's top 10th business school by the NIRF.
The Management Development Institute is located in Gurgaon. The central city of Delhi is few kilometres away from the Institute. Its campus offers the perfect ambience for knowledge to percolate.
MDI Gurgaon Highlights
MDI Gurgaon was the first to get the globally reputed AMBA accreditation in the country.
MDI is also SAQS re-accredited and also has NBA re-accreditation for its programmes (PGDM, PGDM-HRM, PGDM-IB, and PGDM-NMP).
MDI's all Programmes are approved by AICTE.
MDI Gurgaon graduated its first set of post graduate management students in 1989.
A state-of-the-art campus.
MDI Gurgaon Courses
| | |
| --- | --- |
| Programmes | Duration |
| Post Graduate Diploma in Management (PGDM) | 2 years |
| Post Graduate Diploma in Management - Human Resource Management (PGDM-HRM) | 2 years |
| Post Graduate Diploma in Management - International Business (PGDM-IB) | 2 years |
MDI Gurgaon Eligibility
At least 50% marks or equivalent CGPA in both class X and XII.
Bachelor's Degree (Minimum 3 years duration for PGDM, PGDM-HRM & PGDM-Business Analytics (Minimum 4 years duration for PGDM-IB), with at least 50% marks or equivalent CGPA in any discipline from any University recognized by the AICTE/AIU/ Ministry of HRD, Government of India.
Candidates appearing for the final examination for the Bachelor's degree (or equivalent examination) and completing all requirements for obtaining the Bachelor's degree by 30th June, 2024 can also apply to the PGDM, PGDM-HRM and PGDM-Business Analytics programmes, subject to furnishing evidence to that effect latest by 31st October, 2024.
Applicants to the PGDM-IB programme must possess a minimum of 1 year (one year) work experience as on 31st January 2024, after completion of a Bachelor's degree of admissible duration for the programme.
MDI Gurgaon Selection Process
Shortlisting of candidates for the GDPI process will be done on the basis of the details provided in the application form and their CAT scores. Shortlisted candidates will be called for Group Discussion and Personal Interviews between February and April 2024 at a center in one of the following cities: Bangalore, Gurugram, Kolkata, Hyderabad, Chennai and Mumbai. Centers other than Gurugram are tentative. The GDPI process may also be conducted online through zoom for which the intimation will be given to the short-listed candidates in advance.
The final selection of the candidates will be based on weightages of CAT-2023 scores, GD & PI, Academic merit, Academic diversity, Work experience and social diversity.
MDI Gurgaon Fee Structure
Successful candidates will be intimated of their final selection in April 2024. The fees and schedule of payment details are given below:
Nomenclature of Fees

PGDM / PGDM-HRM/ PGDM -BUSINESS ANALYTICS

1st Year
2nd Year
Tuition Fees
Rs 9,06,400
Rs 9,06,400
Learning Material Fees
Rs 56,600
Rs 56,600
Students Activities
Rs 28,500
Rs 28,500
Library Fee
Rs 34,000
Rs 34,000
Alumni Fee
Rs 14,300
-
Security Deposit*
Rs 27,500
-
Total Fee without Boarding & Lodging Charges
Rs 10,67,300
Rs 10,25,500
Boarding Charges
Rs 72,500
Rs 72,500
Lodging Charges
Rs 89,500
Rs 89,500
Grand Total of Two Year
Rs 24,16,800
*Refundable
MDI Placement
Mangement Development Institute Gurgaon stands true to its legacy of excellence and constant growth had an impeccable placement for the batch of 2021-23.
The highly capable batch consisted of 238 students from PGDM, 120 students from PGDMHRM and 114 from PGDM-IB Program, who are all motivated to succeed in their chosen fields. The diverse talent pool attracted a total of 102 organizations to recruit students from MDI across a variety of domains, with 21 new recruiters joining the fray. The median salary offered also saw an increase of 11.19% from the previous year.
Compensation Categorization of PGDM & PGDM-IB:
Top 10 Percentile

Median Salary : 36.30 L

Average Salary : 43.20 L

Top 25 Percentile

Median Salary : 35.04 L

Average Salary : 37.39 L

Top 50 Percentile

Median Salary : 30.10 L

Average Salary: 32.84 L

Entire Batch

Median Salary : 26.70 L

Average Salary : 27.67 L
Compensation Categorization of PGDM-HRM:
Top 10 Percentile

Median Salary : 40.02 L

Average Salary : 42.52 L

Top 25 Percentile

Median Salary : 32.99 L

Average Salary : 35.32 L

Top 50 Percentile

Median Salary : 27.80 L

Average Salary: 30.78 L

Entire Batch

Median Salary : 25.00 L

Average Salary : 26.42 L
FMCG: FMCG stalwarts like Nestlé and Tata Consumer Products Ltd. were first time recruiters. Top FMCG companies such as Asian Paints,Adidas, Marico.,Pidilite.
Big names in the Pharmaceutical sector such as Eli Lilly and Company, GSK Pharmaceuticals strengthened MDI's position in the Healthcare domain. Airtel and Godrej Industries Ltd. were major recruiters.
Finance: Goldman Sachs, JPMorgan Chase & Co., HSBC Bank, and Nomura were the front runners to offer coveted investment banking roles at MDI. Industry stalwarts such as 360 ONE, American Express, Citibank, Client Associates, Crisil, and Piramal Group strengthened their association with MDI.
Operation & Technology: The IT & Operations sector oversaw the participation of firms such as EXL Service, Genpact, HSBC Bank, Jio Platforms, Paytm, Piramal Group, Tekion Corp, and UnitedHealth Group. E-Commerce giants like Amazon, MakeMyTrip, and Flipkart continued to put their faith in the talent pool of MDI Gurgaon.
Consulting and General Management: Legacy recruiters like Accenture Strategy, Aditya Birla Group, Deloitte, Everest Group, and PwC India recruited with renewed vigour. Industrial giants like Amazon, Godrej, Hinduja Group, Reliance Industries, and ReNew also offered coveted General Management roles.
Human Resources: Witnessing continued faith from the industry, MDI hosted leaders such as Aditya Birla Group, Amazon, Asian Paints, Flipkart, Google, HSBC Bank, Nestlé, and PwC boosting MDI's reputation as the premier institute for HRM. Top firms like Accenture Strategy, Airtel, AON Consulting Deloitte, EY, ITC Limited, KPMG, and Landmark Group extended opportunities to the HR cohort and demonstrated enhanced confidence in our talent pool
MDI Gurgaon Batch Profile
The tremendous intellectual pool of the faculty combined with continuous hands on experience provides the students of MDI, a sturdy platform to launch them higher in the management horizon.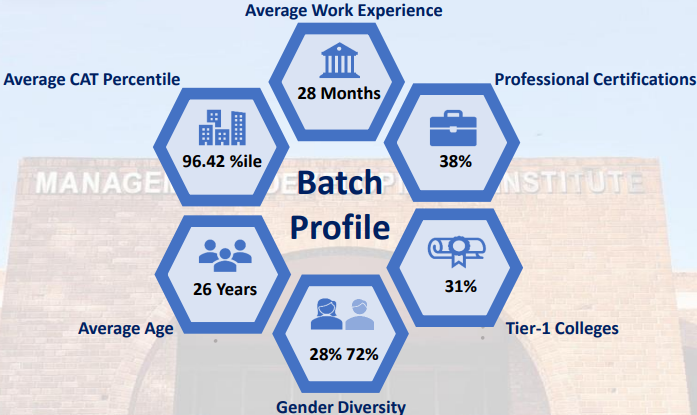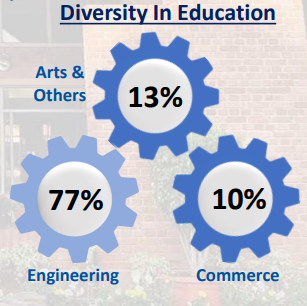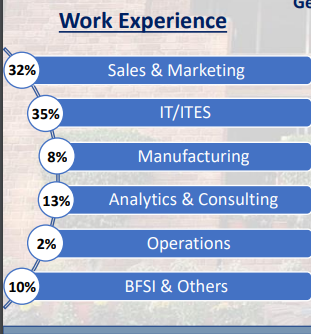 MDI, an institution for excellence in management education, quality research, executive development and value added consulting, has consistently maintained its premier position among the top five B-schools in the country. Its strong intellectual capital of over 76 nationally and internationally acclaimed full time faculty members is acknowledged to be amongst the best in India.
Stay informed, Stay ahead and stay inspired with MBA Rendezvous