SOIL Institute of Management, co-created by 32 leading companies and supported by 25 NGOs, is a unique institute, which aims to nurture leaders of tomorrow. The focus at SOIL is to offer a truly holistic approach, which inspires students to excel and grow professionally, as well as, spiritually. Thus, social well-being, ecological sustainability and business concerns are integrated in the curriculum followed at SOIL. It is a result of this multi-faceted approach to business education that students pass out with flying colours and make a name for themselves in the professional world.
Post Graduate Diploma in Management (PGDM) in Business Design
Flagship course offered by SOIL, popular with students looking new and innovative ways to management education.
The aim of the program is to create business leaders with the ability to solve problems and be creative.
The program integrates Business, Design Thinking and Liberal Arts.
The program rewards students with work experience. Students with 0-5 years of work experience are eligible to apply.
Programs such as Global Immersion, Himalayan Retreat, Social Innovation Project, Discover India Train Journey, offer a different perspective to students and extend learning beyond the traditional four walls of the classroom.
Students benefit from SOIL's association with reputed organisations like Royal Roads University, Johannesburg Business School, Politecnico Di Milano Graduate School of Business, European Centre for Executive Development and Shizenkan.
The placement record of SOIL is a testimony to the success of its programs and philosophy.
Successful Summer Internship Program at SOIL
SOIL has designed a successful summer internship program for its students. The highlights of the program are as follows:
Mandatory for first year students.
Exposes students to the corporate world;provides them with an opportunity to execute their knowledge and kick start their professional careers.
Several reputed companies participate in the Summer Internship Program such as:
Procter & Gamble
TATA Electronics
Kellogg's
Panasonic
Maverick Systems
TATA Chemicals
HCL India
Kotak
The highest stipend offered to students (batch of 2020-22) of SOIL was INR 1.40 Lakhs.
SOIL Placements-Scripting Success Stories
With every passing batch, SOIL Institute of Management is scripting glorious success stories. It is gradually establishing itself as one of the best institutes for Business Design. This is reflected in the placement record of the institute. Despite challenging times, SOIL has been able to attract several top companies to its campus for recruitment and boasts of an enviable record of 100% placements for its batch. The following table reveals how successful SOIL has been to ensure placements for all its students, even during a tough phase for the industry.
| | |
| --- | --- |
| | Batch 2019-2021 |
| Highest Salary | INR 15 Lakhs per annum |
| Average Annual Salary | INR 8.61 Lakhs per annum |
Salary for top 10% placed students was INR 13.5 Lakhs per annum and for top 50% placed students was INR 10 Lakhs per annum. Students were absorbed into different sectors: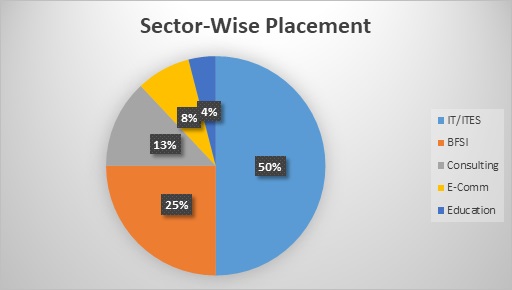 SOIL Institute of Management- Trusted by the Best
More than 60 companies participated in the placement process of Batch 2021. This includes some of the reputed names in the industry, such as:
| | | |
| --- | --- | --- |
| Infosys | Genpact | Wipro |
| GSK | KPMG Global | Tech Mahindra |
| Byjus | Accor | P&G |
| HDFC Bank | Calpro | Mphasis |
| Gartner | Tata Electronics | Tarnea |
| Kellogg's | PNB Metlife | Dupoint |
| Coverfox | NIIT | Stadhawk |
| HONO.AI | Desmania | Bridge Group |
Students were offered diverse roles such as Marketing Manager, Digital Manager, Marketing Analyst, Business Development Manager, Product Manager, Team Lead, Senior Analyst, Data Scientist, Business Analyst, Senior Consultant, Credit Manager, Project Manager, Solution Consultant etc.
SOIL stands for quality and values. It offers a multi-dimensional perspective to students, who get a perfect launch pad to realise their dreams and potential.
Stay informed, Stay ahead and stay inspired with MBA Rendezvous.