Set up in 1963 by the Government of India as an autonomous organisation, The Indian Institute of Foreign Trade (IIFT) is a Centre of Excellence in International Trade and Business. IIFT is one of the top business schools of India with a special focus on Trade and Finance. The Institute's portfolio of long-term programmes is diverse, catering to the requirements of aspiring International Business executives and mid-career professionals alike. The flagship program offered by IIFT is MBA in International Business.
The Institute was granted "Deemed to be University" status in 2002. The National Assessment and Accreditation Council (NAAC) has recognized IIFT as Grade 'A' Institution in 2005 as well as in 2015.
Campuses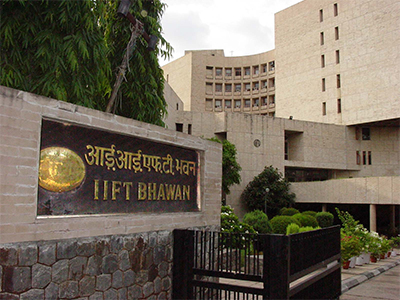 IIFT Delhi Campus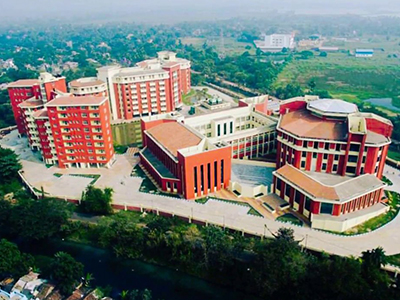 IIFT Kolkata Campus
Delhi Campus
Situated in Qutub Institutional Area, overlooking green ridge and the majestic Qutub Minar, the IIFT Campus is considered to be one of the most beautiful and peaceful campuses in the country.
Spread over 6.5 acres green sprawling land, stands two academic blocks and residential blocks for students and faculty.
Be it the imposing structure of the atrium, the magical architectural design or the splendour of the campus in full bloom in winter evening, it never fails to impress the visitors.
The campus is very picturesque and artistic in nature. It will make you fall in love with the well- maintained buildings and fresh green gardens.
Kolkata Campus
Situated in East Kolkata off EM Bypass, IIFT's Kolkata Campus is pleasant to eyes and heart.
Developed as a green and fully integrated campus, IIFT Kolkata has independent blocks for academic, administration and other amenities.
Spread over 7 acres, IIFT Kolkata is a home for student s of diverse communities and backgrounds of the world. These varied set of individuals, weave their uniqueness and add to the campus' vibrancy.
Residing in the heart of this historically rich land of Kolkata, IIFT campus is green, clean and peaceful.
Other Facilities

Hostel:
The MBA (International Business) is a fully residential programme.
In Delhi, the students are allotted accommodation on double / triple occupancy basis at the sole discretion of the Institute.
In Kolkata, the students are allotted accommodation on single occupancy basis.
Hostel at IIFT Campuses is "A Home Away From Home".
Caring wardens and a vigilant security ensures a pleasant stay allowing students to focus on academics.
In addition, the hostel life allows students to interact with their colleagues and peers, make friends, and develop into good human beings capable of independent judgement and competent in handling the day-today pressures of life.

Library:
Library at IIFT is a heaven for book-worms.
It is well-equipped and has all the latest edition of publications.
Starting from Trade and Economics to Management related topics, you can find all types of study material.
Apart from books on traditional Management and Economics related areas, the Library has huge collection of books on upcoming areas like WTO, Intellectual Property Rights, Mergers & Acquisitions, e-Business, Global Business Strategies, International Business Law, and Information Technology, etc.
IIFT has a humongous collection of over 235 Journals and Periodicals.
IIFT subscribes to Bloomberg, which offers a dynamic network of information for decision- makers.

Computer:
IIFT's Computer Centre has implemented the latest state of the art IT infrastructure to provide a competitive advantage in its core areas of education and research.
IIFT uses video conferencing facility for training, research activities besides connecting IIFT Delhi & Kolkata for internal meetings, etc.
IIFT's recent foray in the online education platform has been possible with the state-of-the-art IT infrastructure support being provided for the conduct of online programmes.
IIFT also has a fully integrated in-house developed platform, named "Campus360"- enables online attendance, sharing of courseware, result processing, online quiz, opinion polls, assignment submission, dissertation/research project submission, elective selection, port visit option, language selection and many more related activities.
WiFi services are also made available to the students in the campus.
IIFT gives students the flexibility, knowledge and wisdom to pursue their passion. IIFT Campus allows an unparalleled bonding between the students. This is accentuated by year-long events and activities leading to a strong camaraderie between students despite the competitive spirit.
Last Date to Apply: 30th Dec 2020
Apply Now
MBA Rendezvous wishes all the best to the readers for future endeavours