MDI Gurgaon, a leading business school from India in association with Emerald Emerging Markets Case Studies, (EEMCS) organised a workshop on special collection of cases. The objective of the workshop is to mentor and train faculty from other B-Schools on developing unique cases on Indian managerial issues.
The unique feature of this collection unlike other case collections is focused on the 'Emerging Markets Context'.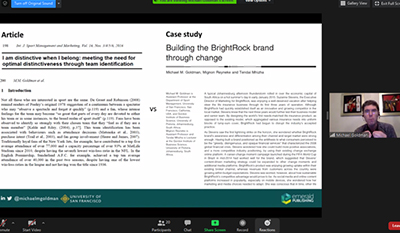 As a mentoring partner, MDI Gurgaon conducted a three-day classroom component from May 18 to 20, 2020 to discuss case proposals. A total of 18 participants and 16 case proposals (including one from Bangladesh and one from Bahrain) were a part of the workshop. While the sessions on key points for case preparation were conducted by Prof. Ritu Srivastava from MDI Gurgaon, Prof. Michael Goldman, Editor-in-Chief of Emerald Emerging Market Case Studies, Ms. Sangeeta Menon, Publishing Relationship Manager from Emerald Publishing – India introduced the Emerald e-learning portal to the case writers.
EEMCS, as the knowledge partner has also formed an editorial board to review the case proposals. On the other hand, MDI Gurgaon will extend mentorship to help the participants complete the case by September 2020.
Speaking on the workshop, Prof. P. C. Biswal Dean R&A, MDI, said "Apart from promoting research internally, we at MDI Gurgaon organise numerous workshops and conclaves to promote relevant research as well as mentor faculty from other B-schools. A step on the same line is the ongoing Case Development, Mentoring and Publication Workshop in association with Emerald Emerging Markets Case Studies (EEMCS). Faculty members from other B Schools are being trained and mentored for developing case studies based on Indian managerial contexts."
Case method is one of the most effective methods in management education pedagogy. It involves the faculty, leading learners through a historical analysis of a business situation. The learners come up with a solution to some of the toughest business problems. There is a need to understand the issues specific to each emerging market – with India being one- and develop classroom learning material related to various business concepts and management disciplines.
Highlighting the knowledge partnership, Mr. Sundar Radhakrishnan, Vice President, Emerald Publishing said, "Emerald Publishing in India focuses on not just offering a global platform for the researchers within South Asia but also to support and develop their research writing techniques. Our Emerging Markets Case Studies(EMCS) collection welcomes well-researched, instructive, and multimedia online cases, to be used by faculty to develop effective managers globally. It receives over 44% submissions from India alone and we wish to support activities that improve our acceptance rate. We are glad to collaborate with MDI, Gurgaon as initiatives like this workshop allow us the tackle challenges in developing quality submissions within this region."
Stay informed, Stay ahead and stay inspired with MBA Rendezvous