MDI Gurgaon, a leading Indian business school joins hand with RSPL Welfare Foundation (RWF), a charitable trust from Kanpur, to offer a scholarship programme namely 'Poonam Gyanchandani Memorial Scholarship' for the students of MDI's PGPM Programme (Post Graduate Programme in Management).
The purpose of this scholarship programme, is to provide financial support to the students of PGPM Programme of MDI Gurgaon on the basis of Merit cum means basis.
The agreed scholarship amount of Rs.35 lakhs will be equally disbursed to the selected seven (7) students, wherein each will be getting Rs.5.00 lakh. The students eligible for this scholarship will be selected by the duly formed committee including members from MDI Gurgaon and RSPL Welfare Foundation.
Dr. Pawan Kumar Singh, Director - MDI Gurgaon said "We are proud and happy to collaborate with RSPL Welfare Foundation to offer this merit-cum-means scholarship programme. This is a unique initiative to help meritorious and needy students in carving a bright future for themselves."
Shri. Sushil Kumar Bajpai, President RSPL Welfare Foundation said, "We are delighted to have signed the Memorandum of Understanding with MDI Gurgaon to help aspiring students in their journey of pursuing management education".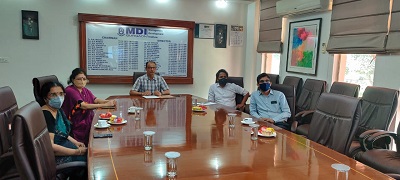 Prof. Jyotsna Bhatnagar, Dean - Graduate Programmes, stated "As a learning institute, we believe to stand by our students and support them, especially during these extraordinarily difficult times. We look forward to many more such collaborations with RWF in the future."
The applications for the scholarship will be invited from August 2020.
The MoU ceremony (conducted online) witnessed presence of Director, MDI Gurgaon with faculty colleagues and officials of RSPL Welfare Foundation & RSPL.
Stay informed, Stay ahead and stay inspired with MBA Rendezvous