In a major breakthrough, students of MICA have emerged as national winners in 5 national-level case-study competitions, adding new feathers to MICA's cap. Displaying sharp analytical skills and solution-oriented approaches to crack complex real-world business problems, the students have offered pragmatic solutions to leading corporates through these competitions.
The students emerged as national winners for L'Oreal Sustainability Challenge 2022 (Aditya Tripathi, Tanvi Goyal, Laksh Javeria), TVS Credit Analytics Challenge (Roshani Deshpande), Aditya Birla Fashion Retail Ltd. (ABFRL) 's ShowStopper (Shruti Kulkarni), Flipkart Wired 6.0 (Ankit Singh, Kavya Narukurti, Yuvraj Mehta) and Tata Steel (Abhilasha Kukreja, Aishwarya Kasera, Tanmay Mahapatra). Apart from these competitions, MICAns have emerged as 2nd runners-up for Dabur Verve Hackathon 2022 (Joel Nedungatt, Kostubh Bhardwaj, Vidhi Bansal) and Titan Elevate 9.0 business case study challenge (Keshavkumar Bhimsaria, Shreya Tosniwal).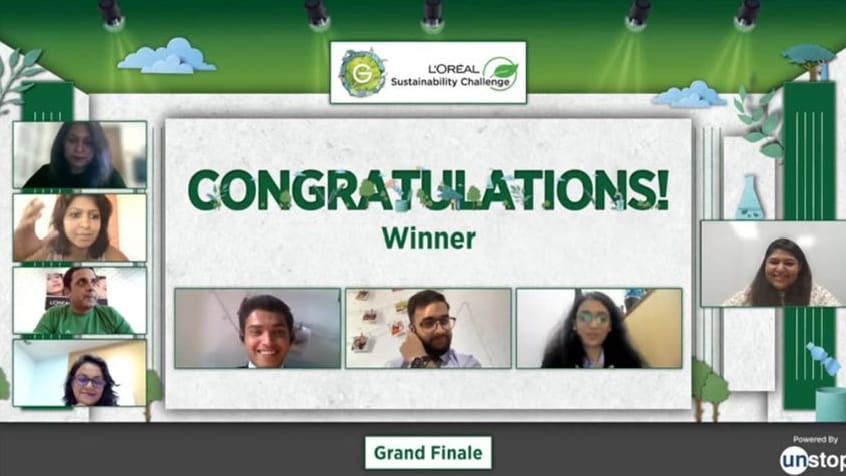 Congratulating the students, Dr Shailendra Raj Mehta, President & Director, MICA, said, "This clearly demonstrates that our students can go head to head with the very best and prevail." The competitions provided the students with a chance to practically apply the concepts they've learned in class to actual business problems, aiding in their growth and journey to become able leaders of the future.
Dr. Githa Heggde, Dean, MICA, said, "Nation's best in any sector that MICANs compete in is clear evidence that MICA fosters whole brain, agile thinking and adaptive problem-solving abilities besides inculcating leadership qualities among its students. Congratulations to the winners." As part of the sixth edition of L'Oreal sustainability challenge 2022, second-year students Aditya Tripathi, Tanvi Goyal, and Laksh Javeria were asked to share a photo/video of one green step they had each taken together at their campuses. This was followed by ideation on driving consumers towards a behaviour change, enabling them to live sustainably.
Sharing his experience, Aditya Tripathi said, "The journey was jam-packed with learning, from developing our first solution, reading sustainability reports, engaging in lengthy debates, completing primary research, and speaking with lecturers to putting our proposed idea's prototype into action. The problem statement pushed us to consider green beauty from several angles, delve deeply into the lives of our customers, and explore uncharted territory to gain a better understanding. Our understanding of the problem became more nuanced at each step, from coming up with a theoretical solution to building a prototype and implementing it in our society." The team won Pre-Placement interviews and a mentorship session with L'Oreal.
First-year student Shruti Kulkarni emerged as the national winner of ABFRL's ShowStopper challenge. She worked on a case titled 'Pantaloons Ethnic,' which was focused on propelling growth in the women's ethnic wear segment and positioning Pantaloons Ethnic as a category beyond occasions. She said, "I started with primary and secondary research and spent considerable time analysing the data. This helped me arrive at the key consumer insights driving my case solution. Based on this, I used basic marketing frameworks and created a structured strategy to develop a compelling presentation for the industry judges."
The national winner of Flipkart Wired's 6thEdition was Team Labrinth, a team of 3 second-year students of MICA - Ankit Singh, Kavya Narukurti, and Yuvraj Mehta. They were declared the national winners among 4 teams from reputed institutes like IMT Ghaziabad, IIM Kashipur, etc., that made it to the finals.
Yuvraj Mehta said, "It has been an honour to represent MICA at an event of this scale. The journey has been no less than a roller coaster ride. The ups and downs, the fights and the laughs, the lastminute submissions and the fight to win, it was all worth it after all."
Competitions in a nutshell:
| | | |
| --- | --- | --- |
| Name of Company | Nature of challenge | Rank |
| Loreal | Sustainability challenge | National Winners |
| TVS Credit | Analytics challenge | National Winners |
| Flipkart | Business Track | National Winners |
| Aditya Birla | Showstopper 2022 | National Winners |
| Tata Steel | Steel-a-Thon | National Winners |
| Titan | Business case study | National Winners |
| Dabur | Verve Hackathon 2022 | National Winners |
Stay informed, Stay ahead and Stay inspired with MBA Rendezvous.