"Surround yourself with things you love; and find your voice in whatever you do", said Mr. Akarsh Khurana, noted director, writer and actor to the students of MICA, Ahmedabad.
Mr. Khurana, known for his notable works including movies like Krrish, Karwaan, Rashmi Rocket, a popular web series Tripling and more, addressed the students as part of MICANVAS - MICA's annual marketing festival. The speaker session was organized under the festival's segment called 'Mindspeak' which brings eminent personalities from the industry to MICA to deliver the most insightful sessions. His highly captivating session titled 'Roll Camera Action: My Life in Media' covered the highs and lows of his career and life as a skilled and renowned media professional.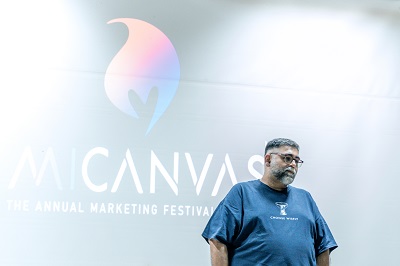 The session was graced by Dr. Shailendra Raj Mehta, President & Director, MICA and Dr. Githa Heggde, Dean, MICA along with several faculty members.
Mr. Khurana spoke of his long-standing love for the movies, the craft of writing and the many turning points in his career that had a massive bearing on his life and his perception of how to live it fully. Emphasizing the ever-growing scope of storytelling in the country, he spoke of the pervasiveness of content. "All content has an audience and, every audience has a piece of content that caters to them. This is the perfect climate to tell the stories that you believe in because there will always be an audience looking forward to what you have to tell."
Speaking of different kinds of stories, he shared the nitty-gritty of writing for different seasons for shows like Mismatched and Tripling. "Covid-19 changed the way I looked at life. I had to also relook at the kind of stories I wanted to tell. Season 1 of Mismatched was a campus love story, but Season 2 addressed therapy and body shaming issues. It made me tackle real issues. We need to stop underestimating the audience.
Sharing his insights on successful brand integration, he cited an example of Tripling, which features the newly launched Tiago car as a focal point in an enriching story. "Organic brand integration is very hard to combine. Brand integrations have to be content dependent and not brand dependent."
On a concluding note, he urged the students to find their voice. "No matter what industry you are in, what is absolutely crucial is to surround yourself with things that you love and find your voice. Pushing back in life is the key to growth and fighting for what you believe in is what matters the most. It is why I never shy from creating shows that are unafraid to tackle real-world problems. Because those are the stories I want to tell."
These purposeful lines resonated with every young MICAn and student present in the room. The session was a roaring success and a chance for the students to learn the ropes of life from a highly experienced and eminent professional like Mr. Akarsh Khurana.
In addition, the festival hosted an interesting line-up of exciting and challenging events and competitions.
Stay informed, Stay ahead and Stay inspired with MBA Rendezvous.