*TEDxMICA 2021 will bring unorthodox work, ideas, and stories from people from all walks of life*
MICA, Ahmedabad, India's premier B-school for Strategic Marketing and Communications, is excited to host its 10th edition of TEDx talk on February 28, 2021, albeit virtually. The independently organized event, licensed by TED, this year will feature voices under the theme 'Belagaam' (Hindustani word for 'unbridled') that aims to bring unorthodox work, ideas, and stories on one platform.
Eight speakers from all walks of life will join TEDxMICA 2021 and share their experiences and understanding of overcoming unconventional problems with unconventional approaches. Interestingly, one of the speakers this year is a 9- year-old Licypriya Kangujam, one of the youngest climate change activists globally who has addressed world leaders at the United Nations Climate Conference 2019 (COP25) in Spain.
Delving more on the theme, Nishant Shetty, a senior member of the TEDxMICA team, said, "TEDxMICA 2021 - 'Belagaam', as the name suggests, is unbridled in every way. It captures the reality of the new world order we are experiencing today. Our theme highlights our belief that to beat an unconventional problem, we need to adopt an unconventional approach. We intend to serve as an interface for inspired minds and ideals, to connect with a young, relentless audience, waiting to find that one spark that sets them free."
This year, the event is open for all, and interested individuals can purchase their passes from BookMyShow. Attendees will receive a unique link upon registration.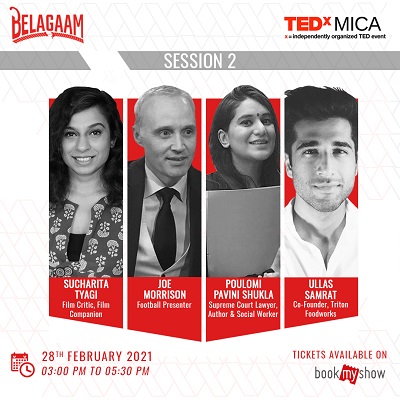 The speakers for this edition of TEDxMICA include:
Ms. Sucharita Tyagi, Film critic, Film Companion
Licypriya Kangujam, 9-year old climate change activist
Mr. Subhash Kamath, CEO, Publicis Worldwide, Chairman, ASCI
Ms. Shaheen Mistri, CEO, Teach for India
Mr. Ullas Samrat, CEO, Triton Foodworks, Forbes 30 under 30
Mr. Aaquib Wani, Experiential Designer, Aaquib Wani Design
Ms. Poulomi Pavni Shukla, Supreme Court Advocate, Child Rights Activist
Mr. Joe Morrison, Football Presenter, Ten Sports/Sony Six
About TEDx, x = independently organized event:
In the spirit of ideas worth spreading, TEDx is a program of local, self-organized events that bring people together to share a TED-like experience. At a TEDx event, TED Talks video and live speakers combine to spark deep discussion and connection. These local, self-organized events are branded TEDx, where x = independently organized TED event.
Please note: Interested individuals can collect their passes from BookMyShow using this link: https://www.bit.ly/TEDxMICA2021
Stay informed, Stay ahead and stay inspired with MBA Rendezvous