T A Pai Management Institute (TAPMI), one of India's premier b-school with the prestigious double crown accreditation (AACSB, AMBA), witnessed the induction of a promising set of future leaders to its PGDM Programs.
The institute kicked off the new academic year, welcoming the 37th batch of PGDM, 6th batch of PGDM - Banking & Financial Services (BKFS), 2nd batch of PGDM – Human Resources (HR) and the 1st batch of PGDM- Marketing and Sales Management (MSM).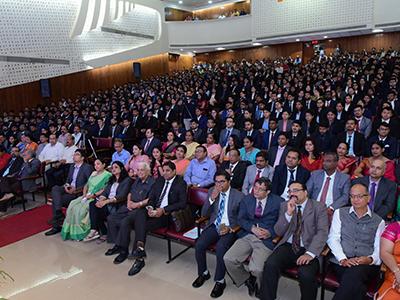 Welcoming the new batch, TAPMI's Director, Dr Madhu Veeraraghavan said, "As the new batch takes guard to keep our flag of academic excellence flying high, I would like to highlight the institution's reinvigorated aim to strengthen its connect with the industry even further, through the course of the programme. The induction exemplifies our approach, as some of the institution's most notable alumni connect with the incoming students to orient them to the latest and emerging trends in the industry. This is the first step towards creating future-ready business leaders."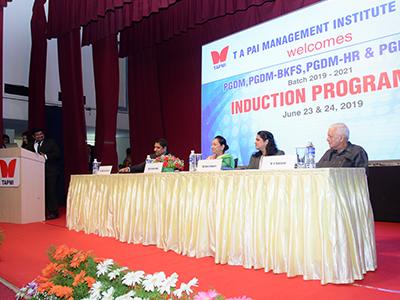 Following this, the Admissions Chair, Prof. Aditya Mohan Jadhav, highlighted the profile of the batch of 2019-2021. The 482-strong batch with an average CAT score at 90 percentile has students from diverse educational backgrounds with representation from 26 states. The percentage of female students in the current batch was 38%.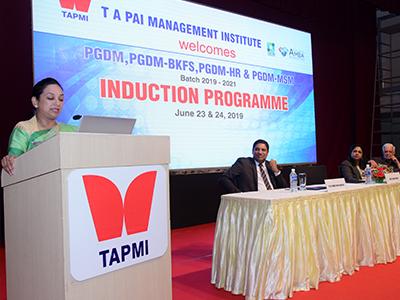 The Guest of Honour for the ceremony, Ms Rima S Naware, Director - HR, Inventivo India, fellow TAPMI alumna, shared her experience at TAPMI by summarizing it into seven P's: Preparedness, Perseverance, Positivity, Poignancy, Packaging, Patterns & Peculiarities and Partnership.
The Chief Guest and TAPMI alumna, Ms Priyanka Neogi, Vice President – Digital Transformation Projects, Kotak Mahindra Bank, Mumbai, addressed the gathering by sharing four bits of advice to achieve in life: to be fearless of failing, to embrace differences and diversity, multitasking and to be courageous to take risks.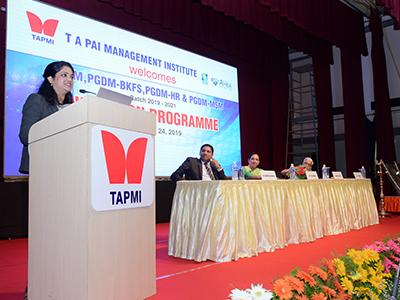 The program included an orientation session with the parents, wherein the Director of TAPMI along with the faculty members interacted with the families of students detailing the program and campus facilities among others. The new batch shall undergo a week-long induction, which includes programmes such as meditation by the Art of Living, Professional Courtesies & Socializing Etiquettes and Yoga.
Stay informed, Stay ahead and stay inspired with MBA Rendezvous