A Gujarati feature film, directed and produced by two MICA faculty members, will be screened at London Indian Film Festival (LIFF) next month. The film, 'Mara Pappa Superhero,' directed by MICA adjunct faculty Dr.Darshan Ashwin Trivedi and produced by MICA Associate Professor Dr.UT Rao, is the only Gujarati film to screen at Young Rebel section at the festival, organized by the Bagri Foundation.

The film will be screened on June 19, 2021, at Waterman's, West London's Arts Centre, and available online at LOVELIFFatHome.com from June 26 onwards.
'Mara Pappa Superhero' tells the story of a young Gujarati girl's quest to prove her street-vendor father is secretly a superhero. Kanku is a happy-go-lucky girl who can find joy and happiness with the small things in life. One day, while playing with her wealthy friend Kiara, she hears Kiara refer to her father as superhero. Eager to understand, Kanku asks Kiara questions, which leads her to believe her street-vendor dad is also a superhero. She sets out at any cost to convince everyone of this fact.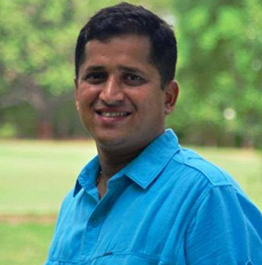 Speaking about the films journey, Dr.UT Rao of MICA and also the film producer said, "When Darshan mentioned that he had issues with his existing producer, I offered to be part of the film as an angel investor. Two other friends Milapsinh Jadeja and Tejasvini Buch joined, and the rest is history. We are delighted with the film; it is a heartwarming narrative of a father-daughter relationship, which is a universal narrative."
Dr.Darshan Ashwin Trivedi, Director of the film said, "This is my second film after Mrugtrushna which has enjoyed its share in the festival circuit. Mara Pappa Superhero is a special film to me as it has practically taken birth during our lunch breaks at MICA. I am indebted to MICA for providing such a conducive environment to think creatively. The film is getting noticed, which makes me happy."
The film is written by Raam Mori, and has Bhavya Shirohi, Abhinay Banker, Shraddha Dangar, Revanta Sarabhai, Priyanka Sarabhai, Bhushan Bhatt, and Bharat Thakkar as actors. The film is cinematographed by Tapan Vyas, the music of the film is composed by Nisthith Mehta, and the editor of the film is Burzin Unwalla. Other prominent films to be screened at the festival include Bittersweet (Marathi), Kasturi: The Musk (Hindi), and Kayattam (Malayalam).
Stay informed, Stay ahead and stay inspired with MBA Rendezvous