Education institutes need to equip students with ability to deal with failure, chaos says Deepali Naair, CMO, IBM India & South Asia
Experts from the Indian industry delved into aspects of understanding how businesses need to cope up with changing digital era and how therefore educators and educational institutions also need to take due cognizance of this change and incorporate it in their pedagogy and curriculum for preparing the students at the Industry Panel Discussion on last day of the 6th International Communications Management Conference (ICMC) held at MICA, Ahmedabad.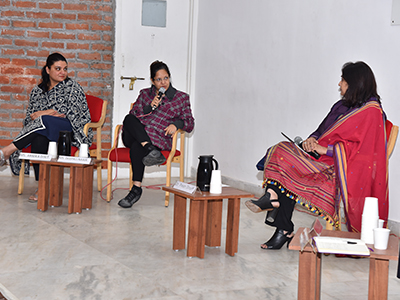 The panel discussion on 'Managing Businesses in the Digital Economy' included industry experts Ms Arnika Dixit, Country Head, Digital Marketing & Data Analytics, CITIBANK, Ms. Deepali Naair (CMO- India & South Asia, IBM), Mr. Jagdish Unni (Vice president- AI Solutions, SymphonyAI) and Mr. Premchand C, (ED, Avalon Consulting). The session was moderated by Dr Preeti Shroff, Dean of MICA.
Starting the discussion on the era of digitisation, national protectionism and hyper localisation Ms. Arnika Dixit said "Marketers need to take note that we have moved as a society to peer reviews. Till a few years back, world was divided into analogue and digital. Now it is omnipresent so we need to acknowledge that everything is digital. The expectations from professionals who are coming now into the system is going to be that digital knowledge and upskilling becomes their minimum viable proposition. There is a lot of leapfrogging in India as we have moved a lot as a society to peer reviews, a lot of opinion gets influenced from peer reviews and marketers need to take a note of that because consumers like to associate themselves with those brands where they get good peer review. People are also conscious about their data footprint hence brands would be expected to have right kind of disclosure."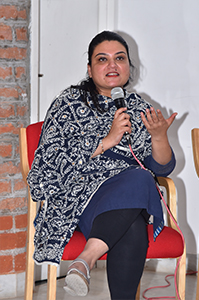 Taking the discussion forward on association with brands and data privacy Ms. Deepali Naair mentioning a study by IBM said, "Companies that have done their Digital transformation earlier than the others and who have used digital to transform their business process are far ahead as compared to companies not adopting the technology. Irrespective of the industries, the realization is that the business models are changing and not just marketing and digital acquisitions."
Mr. Premchand taking a jibe on digital said "Mankind can decide the future of technology and not the other way around, we can also do things to AI. There is a multipolar interaction between machines and humans." Quoting author Yuval Noah Harari he said "There is an opportunity for digital dictatorship because of huge data privacy concerns but it also offers huge opportunity for digital transparency and the new age of democracy can come out of digital"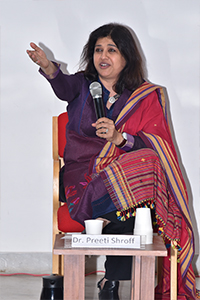 Dr. Shroff further asked the panelists their views on how do we reform and design our education system and how do we strengthen entrepreneurship. Responding to her, Mr. Jagdish Unni said, "Education systems need to focus on the 'What if' scenarios and not focus on what has happened in the past. There are lot of failed entrepreneurs out there because we are taught in a medium of isolation and not as a team at school and college level. Team projects are only seen in some competitions. It is never an entrepreneur who is successful but the entire organization. Hence team work is as much important as it is to make students ready for 'What if' situations."
Adding to this Ms Deepali Naair said, "The ability to deal with failure, ability to deal with chaos and lack of structures will change very quickly. Investing in upskilling and improving in one's own learning quotient and resilience to learning extremely crucial in this era."
Post the discussion, Dr. Shailendra Raj Mehta, President and Director, MICA and Dr. Preeti Shroff, Dean, MICA felicitated the panelists.
Stay informed, Stay ahead and stay inspired with MBA Rendezvous