MICA Professor and researcher Dr. Shaphali Gupta was awarded the prestigious 'Basant Kumar Birla Distinguished Research Scholar Award 2019' for her contribution to the Social Sciences and Management area. This achievement comes as a recognition of her outstanding and sustained contribution in the area, based on her publications in top-tier international journals over the last five years.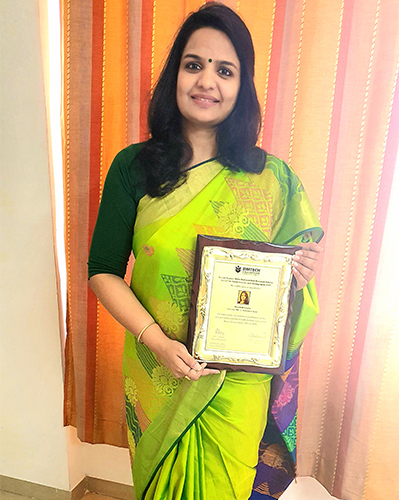 The award ceremony was held on October 2, 2020, which was the 33rd Foundation Day of Birla Institute of Management Technology (BIMTECH). The Basant Kumar Birla Distinguished Research Scholar Awards for Social Science and Management disciplines, instituted from the year 2019 by the Birla Academy of Arts and Culture, Kolkata is in honor of the Late Basant Kumar Birla who built businesses and institutions enriching many lives.
The award process is conceptualized and executed by Prof. (Dr.) Harivansh Chaturvedi, Director, and Prof. (Dr.) A.K. Dey, Chairperson - Centre for Management Case Development (CMCD) at BIMTECH.
Dr. Shailendra Raj Mehta, President & Director, MICA, said, "MICA has always believed in encouraging cutting-edge research and providing its faculty with resources to facilitate their producing high-quality papers for publication in internationally refereed journals. This has resulted in our faculty winning prestigious awards in India and abroad. This award's magnitude is multi-fold as it recognizes scholars for their contribution to Management and Social Sciences."
In a virtually held award ceremony, Prof. Gupta said, "Research on grassroots, reverse, and social innovations help set the context for the emerging markets like India. Also it exhibits the potential to generate employment and provide a secure future for millions of people who cannot afford higher education". She added, "I dedicate this award to all those who constantly provided me with the motivation and support in my journey as an academician and more particularly as a researcher."
Prof. Gupta is a Professor in the Area of Strategic Marketing at MICA and an Associate Editor with the Journal of Strategic Marketing, an A-category international journal besides being the only Indian member to be appointed on the Editorial Review Board of Journal of International Marketing. She has also published her research in several top international marketing journals such as the Journal of Interactive Marketing, Journal of the Academy of Marketing Science, and Journal of Advertising, to name a few.
Stay informed, Stay ahead and stay inspired with MBA Rendezvous