SNAP Exam will be held in December 2023. It is considered to be an easy to moderate difficulty level exam amidst its other counter parts like NMAT, IIFT, and IBSAT. Let us take you through some important tips and strategies that can help you score a 74 to 75+ (a pretty decent score to get a good SIU college) in the exam. In this article, we will take you through the ideal cutoff, salient features, and tips to ace each section of the SNAP 2023 exam.
Salient Features of SNAP 2023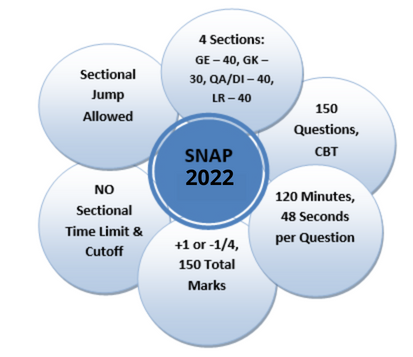 General English (GE)
Total Questions: 15
Max Marks: 15

1. The expected breakup of GE questions should look like (could be a few changes here or there) below:

2. There are 2 RC passages with 5 and 6 questions each. One of them is usually easy so attempt at least the easy one.
3. It is advisable to skim through the remaining questions and attempt the easy ones and pick RC.
4. The vocabulary questions are considered easy in SNAP exams. Preparing this well will help you get through questions on synonyms, antonyms, idioms, phrases and fill in the blanks.
5. Read newspapers like The Hindu, The Indian Express and magazines like Competition Success Review on the digital platform since it is an online exam.
Quantitative, Data Interpretation & Data Sufficiency
Total Questions: 20
Max Marks: 20

1. The expected breakup of QA/DI questions should look like below:

2. There are usually 2 DI sets with 4 questions each. One is always easier than the other.
3. The maximum questions are from arithmetic and the important topics are – Number System, Time Speed Distance, Time % Work, Percentages, Profit & Loss, Averages and Ration & Proportion
4. There is 1 question from P&C, Probability, AP/GP, Log, Sets and Linear/Quadratic Equations.
5. There are almost 7-8 questions from Geometry and Mensuration of NMAT level. For tips check our article "How to Ace NMAT".
6. Do not attempt questions you are unsure of since there is negative marking.

Analytical & Logical Reasoning
Total Questions: 25
Max Marks: 25

1. The expected breakup of LR questions should look like below:


2. Unlike its counterparts that have question sets, there are only single questions in the LR sections in SNAP exam, so you must have good amount of time in your hand to answer this.
3. Since there is no sectional cutoff, hence if the other sections are your forte, you can keep the count of this one low.
4. The difficulty level is moderate.
5. The topics that are easier and important (in no particular order) are- Input/output, Visual Reasoning, Series, Puzzles and Mathematical Reasoning.
Ideal SNAP Scores
If we look at the previous year trends, the score v/s percentile is as follows:
| | |
| --- | --- |
| SNAP Raw Score | SNAP Percentile |
| 65 -67 | 90-91 |
| 72-73 | 97+ |
| 75+ | 98+ |
| 80+ | 99+ |
| 85+ | 99.8+ |
| 100-103+ | 100 |
Stay informed, Stay ahead and Stay inspired with MBA Rendezvous