TAPMI Manipal believes in a holistic development of its students. TAPMI Program being a fully residential, the students' stay for 2 years at TAPMI's state-of-the art infrastructure in 44.11 acres campus not only focus on academic learning but ensures students involvement in various committees, events and activities to help evolve them into managers. TAPMI College clearly believes in the fact that education is beyond classrooms.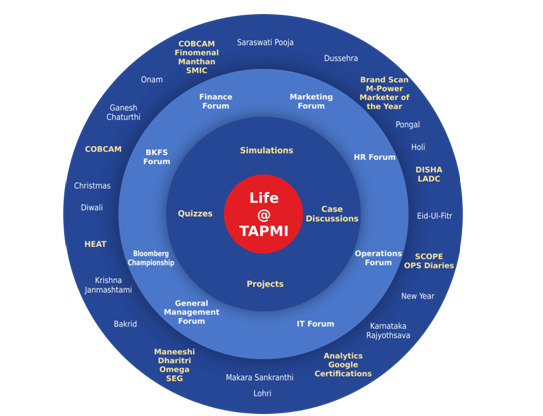 With an academic pedagogy curriculum that emphasizes rigor and experiential learning and student-led events, fests, clubs, and committees, TAPMI college campus offers huge opportunities for involvement and growth. Camaraderie, experience, and cooperation sit alongside academics, excitement, and fun to teach valuable lessons for life. Students work together, deepening relationships and reducing competition, creating a collaborative culture that encourages discussion and supporting each other's success and working together helps to instil team work in the students.
Highly Experienced Faculty Team at TAPMI Manipal :
TAPMI Manipal is today amongst the top 1% of B-schools in India and is known for its academic credentials and innovative outlook. The institute, being autonomous, nurtures a culture of flexibility and creativity to help promote high-quality education, training, research and consultancy in management.
TAPMI Manipal Hostel Facilities
The accommodation and living facility at TAPMI Manipal is a home for students around the globe. The diversity in backgrounds and cultures of the students makes one of the most loved corners in the campus.
TAPMI hostel is divided in 5 hostel blocks have been designed keeping in mind the students' requirements of rigorous study and relaxation. Each room has an attached bathroom and a 24-hour hot water facility supported by solar heating. All the hostels have lifts, back-up power, and Wi-Fi Internet connectivity.
There are separate hostels for men and women, each with air-conditioned double and single rooms. A few guest rooms are also available in the hostel. TAPMI campus has constructed 6 recreation rooms with games likes carom and chessboards, for recreation of students.
A bright, spacious hall overlooking the valley houses TAPMI's multi-cuisine canteen in the Students Center that provides students, faculty and staff with nutritious food for the body and the mind.
Laundry: TAPMI Manipal has an integrated laundry service provider in the campus for students, faculty and staff. The hostels are also provided with automatic washing machines and irons.
Medicare Facility: TAPMI Manipal provides Medicare facility to all the students under the Kasturba Medical Hospital (Manipal Hospitals). The campus is also equipped with First Aid kits.
Convenience Store: The campus has a convenience store located in the Student Center where items of daily need, snacks and refreshments are sold.
Housekeeping: TAPMI has a facility management service for housekeeping to ensure cleanliness on campus.
Bank ATM: Syndicate Bank has set up its Extension counter and an ATM on campus. This ATM is captive in nature and is prohibited for usage by outsiders. Check out the TAPMI Fees and Other Charges.
Sports & Recreation at TAPMI Manipal
Sports are an integral part of a student's life, and TAPMI truly believes in this thought. The campus of TAPMI is well designed and structured for both indoor and outdoor games and sports. Students have access to facilities like table tennis, badminton, football, basketball, cricket etc. The campus also has open grounds for athletics.
Clubs & Committee TAPMI Manipal:
The Student Executive Council (SEC) acts as a bridge between the student body and the administration in matters of general, academic or individual importance while ensuring that all guidelines are followed. The primary function of the SEC is to facilitate the smooth functioning of all the student activities at TAPMI.
BrandScan is a market research fair where students solve prominent business issues in collaboration with industry professionals via disguised games.
Alumni Relations Committee (ARC)
Alumni Relations Committee of TAPMI is the bridge between the alumni and the Institute. ARC engages with the alumni through city meets, international meets and batch meets. It also conducts two flagship events called AIS (Alumni Interaction Series) and AMS (Alumni Mentorship Series). ARC works with a motto to "Connect, Bond and Network" with more than 5000 alumni across the globe.
Esprit, the quizzing committee of T. A. Pai Management Institute, conducts Asia's biggest on-campus quiz competition, Quiz on The Beach® (QoTB®). Esprit also conducts a series of internal quizzes in creative and imaginative formats, encouraging students to put on their thinking caps and experience the thrill of quizzing.
The Bloomberg Championship
The Bloomberg Championship program is an off-site internship program provided by Bloomberg. The
responsibilities of the champions include integrating the finance curriculum with Bloomberg and assisting research activities of the institute. It involves conducting training sessions for over 900 students of TAPMI. Bloomberg training puts students on a higher pedestal through rigorous experiential learning and acts as a key differentiating factor.
This energetic committee in TAPMI with a rich legacy of 32 years. It organizes a series of inter college management events to sharpen your mind accompanied with exciting cultural and social events.
OMEGA is the Student Consultancy wing, that works with SMEs and Corporates on live projects.
Literary and Media Committee
LiMe manages content writing, photography and assists TAPMI in social-media branding, designing and merchandising and student admissions.
Helping other committees of TAPMI in organizing and conducting events by handling the back end operations.
TAPMI Finance Forum facilitates a vibrant and supportive environment to acquaint students with the world of Finance, while providing networking opportunities with Industry Leaders.
Chartered under Toastmasters international; the TAPMI Toastmasters aims to transform individuals into effective communicators and leaders
TMF represents TAPMI's interest in the field of marketing by connecting the industry and students.
MarkEye, a marketing digest represents the Marketing Department of TAPMI and editorial efforts of The Marketing Forum
Group of budding HR Professionals to equip the students of TAPMI for the corporate world
Treasury facilitates budgeting and auditing of events conducted by committees. Treasury delivers Integrity, Transparency & Partnership.
The Social Endeavour Group (SEG) at TAPMI strongly believes in "Do what you can with what you have, where you are." The committee works on several initiatives based on sustainable development goals – quality education, good health and well-being for the betterment of the local community.
SportsCom organizes multiple sporting events and promotes sport and fitness within the student community.
The Cultural Committee provides a holistic platform for the creative expression of talent. It brings in a flavour of fun and frolic alongside academic rigor.
You just don't carry a certificate or degree after college. You also carry a bag full of memories to cherish for long time. At TAPMI, along with academics, you get involved with corporate and inter B-school competitions, corporate projects, festivals, committee work, internships and many other activities.
Well, every student at TAPMI will surely agree - TAPMI Campus Life: An Experience like never before
Check out the TAPMI Admission Process 2022-24.
Stay informed, Stay ahead and stay inspired with MBA Rendezvous