CAT aspirants have a wide variety of study material to choose from. It's a choice they must make only after careful consideration, as the kind of study material they select for their CAT preparation will decide their fate in the exam. In today's competitive world, with so much study material available in the market, in the form of books, e-books, video lectures, audio books, pdf files etc, students must exercise caution and select the materials that they think will suit them and give them the best chance to crack CAT.
Let us take you through the details of TIME CAT Coaching.
Advantages Of Good Study Material
All aspirants preparing for CAT generally have a choice to make, either to join a coaching institute or self-study. Either ways, they rely the most on the study material they subscribe to. Some of the advantages of studying from good CAT study material are:
Good study materials cover all topics, which are a part of the curriculum.
Good study materials provide conceptual clarity along with sufficient examples and practice questions.
Good study materials are framed in a student-friendly manner so that the students don't have to struggle to comprehend the concepts.
Good study materials also provide techniques and methods to attempt the questions and manage time.
Let us take you through some of the Best Sites For CAT Preparation.
T.I.M.E. CAT Study Material
Among the most popular study materials published by various institutes and authors, the study material published by T.I.M.E. stands out as a preferred choice for several CAT aspirants. T.I.M.E. is a reputed and established name in the field of CAT coaching. Thousands of aspirants join its coaching institutes every year in the hope of clearing the exam. And those who don't join it, try to get hold of the study material published by it. Over the years, CAT aspirants have developed trust on the holistic material offered by T.I.M.E.
Let us also take you through the details of the Best CAT Coaching Institutes.
T.I.M.E.-The Entire Package
T.I.M.E. has devised its material keeping in mind the interests of all aspirants. Its study material, caters to everyone requirements. It is divided into five plans:
1. Regular
2. Regular +100 videos
3. Advanced
4. Advanced + 100 videos
5. Advanced + 200 videos
All these five plans cover an extensive range of materials, comprising both offline and online materials. The detailed break-up of these plans are as follows: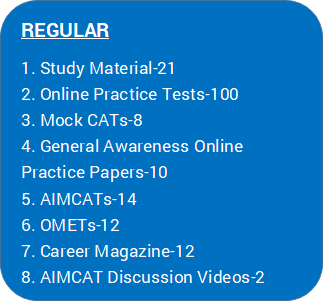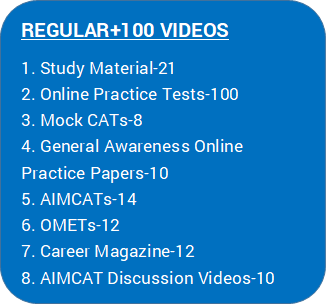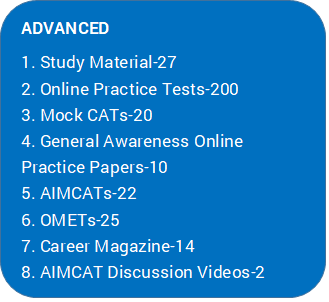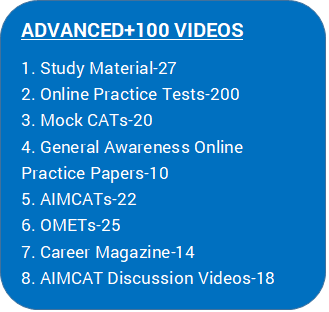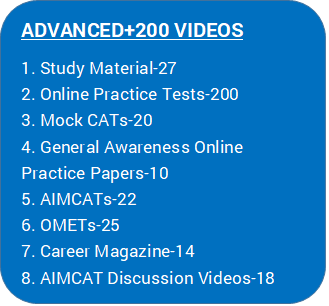 T.I.M.E. Advantage
The T.I.M.E. study material for CAT preparation is developed by experts to enable students to learn at their own convenience. It is comprehensive and covers all areas of testing, such as Quantitative Aptitude, Data Interpretation, Verbal Ability, Reading Comprehension and Logical Ability, to name a few. The questions included cover all question types and patterns that have appeared in various CAT exams over the years. Along with this, the plans also include doubt clearing sessions and sessions with faculty members to help aspirants learn better techniques to solve the problems quickly. The material is available in various forms such as PDF files, paper and computer based tests, online sessions and videos. This means that it can be easily accessed by any aspirant anywhere in the country. You can easily find the TIME study material PDF on its official website.
T.I.M.E. Mock CAT Series (AIMCAT)
AIMCAT or the Mock Test Series offered by T.I.M.E. is regarded very highly by the student community. It is one of the most comprehensive test series available to the students. The students are able to find out their performance relative to other students, in a way replicating the percentile based system followed by IIMs to gauge performance. It also enables aspirants to find their strengths and weaknesses and judge themselves, with respect to time. The detailed analysis provided at the end of each mock test to students become crucial tools to help them improve.
Among the different study material at the disposal of the aspirants, T.I.M.E. study material has stood the test of time and has become a reliable asset for students aiming for the zenith.
Check CAT Exam Official website - https://iimcat.ac.in/per/g01/pub/756/ASM/WebPortal/1/index.html?756@@1@@1
Stay informed, Stay ahead and Stay inspired with MBA Rendezvous.