Xavier Aptitude Test (XAT) is conducted every year by XLRI on behalf of XAMI at an all-India level for admission to postgraduate studies in over 150 institutes in the country. XAT 2020 will be conducted on 5 January 2020.
XAT Exam Sections
Candidates taking XAT must be aware of the XAT exam pattern. Instead of three sections, which exams like CAT have, XAT has four sections, namely:
Verbal and Logical Ability
Quantitative Ability and Data Interpretation
General Knowledge
XAT Exam Pattern
XAT 2020 will be a computer based test comprising approximately 99 questions. The duration of the test will be 3 hours. The likely exam pattern for XAT 2020 is as follows:
Paper 1
Paper 1 of XAT 2020 Exam comprises three sections, namely: Verbal Ability and Logical Reasoning, Decision Making and Quantitative Ability and Data Interpretation. The division of questions between these sections is shown below: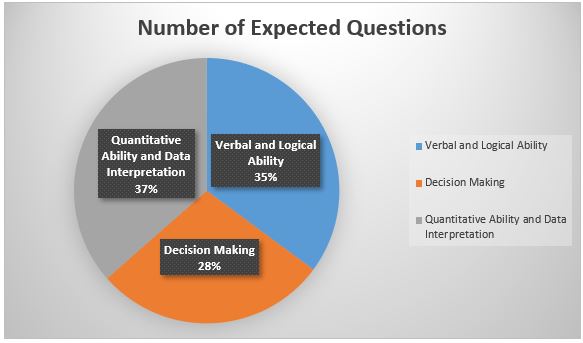 The number of expected questions from each section is as follows:
Verbal and Logical Ability 26 questions
Decision Making 21 questions
Quantitative Ability and Data Interpretation 27 questions
The total duration to complete these sections is 165 minutes. The candidates must note that there is no sectional time limit to attempt these questions.
Paper 2
Paper 2 of XAT 2020 is dedicated to the General Knowledge Section. This section tests candidates on their general knowledge and awareness and comprises 25 questions.
Key Changes in XAT 2020:
A new set of questions will be introduced in XAT 2020, Called the Numerical Answer Type (NAT), the candidates will have to use the virtual keyboard on the computer assigned to them to enter the numerical answer.
Just as in XAT 2019, Essay Writing will not feature in XAT 2020 as well.
The number of un-attempted questions have be limited to 8. Candidates will bear a likely penalty of 0.05-0.10 (approximately) mark for each un-attempted question over 8.
XAT 2018 vs XAT 2019 vs XAT 2020
There have been some key changes made in XAT over the years. The XAT exam was considerably different to what it was in 2019 and is likely to be in 2020.
| | | | |
| --- | --- | --- | --- |
| | XAT 2018 | XAT 2019 | XAT 2020 |
| Number of Sections | 5 | 4 | 4 |
| Time Duration | 3.5 hours | 3 hours | 3 hours |
| Subjective type questions | Yes | No | No |
| Maximum Marks | 100 | 99 | 99 |
| Essay Writing | Yes | No | No |
XAT Sections Syllabus
The syllabus for each section of the XAT 2020 is as follows:
1. Verbal and Logical Ability
Candidates can expect 26 questions from this section. They are likely to find questions from the following areas:
There are likely to be four passages for comprehension from which around 14-16 questions can be asked.
Around 8 to 10 questions can test the Verbal Ability of the candidates.
The Verbal Ability section will cover areas such as,
Para Jumbles
Analogy
Critical Reasoning
Para Completion
StatementsAssumptions
Vocabularybased questions
2. Decision Making
This section consists of brief caselets and Decision Making Problems. Around 6-8 sets of problems testing the decision making abilities of the candidates can be asked in this section, followed by 2-3 questions each.
3. Quantitative Ability and Data Interpretation
Candidates will be required to answer 27 MCQ type questions in this section covering areas such as,
Percentages
Profit and Loss
Algebra
Mensuration
Time and Work
Averages
Venn Diagrams
Bar Diagrams
Graphs
4. General Knowledge
Around 25 questions from this section are likely to appear with a time limit of 15 minutes only. The areas may include:
Domestic Affairs
International Affairs
Business and Economics
Sports
Constitution of India
Social Issues
Major Appointments
Candidates are advised to devise a strategy according to the expected exam pattern to improve their chances of scoring well in XAT 2020