The XAT 2023 exam will be held in, January 8, 2023 and registrations begin from August 10, 2022. The XAT result and cutoff will be released by last week of Jan'23. The XAT 2023 score will be accepted by 11 XAMI member colleges and around 140 non XAMI member colleges in an array of MBA degree programmes. MBA Rendezvous helps you understand the XAT admission criteria for XRLI and other affiliated colleges that accept the XAT 2023 score.
XAT Selection Procedure 2023 : Documents Required
Below is the list of documents required during the XAT 2023 selection process:-
Counselling letter : Original and Photocopy
XAT Admit Card: Original and Photocopy
Academic Certificates of Class X & XII and Bachelor's Degree: Original and Photocopy
XAT Score card: Original and Photocopy
Caste Certificate: Original and Photocopy
Medical documents : Original and Photocopy
Bank draft as per the guidelines mentioned in XAT Brochure
Passport size photographs: Colour and Black and White (4-6 copies)
XAT Selection Procedure 2023: XLRI


Here is the detail regarding the selection procedure for XLRI, Jamshedpur through XAT 2023:
Register and write for the XAT exam 2023 January 2023 Indian Students (GMP) and Foreign national students (GMP, BM, HRM) can apply through GMAT score. The candidates need to pay registration fee at the time of registering for XAT 2023 exam for all the XLRI course they want to appear for
Candidates Appearing

Registration Fee

Additional Fee per XLRI course

Mode of Payment

Indian National

INR 2000

INR 200

Online Mode only

The payment gateway is integrated with the application form and you can pay using Debit/Credit Cards or Online Banking.

Indian National (with late fee)

INR 2000

INR 200

Indian Candidates through GMAT for GMP

INR 2500

-

Foreign and NRI candidates through GMAT for BM, HRM or GMP

INR 5000

-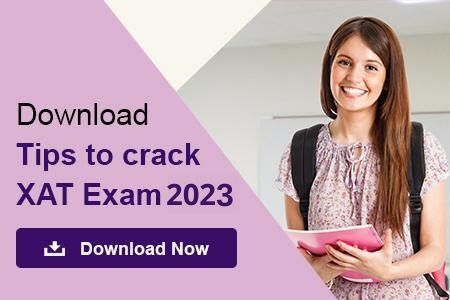 Please note: All GMAT applicants must take their GMAT in December 2022
Candidates must have a recognized bachelor's degree of minimum three years in India/abroad in any discipline. Those appearing for their final examination by June 2023 can also apply. But their admission will be subject to candidates passing their final exams
The candidates who clear the XAT 2023 cut off will be called for the Group Discussion (GD) and Personal Interview (PI) which are conducted only in Bengaluru, Delhi, Mumbai and Jamshedpur

Group Discussion: Candidates are divided into groups of 8-10 and a topic is given which they need to discuss for 20-30 minutes. Candidates are tested for their leadership qualities, confidence and content delivery
Personal Interview: The candidates are met individually and help the committee asses their confidence, communication skills and aspirations.

The overseas candidates appearing for the PGDM interviews can appear over G-talk or Skype. Candidate needs to get in touch with the admissions office for scheduling the interview online after result.

XAT 2023 final merit list is uploaded on then XAT official website and the weightage for this year for each component is yet to be released.
How many seats are there in XLRI?
Candidates who are vying to get admission at XLRI should note that Post graduate Diploma in Management for specialisation in Business Management programme there will be intake of 360 seats in XLRI Jamshedpur and side by side another 360 seats are available for Post Graduate Diploma in Management for Human Resource Management programme specialisation. In overall 720 seats are available for fresh candidates at XLRI Jamshedpur.
Candidates are dependent on their XAT 2023 scores followed by their performance for soft skill test for Written Ability test, GD and PI post-XAT 2023 exam which is being conducted in January 2023
Is XLRI better than IIM's?
XAT aspirants should note that General Awareness or GK questions are not counted in XAT percentile but for overall in XAT exam GK questions are considered for the passing marks. Aspirants should also note that as to why GK questions being are asked in XAT exam? Indeed all MBA aspirants should be aware of with their surroundings and positively with happenings in business surroundings. Hence, GK questions are given in XAT exam. There will be approximately 25 questions on GK in XAT and these questions are mainly from the areas of Sports, Indian economics, International Relations, UN bodies and Geo political situations. For this matter it is visible to read one daily newspaper supplements with business newspaper and you will be able to succeed of GK questions in XAT.
Does XLRI take freshers?
This is a question of understanding and a perception. All aspirants must note that XLRI definitely recruits freshers and if you are graduate with 50% marks you are eligible to apply for XLRI. Even if you are taking graduation final year, you are eligible but you have to give proof of your graduation within a stipulated time as may be mentioned in the XAT bulletin. Definitely it is perceived that XLRI might be taking experienced executives because you have to deal with law of the factories whereas the management education at XLRI is as such that you are being taught case studies in such a way that you understand the subjects very clearly and further supplement the theories with practical shape you are being taken to factories in a city which the hub of ancillaries known as Jamshedpur.
Does XLRI accept CAT score?
MBA aspirants must note that XLRI doesn't accept CAT score and for this matter Xavier society conducts XAT i.e. Xavier Aptitude Test on behalf of XLRI and 12 other Xavier Institutes. There can be after thought to know that why CAT scores are not accepted for XLRI and the answer to this is that in XAT exam there is more tilts towards language skills. Hence, 5-6 paras of reading comprehensions are being given in XAT. Besides to understand more for language skills you are also tested for your vocabulary and previously Essay was also being given but from last year Essay has been exempted from XAT. Rest of the sections of Quantitative Aptitude, Date Interpretation remain same.
XAT Selection Procedure 2023: Other Colleges Selection Process


Here is the selection procedure for XAT affiliated colleges. Candidates are advised to check the individual websites of the college they are applying for further details:
Register for the XAT 2023 exam on xatonline.in
Obtain the XAT Application Form 2023 after registering online by making appropriate payment. Details can be obtained from the respective Institute's website or their Admissions office. Follow their registration/application procedure. The registration fee is INR 2000 for the XAT exam. The students can also choose the course and college they are interested in
Write the XAT exam 2023
Check for the cut off for the individual college you are interested in
Shortlisted candidates appear for GD and PI rounds
Each institute independently decides the weightages to be given for each of the test components on the basis of its needs. The details can be found from the website of the respective college
Wait for the final merit list for the respective college.
Please note that XLRI does NOT:
Ascertain quality of the degree or programme(s) offered by other XAT Associate Institutes
Play any role in the selection of the candidates in these institutes.
Stay informed, Stay ahead and Stay inspired with MBA Rendezvous
,