CAT Selection Procedure: CAT 2021 exam is the mother of all MBA entrance exams that students give across India to get into the IIM's and some other top non – IIM colleges. The difficulty level of the paper is quite high and so is the selection process, which is difficult and unique to each participating college (IIM or non IIM).
Let us take you through the basic CAT admission criteria for IIMs and others like XIMB, TAPMI, IMT, MDI etc. Over 2 lakh students are expected to appear for CAT 2021 exam in November 2021, but a few thousands will go through the CAT 2021 selection procedure.
CAT Selection Procedure 2021: About IIM Colleges
There are 20 Indian Institute of Management colleges and considered most prestigious set of institutions across India. The various IIMs are -Ahmedabad, Amritsar, Bangalore, Bodh Gaya, Calcutta, Indore, Kashipur, Kozhikode, Lucknow, Nagpur, Raipur, Ranchi, Rohtak, Sambalpur, Shillong, Sirmaur, Tiruchirappalli, Udaipur, Jammu and Visakhapatnam.
The overall selection procedure for CAT 2021 is more or less same across all IIM's, however the weightage of each component varies. The admission criteria for IIMs is an elaborate process

CAT Selection Procedure 2021: Basic Process for IIMs

Step 1: CAT 2021 Entrance Test
1. Students will write the CAT 2021 entrance test in November 2021, after which the IIMs will announce the cutoffs – sectional and overall
2. Based on their performance, candidates will be selected for further rounds
3. Each IIM will take out their individual CAT 2021 cutoff and call students.
Step 2: GD and/or WAT
1. Candidates who clear the individual cutoff for respective IIMs will be called for Writing Ability Test and a Group Discussion
Step 3: Personal Interview (PI)
1. The final round is the personal interview where candidates are judged on - knowledge, communication skills, overall academic performance, performance in previous rounds and common sense.
Step 4: Individual Final Merit List
Each IIM releases its individual admission criteria on their website.
Based on the below factors the IIMs release their final merit list

CAT exam score
Overall performance in WAT, GD and PI rounds
Class 10th and 12th Marks
Gender Diversity Factor
Work Experience
Reservations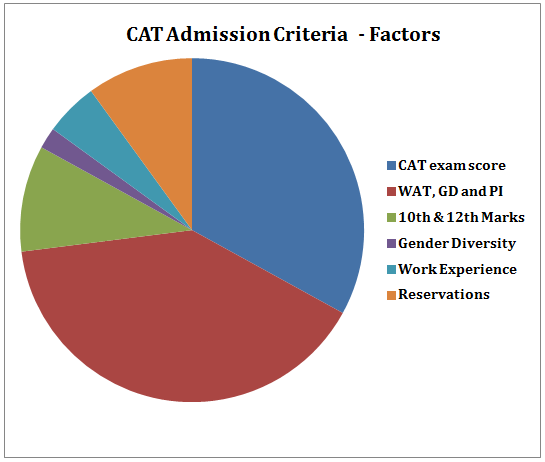 Please Note:
In addition, there are a few exceptions -
The 6 new IIMs in Ranchi, Rohtak, Raipur, Udaipur, Trichy & Kashipur conduct a common counselling process known as Common Admission Process (CAP). They conduct common WAT and PI rounds, but release a separate merit list based on students performance.
IIM Jammu and Sirmaur do not conduct the WAT and PI rounds and candidates are shortlisted on the basis of their CAT score, past academic records, work experience, and diversity factors.
CAT Selection Procedure 2021: Non-IIM Colleges
Some top non-IIM colleges that accept CAT 2021 score are – MDI, IMT's, XIMB, GIM, DIME- IIT Kanpur, Great Lakes, TAPMI, SPJIMR, IFMR, IMS, Loyola, and IRMA.
Candidates will be shortlisted on the basis of CAT 2021 cutoff and called for WAT, GD and PI rounds. Each component has a weightage which is unique to the college and the colleges announce all details regarding the selection criteria on their official websites.
Stay ahead and Stay inspired with MBA Rendezvous