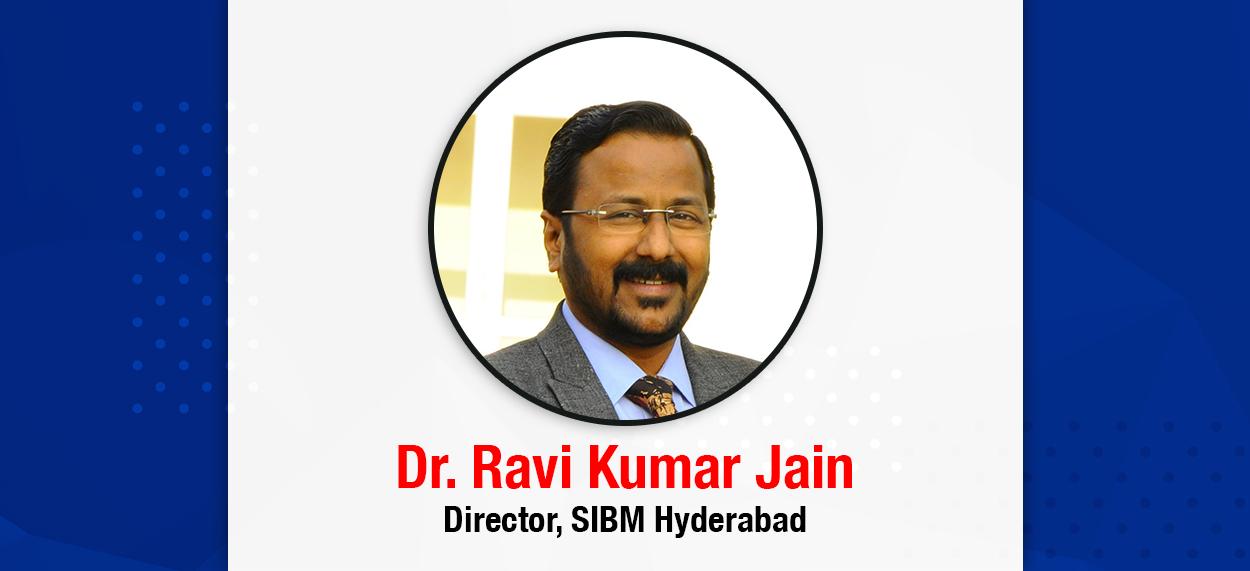 Rendezvous with Dr. Ravi Kumar Jain
It is always enriching to engage with thought leaders of prestigious academic institutions around India. The team at MBA Rendezvous recently spoke to Dr. Ravi Kumar Jain, Director, Symbiosis Institute of Business Management Hyderabad. He enlightened us with his profound thoughts and vision on transforming young minds into a productive talent pool.
Dr. Jain shared his views and ideas on various aspects of SIBM Hyderabad :

Founding Idea & Motto

It's USPs

Entrepreneurship and Employability
Attributes of an MBA Aspirant
About Dr. Ravi Kumar Jain
Dr. Jain has over 20 years of experience in teaching, training, research & consultancy, academic administration, institution building, and family business management.
Academic Qualification - Doctorate in Business Management, MBA in Finance and PGD in ICT management.
Earlier Positions Held - Founding Director of Symbiosis Institute of Research and Innovation at Pune and Faculty of Finance at IBS Hyderabad
To his credit - Authored and edited several books in business management, banking & finance, and ICT management and published in 100+ international and national publications.
Serving on - Editorial boards of international refereed journals, Board of Directors of The Decision Sciences Institute (DSI) at Houston USA as VP for Asia Pacific Region and immediate past president of Indian Subcontinent DSI (ISDSI)
Research Interest - Corporate Finance, Valuations, Market Microstructure, Business Economics, and Outsourcing
Here is what he had to say:
Significance of SIBM Hyderabad's Motto
Thank you for showing such keen interest in the motto of our institution. Symbiosis was started on the Vedic principle of वसुधैव कुटुम्बकम (Vasudhaiva Kutumbakam) which means 'the world is one family'. We are a family of 38 institutions reaching over 18500 students in India and abroad for the last 45 years.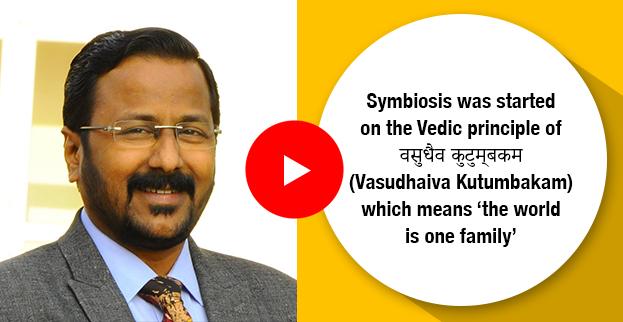 A lot of deliberation went into setting SIBM Hyderabad distinct from the rest yet fall in line with the Symbiosis motto. The origin of the idea of श्रद्धावान् लभते ज्ञानम् (shraddhavan labhte gyanam) came from अर्थ करिशचय विद्या (Arth Karishchaya Vidhya). It means the 'knowledge which can help create wealth is the knowledge worth it'. An academic institution can contribute towards nation building by transforming its youth (students) into an asset. This can be achieved when teachers (and institution) create curiosity in the minds of their students. Shraddha can have three different connotations – curiosity, discipline, and focus. By cultivating curiosity, focus and discipline in our students, we create curious minds and transform them into wise knowledge seekers which will help them create wealth.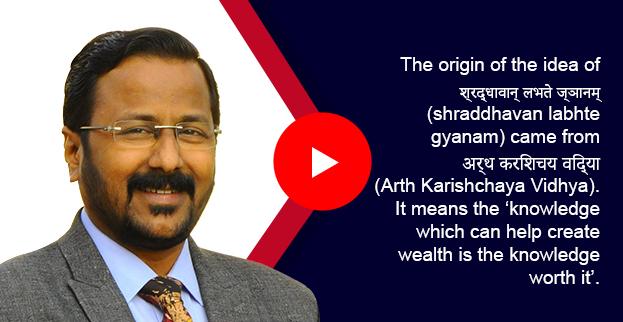 These thoughts and principles complement each other and motivate us in every aspect – curriculum design, curriculum delivery, and cultivating character in our students. We can proudly say that we are creating learners for life who are ready to design the future of this country and the world.
USPs of SIBM Hyderabad
SIBM Hyderabad is committed to providing a conducive and vibrant atmosphere to its students. Our campus is away from the hustle-bustle of the city, well-equipped with world-class infrastructure offering an up to date curriculum. The USPs that set us apart from the others are:
Our Curriculum Design – We follow the GSTEE framework, i.e., Governance, Sustainability, Technology, Ethics, and Experiential.
Our Delivery Model – Around 30 to 50 percent of our curriculum and value-add programmes are delivered through experiential learning and experience sharing. We call it 'learn as you do.' Students get to demonstrate their managerial and leadership abilities through club activities, placements, internships and shadowing corporate professionals. This helps develop skills like providing a creative solution, critical thinking, problem-solving, interpersonal skills, and team building.
Our Strong Industry Connect – We have a strong '360-degree' engagement with over 150 companies pan-India. We are now looking to spread our wings internationally. Last year there were international placements in companies from the Middle East. We are working towards making our presence felt at a pan-Asia level now, and beyond.
Our Brand & Legacy – Symbiosis has a rich legacy created by the great visionary Dr. S. B. Mujumdar. The richness of our legacy is all-encompassing in terms of the alumni base in a plethora of professions like management, medical sciences, nursing, legal and computer science. Our legacy is also reflected across top CXO positions occupied by Symbians in India and the world. You name it, and we are there.
SIBM Hyderabad's Cultivating an Entrepreneurial Mindset
The key to transforming our youth into an asset is by nurturing an entrepreneurial mindset. It is characterized by having an eye for details, an appetite to absorb risk, the ability to persevere and incorporate the rigour.
Apart from our curriculum, we have added elements of entrepreneurship in the form of value-addition programmes. My personal experience as a 'start-up evangelist', a mentor on the panel of Telangana's T-Hub and experience from mentoring a dozen start-ups us access and exposure to the new talent pool, new business ideas, and industry connect. The students and faculty at SIBM Hyderabad can take benefit of network and resources to pursue their entrepreneurial journey. We have built a 10-seater incubation centre to promote entrepreneurship with particular focus on social enterprise. This is championed by our associate professor-level faculty members under my guidance. This is how we are developing and cultivating an entrepreneurial mindset among our students.
SIBM Hyderabad Enhancing Employability
SIBM Hyderabad focuses on transforming students into zero-day billing resources, valuable and productive to the corporate quickly. We emphasise on building curious individuals into wealth creators who are socially conscious, inclusive, and competent. We enhance the employability of our students by helping them:
Adapt to changes and challenges
Achieve the triple bottom line of profit, people and planet
Appreciate the idea of sustainability, competency, and consistency
Fuel Attitude and Appetite to absorb growth
Access to enrichment programmes with domain-specific certifications sponsored by us. For example, KPMG certification on Six-Sigma, Bloomberg or NCFM certification or HR Analytics and New Tool Kit certification.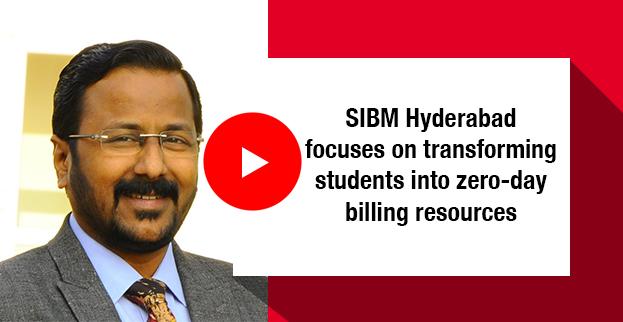 Our approach has seen great success and is reflected in our placements audited by CRISIL. Our top 25 percent of students have repeatedly been claiming excellent packages. We hope this continues as we strive to produce talent that can fuel the industrial growth in India and across the globe.
Characteristics in an MBA Aspirant
We are focussed on preparing a resilient talent pool which is capable of absorbing various challenges. The programmes at SIBM Hyderabad are very rigorous, as is our selection process. We look for qualities like the clarity of thought, sincerity towards goals (professional & personal) and ambitions in life, commitment, perseverance, and ability to handle rigour. The most important aspect is discipline, which we derive from the Vedic principle मनस्येकं वचस्येकं कर्मण्येकं महात्मना (Manas Ekam Vachas Ekam Karmanyekam Mahatmana). The discipline (ekam) of thoughts (manas), words (vachas) and deeds (karman) makes you a successful human being (Mahatmana).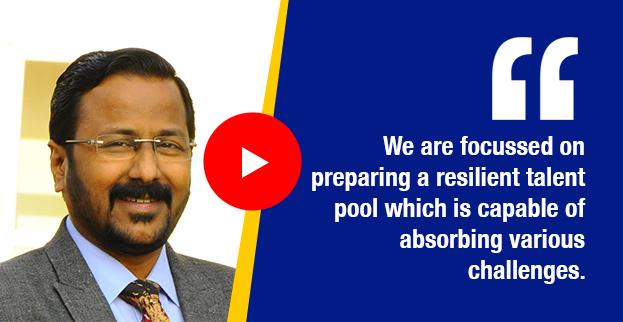 Any student who aspires for higher education in management, leadership, psychology and social sciences must cultivate these attributes to be successful in their professional lives.
To Learn more from Dr. Ravi Kumar Jain Here
Stay informed, Stay ahead and stay inspired with MBA Rendezvous